Hillary Clinton gave Katy Perry the cutest surprise at the UNICEF Gala and we're crying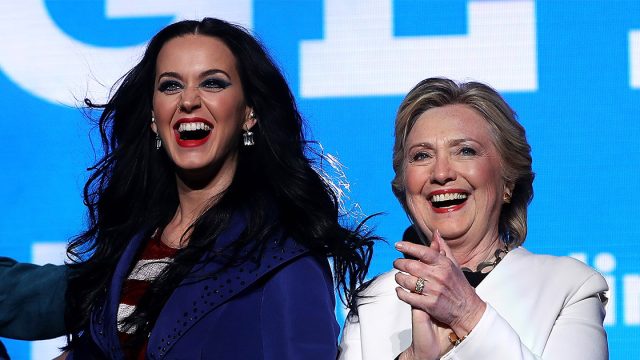 While attending the UNCIEF Snowflake Gala last night (November 29th), Hillary Clinton gave Katy Perry the BIGGEST surprise, proving that even after the election madness they're still BFFs.
While Hillary Clinton was campaigning, we loved seeing how much Katy Perry was backing her. Whether it was speaking at rallies, doing an Instagram takeover, this EPIC cape she wore, that time she gave Hillary a cute AF birthday present, or that time she actually dressed up as Hillary (prosthetics and everything) for Halloween.
What's more, the love was totally mutual! Hillary couldn't get enough of Katy, either.
In fact, Hillary showed her appreciation and love for Katy at last night's UNICEF Gala and it's just so darn sweet.
In what marked only her second public appearance since losing out on the presidency to Donald Trump, Hillary Clinton surprised Katy Perry by presenting her with UNICEF's Audrey Hepburn Humanitarian Award.
"I have seen Katy's commitment to the causes she believes in firsthand, Hillary said. "I've gotten to spend time with her and I know how deeply she cares about making our world a better place. She is serious about understanding the complex problems we face and pulling people together to solve them. We need champions like Katy now more than ever: her passion, her energy and, yes, her voice, louder than a lion."
https://twitter.com/udfredirect/status/803805954844360704
Hillary then presented Katy with the award and OMG it's just everything.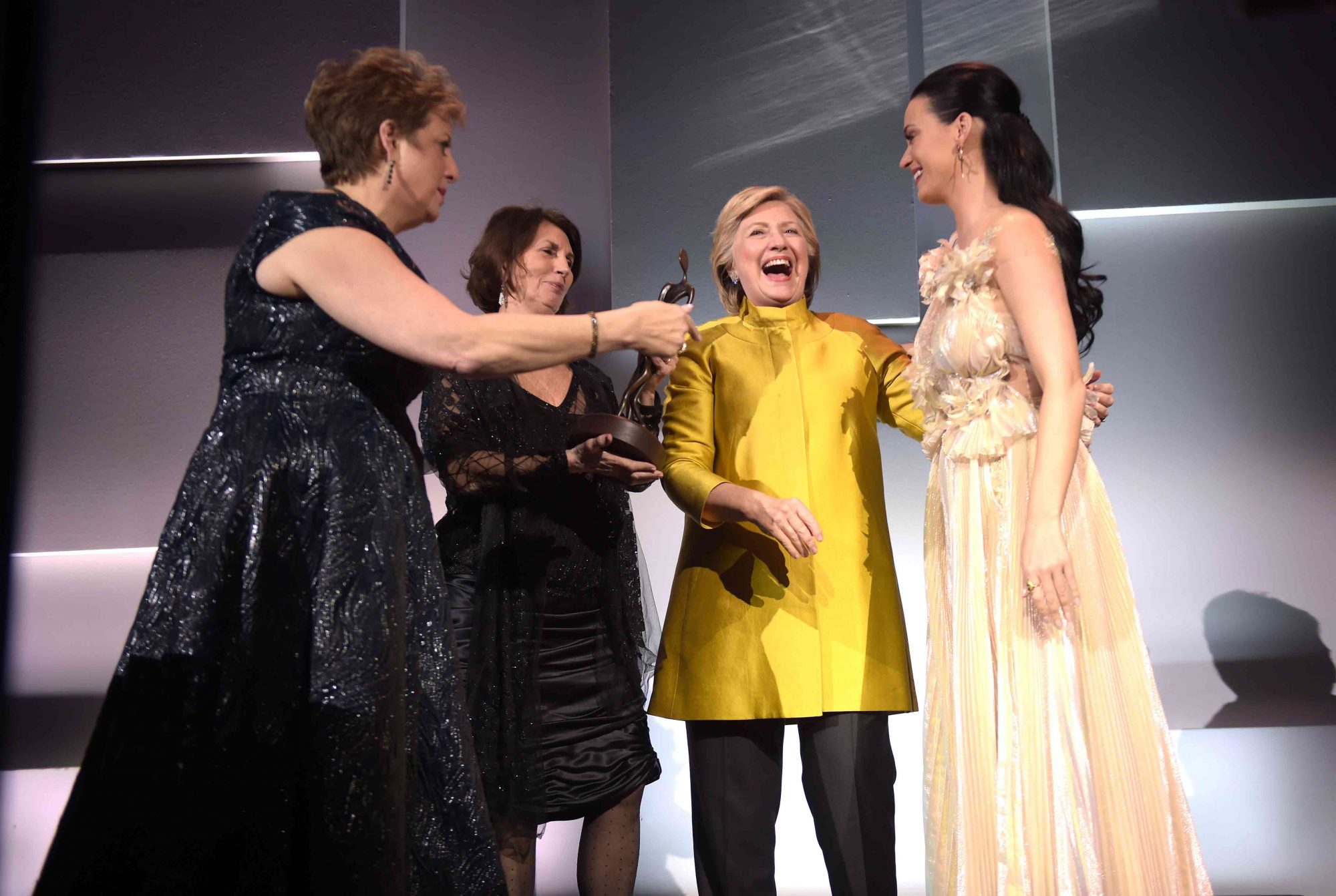 Katy then gave an amazing speech praising Hillary and speaking about her own humanitarian work.
The singer has been an ambassador for UNICEF since 2013, and has raised over $1 million for the organization as well as partaken in field visits to Madagascar and Vietnam.
"I've always had a voice – a singing voice – but I've never had a voice like I've had before," Katy told the Gala audience. "Hillary has lit that voice inside of me, and that light will never go out, it will continue to get brighter and brighter and brighter. Thank you Hillary. You motivate me and so many millions of people. We appreciate you for your incredible work and your heart."
https://twitter.com/udfredirect/status/803829227254644736
"Even though I've only been on a few field visits, I'm happy I've helped highlight the effects of climate change, which is real," Perry continued, making a dig the president elect. "Truly my work has just begun, and this award is a starting line, not a finish line...We were all children at one time: born innocent, vulnerable, fragile, and we all needed a helping hand to grow into the people that we are today. "If we could keep that thought in our hearts, despite our differences, imagine the kindness, acceptance and empathy that would light the world and remind us once again that we're all in this together."
https://twitter.com/udfredirect/status/803810498693238784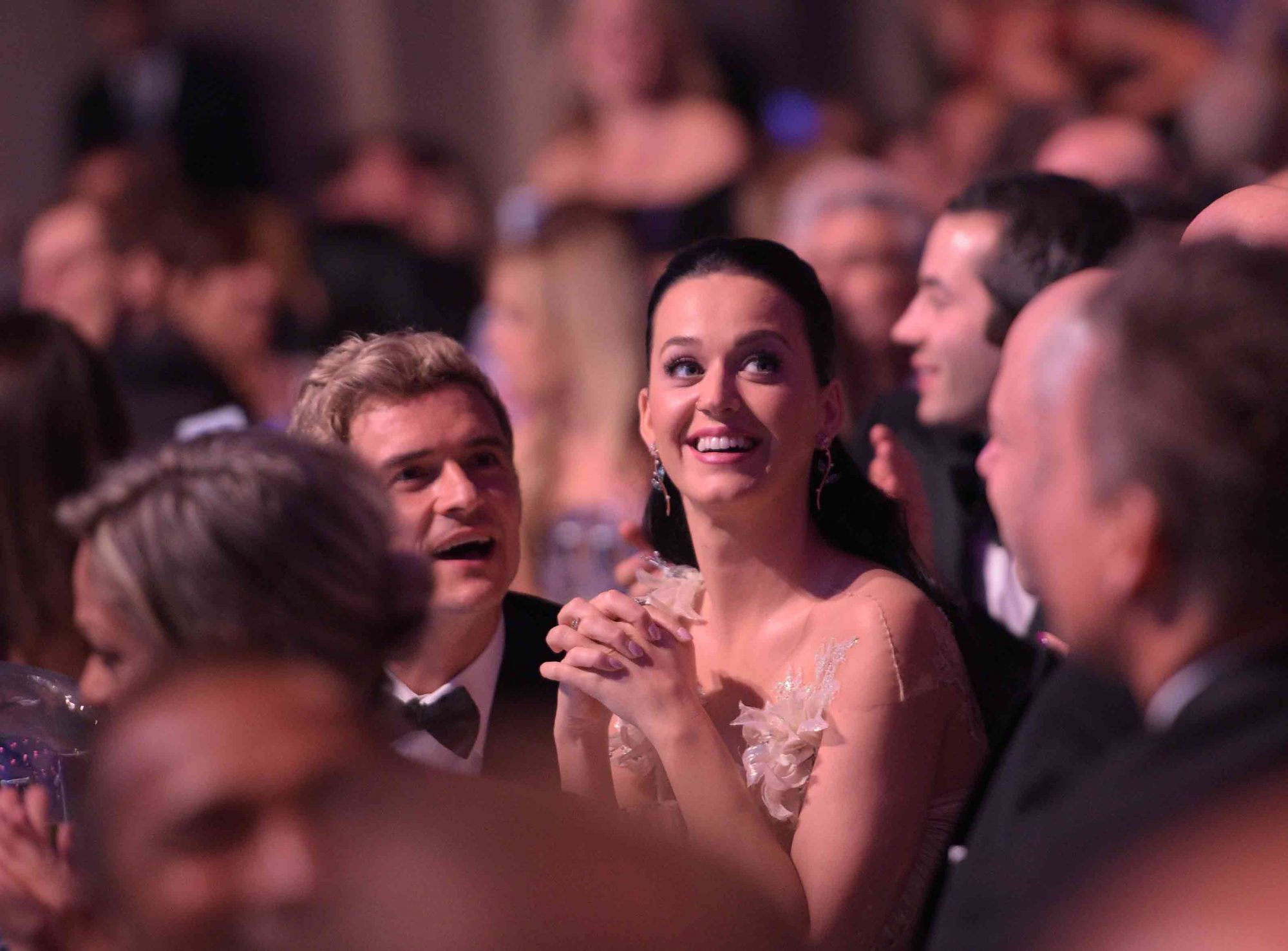 We love how much Katy Perry and Hillary Clinton support each other. Even after Hillary didn't win the election, it's so nice to see that their friendship has lasted and blossomed. We're with them.