A Hillary Clinton docuseries is coming to Hulu, and the trailer will give you chills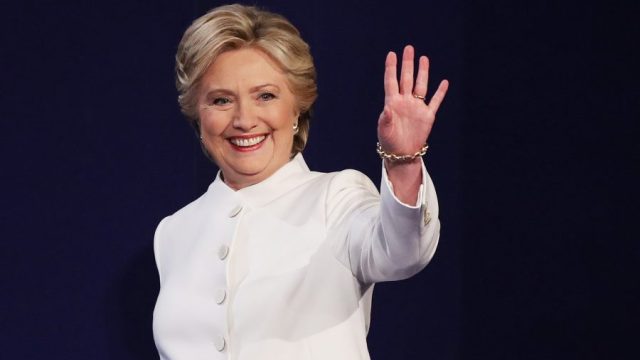 Buckle up, Hillary Clinton fans and critics. You're about to get not just a documentary, but an entire docuseries about the politician's life. Today, January 17th, Hulu announced that a new show, titled simply Hillary, will premiere on March 6th, 2020. Not only did the streaming service announce the upcoming four-part docuseries, but they gave us a first look with a powerful two-minute trailer.
The trailer begins intensely—video flips between crowds chanting "HRC" and "Lock her up!" highlighting the drastic difference of opinions Hillary garners from the public. Clinton confirms this herself, saying point-blank to the camera, "I provoke strong opinions."
Following this powerful intro, we take a step back and see footage of Clinton as a young girl and hear about her road to law school, how she and Bill Clinton met, how she "violated" the expectations of a First Lady. Then, of course, we focus on her role in politics since then—as Secretary of State and the 2016 Democratic Presidential Candidate.
"Hillary is a deeply personal, reflective and unflinching look at the woman who is arguably the most recognizable female political figure in history, Hulu CEO Randy Freer said in a press release.
The docuseries includes interviews from Hillary, Bill, and Chelsea Clinton, as well as former President Barack Obama, staff, friends, and journalists.
"This is a once in a lifetime opportunity for viewers to see a real, unvarnished look at the incredible career of Hillary Rodham Clinton, one of the most influential politicians in American history, Howard Owens, co-founder of Propagate said. "Thanks to extensive interviews with Secretary Clinton, her family, friends, staff, and politicos from both sides of the aisle, this is one of the most compelling political documentaries in history."
Watch the full trailer below.
Prepare to stream the docuseries Hillary on March 6th by signing up for Hulu here.