Laurie Metcalf and John Lithgow are starring in a Broadway play about Hillary and Bill Clinton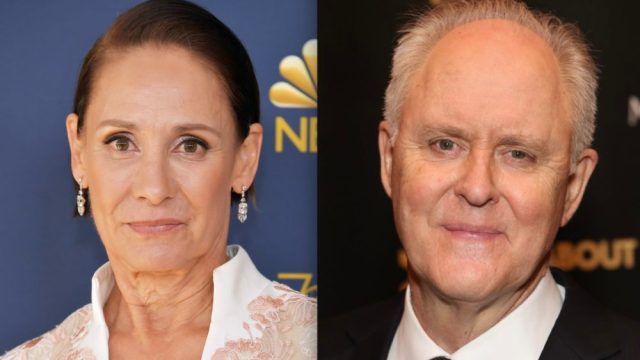 For decades, Hillary and Bill Clinton have been two of the most prominent figures in American politics. And this power couple is about to get the Broadway treatment in a new play called Hillary and Clinton, starring Tony Award-winning actors Laurie Metcalf and John Lithgow as (you guessed it) the Clintons.
According to The Hollywood Reporter, playwright Lucas Hnath is behind the drama, which centers on the 2008 Democratic primaries and Hillary's first presidential campaign. Set in New Hampshire, the play chronicles the couple's debate about whether or not Bill should be involved in Hillary's campaign and explores the dynamics of their marriage.
Hillary's chief strategist, Mark J. Penn, and her opponent, Barack Obama (referred to as "The Other Guy"), round out the cast of characters, but the actors portraying these two roles have yet to be announced. Joe Mantello is set to direct.
Hnath's first play, 2017's A Doll's House, Part 2, earned Metcalf her first Tony for lead actress in a play. Scott Rudin, who produced the showand will also produce Hillary and Clinton, told THR that the forthcoming work is "a political play," but that audience members might be surprised with how it unfolds.
"It treats the Clintons like Shakespeare treated real people in his history plays—it is both fundamentally truthful and also wildly imaginative," he said. "It's not in any way a docudrama or a work of nonfiction but rather an exploration of power and how it works, not only in the canvas of a political campaign but inside an enduring marriage."
Both Lithgow and Metcalf have won two Tony Awards. Lithgow has been nominated a total of six times, and has received six Emmy Awards (many for his work on 3rd Rock from the Sun). Meanwhile, Metcalf has earned three Emmys for her work on the sitcom Roseanne and was nominated for an Oscar in 2017 for her role in Lady Bird. Metcalf is currently set to star in the Roseanne spinoff, The Conners, while Lithgow plays Winston Churchill on The Crown.
The New York Times notes that Hillary and Clinton is the first play to feature (a fictionalized) Hillary as a protagonist. Previews of the show will begin on March 16th, 2019, and it will open on April 18th. The play's first run was in 2016, at the Victory Gardens Theater in Chicago, but this marks its Broadway debut.
A play about the Clintons certainly sounds intriguing, and we're sure that Lithgow and Metcalf will be amazing in these roles. Now we just need to get our hands on some tickets…