Hilary Duff's puppy won't even let her pee in peace, and here's the Insta pic to prove it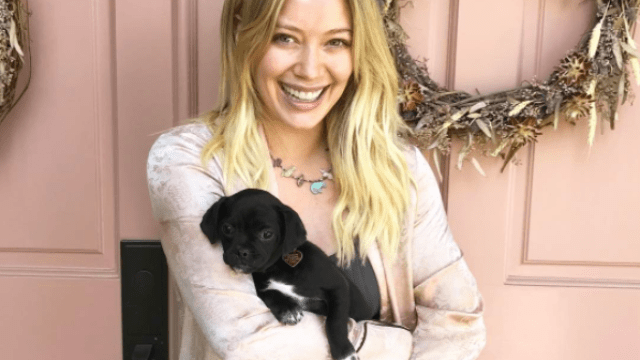 In case you missed it, Hilary Duff has *the* most adorable new puppy, and apparently he's so smitten with his new mom, he won't even let her go to the bathroom alone. The Younger star adopted Momo, a chihuahua/pug mixed pup (also known as a chug), two weeks ago, and it seems they can't get enough of each other.
How do we know this, you ask? Duff just posted a bathroom selfie of sorts, in which little Momo is staring longingly up at her — while she's sitting on the toilet. She captioned the pic, "Can't even pee without this stalker finding me."
Duff adopted Momo from Love Leo Rescue, an L.A.-based animal shelter in the beginning of May, taking to Instagram to show him off.
Momo joins Duff's other dogs, French bulldog Peach, and Bernese Mountain Dog, Dubois (aka Dubie). Earlier this year, the Lizzie McGuire actress said goodbye to her beloved fifteen-year-old chihuahua, Coco.
Leo Love Rescue posted a photo of Duff and Momo on his adoption date and the actress looks over the moon about the new addition to her family.
It's only been a few weeks, but it seems like Momo has *completely* stolen Duff's heart. But, come on, look how cute he is.
It's impossible to not fall in love with a face like that.
Fans helped Duff pick out Momo's adorable name, as the actress couldn't decide between the names Momo and Bean. She wrote, "Guys. My mom needs help. Should it be Momo? should it be Bean? Momo or Bean?Hello! name me please! Woof (that's thanks in dog) and goodnight."
While Bean is a *really* cute name, we think Momo is the perfect name for Duff's new little pup!