Hilary Duff's new tattoo is the definition of dainty, Lizzie McGuire would LOVE it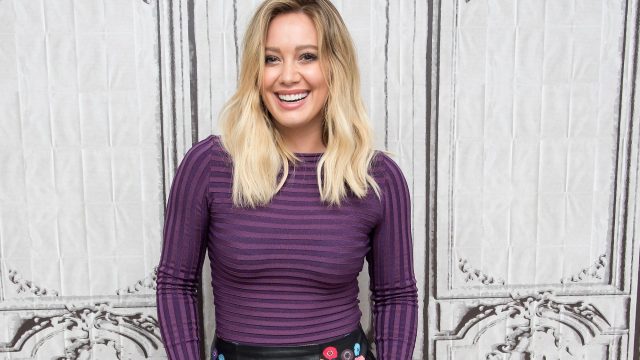 Maybe Hilary Duff was inspired by her 2015 song "Tattoo" or maybe she was just ready for something different, but the singer and actress has gotten some new ink. She showed off her subtle, but detailed black-and-white rose tattoo on Instagram and it's simply lovely. The art was done by Brian Woo (Dr. Woo), one of Hollywood's go-to tattoo artists, and once you see it, you're going to have some serious tattoo envy.
We imagine that this beautiful, understated flower tattoo is the type of ink grown-up Lizzie McGuire would get:
It's a thoughtful choice because of Woo's thoroughness, but it's also classic, dreamy, and totally girly. Seriously, Duff's perfectly pretty ink would make even a tattoo commitment-phobe think twice.
However, this is far from Duff's first tattoo! Not only can you see an arrow tattoo underneath the rose one on Instagram, but back in 2015, the actress said on The Ellen DeGeneres Show that she had 12 tiny tattoos.
"I think that part of me loves tattoos and part of me doesn't want the full commitment of getting to see them all the time," she told DeGeneres.
Her new roses definitely compliment some of the other ink on her arms, like her hummingbird, wishbone, and heart. Aw, of course, Lizzie — we mean, Duff — would have a heart near her wrist.
While people might not have expected the girl who played Disney's Lizzie McGuire to love tattoos so much, the meaningful art on Duff's body creates a gorgeous picture and her new roses add to the mosaic. And since she'll probably continue to use her body as a canvas, we just have one very important question about her next tattoo — could it please be of Gordo?