Hilary Duff's Husband, Matthew Koma, Got a Butt Tattoo in Her Honor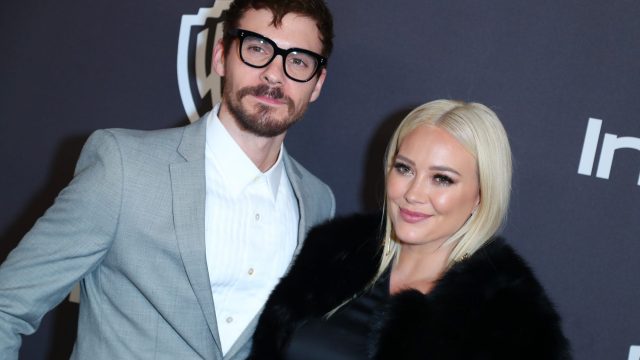 Though superstition states that tattooing your significant other's name on your body is a big no-no, Matthew Koma threw caution to the wind and got wife Hilary Duff's first name inked on his behind. The musician recently revealed his new "Hilary" tattoo on Instagram, carefully concealing his peach with strategically placed peach emojis, and superstition who? Don't know her.
Good luck winning a fight with your wife when her name's tattooed on your butt cheek, Koma captioned his September 21st Instagram post.
Koma tagged the post with #squats #gainz #laseraway. It's silly, hilarious, and honestly, really well done. Tattoo artist Curt Montgomery, best known for his erotic art and tattoo designs, did a superb job with such a simple piece of ink.
Duff commented on Koma's post, "Finest tiniest booty around," and added the hashtag #youstucknowboy. And according to a super fan who also commented on the pic, the script tattoo is actually Duff's signature.
The "Hilary" tattoo is the second family-related piece of ink Koma has gotten during quarantine. Koma also recently added a hand-poked rendition of his daughter's favorite Trolls character Gristle, voiced by his best friend Christopher Mintz-Plasse, to his arm.
And in 2019, Koma got a simple line tattoo based on a photo of then 7-year-old Luca and 1-year-old Banks holding hands.
Both Koma and Duff, who were married in December 2019, have a bunch of simple black-and-gray tattoos, most of which are on their arms. But Koma's latest addition to the collection may be the best one yet.
Hopefully, the age-old superstition is just that—a superstition. Something tells us that this butt tattoo will only bring the couple close together, because as Koma said, how can you win a fight with your wife's name tattooed on your butt?
Truer words have never been spoken.