Hilary Duff just got married, and her wedding dress is STUNNING
Congratulations are officially in order for Hilary Duff and Matthew Koma. The couple just tied the knot after getting engaged back in May, and here's everything we know about their low-key wedding festivities.
The two were first linked in early 2017, after Duff and music producer Koma worked together on her 2015 album Breathe In. Breathe Out. Then they welcomed their first child together, a daughter named Banks Violet Bair, in October 2018. Duff has an older son named Luca with her ex-husband, Mike Comrie.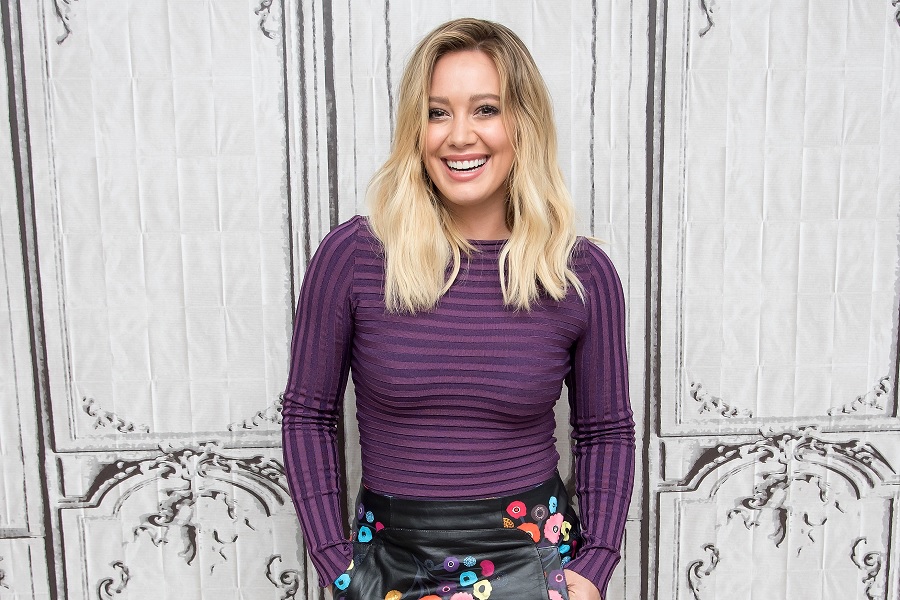 But 2019 was certainly the cherry on top for Duff and Koma, who got married at their Los Angeles home on Saturday, December 21st, according to People. Aside from all the incredible stuff going on in Duff's career (she's starring on Younger, recording new music, and tugging at our nostalgic heartstrings with the upcoming Lizzie McGuire reboot on Disney+), she's now a newlywed. People reports that the couple celebrated with loved ones in a front-yard wedding ceremony that sounds like a dream.
At this point, we have few details about the wedding itself, but we do have a full report on Duff's custom gown designed by bridal wear extraordinaire Jenny Packham. Spoiler alert: It's STUNNING.
The newlyweds shared their first photo together as husband and wife on Instagram, and we're full-on swooning.
Aside from the flawless "just married" shot, the new bride shared details about her wedding dress with Vogue. Duff said that she and her stylist enlisted the help of Packham to design the gown, which made its way from London to L.A. just in time for the big day—including a customs scare.
The dress features a scoop neck, pointy shoulders, an open-back cutout, cape-like sleeves, and a train full of drama.
Duff said of her wedding look, "There's a very modern shoulder. When we were coming up with the design, it was important to me that it was striking but simple. I couldn't imagine wearing a big fluffy dress."
Packham agreed, adding of her famous bride's choice to skip a Cinderella Story-inspired ball gown:
"I think when a lot of us think of Hilary Duff we probably would imagine she's going to wear a real enormous fairy tale dress, and she wears a lot of strapless things as well. So I think this dress is quite a statement of her doing something surprising and unexpected."
Packham embroidered the couple's initials (as well as Banks's and Luca's!) inside the dress's skirt at Duff's request. The designer noted, "When you design wedding dresses…it sounds a bit cringy, but you have to do it with love."
Duff kept her glam and accessories simple, wearing her newly short hair wavy and away from her face, adding Anita Ko earrings and a diamond and pearl Jennifer Behr headband, per Vogue. Of her wedding day look, she said, "Matthew is very simple, and I really wanted to honor that."
Duff added: "I really want to feel like myself, but also how I envisioned he would see me. The end result of what we came up with, with Jenny, is exactly how I wanted him to see me. I think it's how he would envision what I would look like as a bride. It's really special."
Sending all our congrats to the happy couple! We can't wait to see more photos—this celebration sounds like a dream.