Hilary Duff pleaded with Hulu to pick up the stalled Lizzie McGuire revival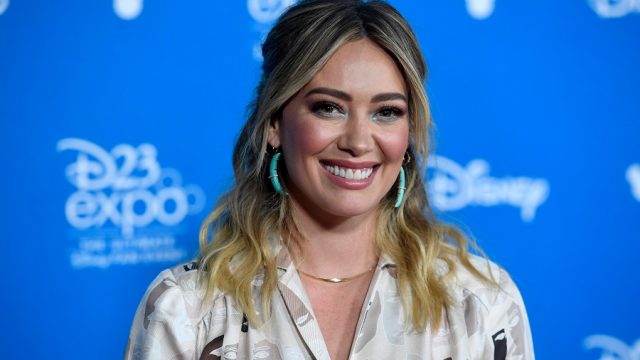 Though production has slowed to a crawl on the Lizzie McGuire Disney+ revival, details about why progress has stalled are coming at us fast. Last week, former showrunner Terri Minsky, who was let go from the reboot after producing the first two episodes, seemed to insinuate that Disney+ squashed the more "adult" themes in her Lizzie-at-age-30 reboot. Now, star Hilary Duff has officially broken her silence on why Lizzie McGuire production went south, and she offered up a way to fix it.
In a February 28th Instagram post titled "Lizzie McGuire," Duff finally clued fans into how she was feeling and pleaded with Disney to release the show so that it can grow on another platform.
"Was incredibly excited to launch "Lizzie" on D+ and my passion remains!" Duff began in a text post. "However, I feel a huge responsibility to honor the fans' relationship with LIZZIE who, like me, grew up seeing themselves in her. I'd be doing a disservice to everyone by limiting the realities of a 30 year old's journey to live under the ceiling of a PG rating. It's important to me that just as her experiences as a preteen/teenager navigating life were authentic, her next chapters are equally as real and relatable."
She continued, "It would be a dream if Disney would let us move the show to Hulu, if they were interested, and I could bring this beloved character to life again."
Duff and others involved in the show remain hopeful that Lizzie McGuire will get off the ground with the right support system backing it. Disney+ recently let go of its high school-set series Love, Simon after the platform allegedly took issue with the "adult" themes, such as alcohol use and sexual exploration.
Let's be real: If Lizzie McGuire is a 30-year-old woman now, she's going to be partaking in "adult" activities. We want to see Lizzie get into some adult antics as grown woman. Give Lizzie the life she deserves!
https://twitter.com/udfredirect/status/1232772053163442179
Lizzie McGuire fans are with Duff and Minsky 100%. In fact, Disney+'s feed is packed with "Justice for Lizzie" tweets.
https://twitter.com/udfredirect/status/1233808760784740352
Disney has some serious thinking to do when it comes to Lizzie McGuire and the content of ~all~ its upcoming shows. We want to see what our television bestie has been up to since middle school, and we want to commiserate about being a grown up with her.
Let Lizzie be an adult, Disney. And yes, that means she's going to have a glass of wine at the end of a long day as well as a sex life. Deal with it.