Hilary Duff just got real about marriage and traditional relationships and we're here for it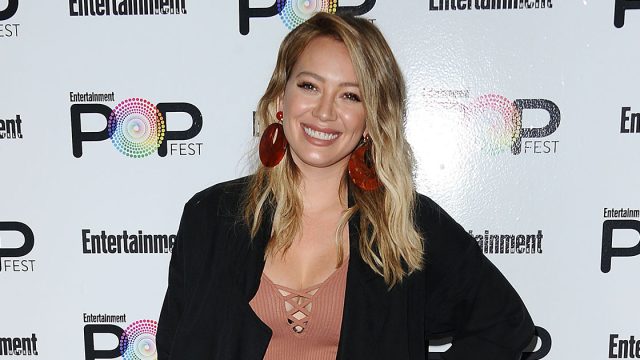 Growing up, living your life, and going through relationships in the public eye must sometimes be a tricky and hard thing to navigate. Someone who knows that more than most is Hilary Duff.
Appearing on the podcast The Love Bomb, Hilary Duff spoke about marriage and monogamy and it's so darn real.
The Love Bomb is hosted by Hilary's Younger co-star, Nico Tortorella, and deals with all matters of the heart, relationships, sexuality, gender, and everything in-between.
Hilary is no stranger to speaking candidly about her divorce and motherhood, and now she's decided to get even more real when it comes to talking all things love.
Speaking about to Tortorella, Hilary Duff spoke openly about living her love life in the public sphere.
"I don't know any other way until now. Obviously I'm divorced, and it's never seemed harder to have a life outside of my relationship," she said. "It just seems scarier than ever because of how much attention celebrities get because of their personal life now and how much focus is on that and how much one person can say one thing and how much impact it can have. It's crazy."
Hilary, who met her ex-husband when she was 19 years old, spoke about her decision to get married and the resulting divorce and we applaud her honesty.
"When we were deciding to get married, I was totally down — I felt totally ready. I had already been working as an adult since I was 12 years old, so 22 doesn't seem that crazy to get married, the singer and actor said about her decision. "I wasn't shamed because I got a divorce. It was a big step to take and it was a lot of considering, obviously a little human."
Hilary, who shares a son, Luca Cruz, with her ex-husband Mike Comrie, spoke about how she's now found a happy balance in her life.
"I never want to have any negative — I mean, that's hard to say no negative feelings — but we got together based on love and we separated in a very loving way. I can't imagine going through that process with anyone but him and he continues to be my very good friend," she said.
Hilary went on to say that she felt that while she wouldn't necessarily get married again, she still thinks of herself as a traditionalist.
She wouldn't rule out marriage, however.
"I don't feel the need," she said. "I got to have the experience and it was awesome. I guess if it mattered to someone else that much, I would consider it."
Tortorella also quizzed his co-star about monogamy and her response was amazing.
Hilary, who is currently in a relationship with personal trainer Jason Walsh, said that, again, the traditionalist in her believes in monogamy.
"I get it. I get that it's hard to be with one person. You get really comfortable and...I think I'm too much of a jealous person, she said. "I'm not a jealous person by nature, but I don't think I want my man sleeping with someone else. And I understand boredom or not connecting after however many years of marriage or a relationship, but that's where the work comes in. I feel like I'd have a really hard time with that.
We're so in awe of Hilary Duff's honesty when it comes to all the matters of the heart. It's so amazing to see someone speak confidently about their relationships and what they believe in. Similarly, we respect how Hilary isn't judgemental about how other people live their lives and is just about living her truth.