Hilary Duff recreated her "Casper Meets Wendy" character on snapchat and we're freaking out
Hilary Duff is getting into the Halloween spirit the best way possible — by recreating her Casper Meets Wendy character!
On Monday, the Younger actress revealed that she loves the Halloween season, just like the rest of us, in an adorable flashback photo thanks to a new Snapchat filter.
Before Duff won our hearts as the stylish and sometimes dorky Lizzie McGuire on Lizzie McGuire in the early '00s, she was actually a witch! Okay, not in real life obviously, but on screen she was an adorable witch.
In fact, when Duff played Wendy, a good witch, in Casper Meets Wendy in 1998 and it was her first real movie role and she totally nailed it!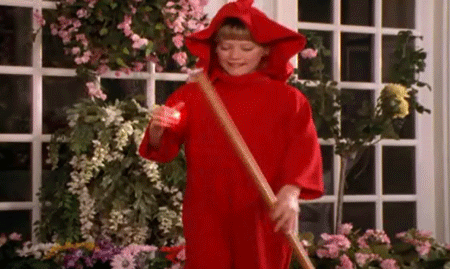 In the movie, Wendy and Casper (the friendly ghost) become friends and bond over the fact that they both have terrible relatives who are always trying to ruin their lives. They become close even though ghosts and witches hate each other — who knew? The whole film is sweet and Duff is SO freaking cute in it.
Now, the star has recreated her memorable character's look, red hooded coat and all, thanks to Snapchat's latest festive filter and we are obsessed with it. She posted a side-by-side photo on Instagram of herself from the '90s movie on the left, and then a current Snapchat hood shot of her on the right.
"Well just in time for Halloween @snapchat gave me this little treat of a filter #caspermeetswendy #wendythegoodwitch #20yearsago?! #ahhhhhhh," Duff captioned the side-by-side photo.
Seriously, could Duff be any cuter and what is her secret to barely aging over the past 20 or so years? Now all we need is for the Texas native to play another witch on TV or in a new Casper movie and our Halloween season would be complete.
Maybe Duff's Younger character, Kelsey Peters, could rock a witch costume this season? TVLand we're looking at you to make this happen!