Hilary Duff just adopted the most adorable rescue puppy, and she needs help naming him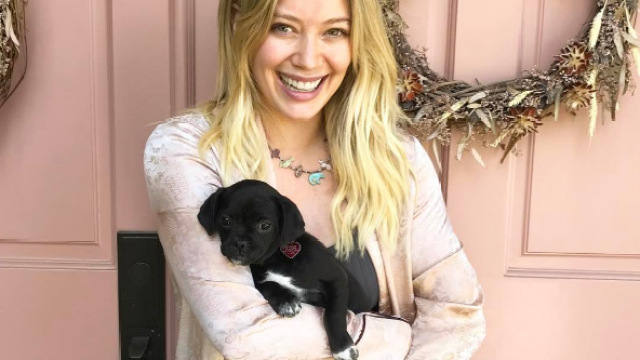 Welcome to the Duff-life, little guy! Hilary Duff made one little puppy's dreams of finding a forever home come true yesterday when she adopted a rescue dog from L.A.'s beloved Love Leo Rescue. Come to think of it, the 29-year-old mama probably made another little one's dreams come true, too: her 5-year-old son Luca. Because what little boy wouldn't want a puppy BFF? We just don't know!
"Meet Momo," Hilary captioned the pic of her newly adopted canine on Instagram.
But upon further getting to know her new pup, it seems that Hilary's encountered a bit of a naming crisis.
"Guys. My mom needs help," she wrote on behalf of her pup on a later post. "Should it be Momo? should it be Bean? Momo or Bean?Hello! name me please! Woof (that's thanks in dog) and goodnight."
Ahhh — decisions, decisions!
We're sure whichever name she decides to go with, the puppy formerly known as Mojito (the name given to him by the Love Leo Rescue folks) will be one happy ruff-ian.
Speaking of Love Leo Rescue, the animal rescue took to their social media to celebrate Hilary's adoption as well as shed light on one jarring fact: Black dogs (and cats) are euthanized at an alarmingly higher rate than lighter-colored animals. Evidence collected by PetFinder.com also supports the claim that it can take up to four times as long to find homes for black dogs, which is just downright heartbreaking. So thank you, Hilary and Love Leo Rescue, for bringing this to everyone's attention!
In the meantime, we're just going to spend the next several hours swooning over the newest little Duff. And we're not sure which name Hilz will pick, but our money's on Momo!
Save