Hillary Clinton tried to get out of going to Donald Trump's Inauguration, and honestly same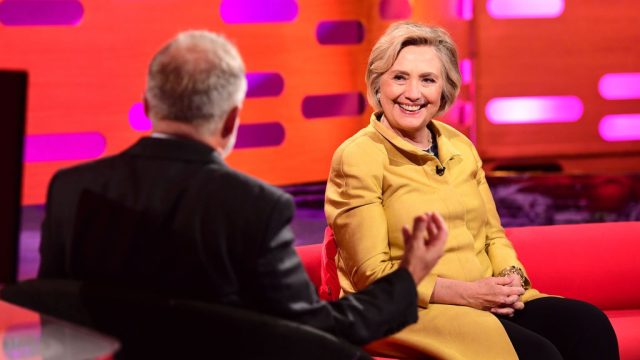 Let's take a trip down memory lane, and back to January 20th, when Hillary Clinton bravely attended Donald Trump's inauguration just a few months losing to Trump during the 2016 election — during which Trump repeatedly called her "Crooked Hillary" and led chants of "lock her up."
It turns out, Clinton did *not* want to go to the inauguration at all, which is honestly all too relatable.
As a former First Lady, Clinton graciously attended the ceremony alongside her husband, Former President Bill Clinton, and every other living president and first lady (With the exception of former president George H.W. Bush and Barbara Bush, who were in the hospital at the time). We can only imagine what a surreal experience it was, watching the person who defeated you to become president being sworn into the office.
On a recent appearance on The Graham Norton Show, Clinton opened up about attending the inauguration and what it was like to watch Trump give his *wild* (to say the least) inauguration speech firsthand, surrounded by nearly all the former occupants of the highest office in the U.S.
https://www.youtube.com/watch?v=LODzEVepdsc?feature=oembed
"You know, I really tried to get out of going," Clinton explained to Norton, explaining the tradition of Former Presidents and First Ladies attending inaugurations to show unity and support. But, given how divisive Trump had been to not only the Clintons but the other Presidents and First Ladies — not to mention George H.W. Bush's son Jeb, who was a primary opponent of Trump's — the Clintons decided to poll the others and see who else was attending the inauguration.
"So you know, [Bill and I] thought, 'Okay, maybe others aren't going.' So we called the Bushes," Clinton told the host. "The elder Bushes were in the hospital, which I think was legitimate. So then we called the younger Bushes and they said, 'Yeah, we're going.' Then we called the Carters and they said, 'Yeah, we're going.' So Bill and I said, 'Oh, we have to go.'
Clinton revealed that while she reluctantly attended the ceremony, she genuinely hoped that Trump's inauguration speech would be one of unification rather than the dark, angry speeches he had given during the campaign. Unfortunately, along with most of the country, she was sorely disappointed by his angry tirade.
"What I wanted to have happen was, despite the kind of campaign he ran, I wanted him to rise to the occasion of being our president, and being the president of everybody, not just people who supported him. That didn't happen, Clinton said. "So we were sitting there and we were listening, I was sitting next to George W. Bush and Bill was on my other side, and we were listening to this really dark, divisive speech that I describe as 'a cry from the white nationalist gut.' I was so disappointed and really so sad that it wasn't an outreach, it was a narrowing and a hammering of what he said before.
We're seriously in awe at Clinton's poise in the wake of her defeat and we're so glad that even she's not immune to having serious feeling after a difficult loss.