These are the world's highest-paid TV actresses of 2017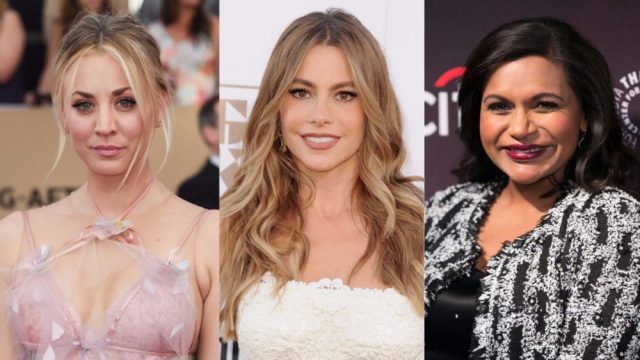 If you want to feel extremely proud of women in the entertainment industry, we've got some very good news for you. Because Forbes shared a list of 2017's highest-paid TV actresses!
The list looks at numbers between June 1st, 2016 and June 1st, 2017, and doesn't factor in taxes and fees. It's mostly unsurprising, as it features high-profile ladies and women who have been killing it on the air for years.
Despite the fact that we've got a lot of love for all of these actresses, we do have to take a moment to have a (virtual) standing ovation for #1 on the list, who beat #2 on the list by, like, $15 million.
This year's highest-paid TV actress ~in the world~ is Sofia Vergara!
She raked in a shocking $41.5 million dollars, and a lot of it is from endorsements. Oh, and she's held this spot for — wait it for it — SIX YEARS IN A ROW.
Kaley Cuoco follows Vergara at $26 million.
Which isn't a surprise since she's been one of the best parts of CBS's The Big Bang Theory for ages.
Following Cuoco, two actresses tied for third. And this pairing is def giving us some ideas for a great buddy-comedy movie we'd like to see ASAP.
Ellen Pompeo and Mindy Kaling nabbed those third-place spots.
They both earned around $13 million, which is only slightly more than…
Mariska Hargitay, who's fifth on the list with $12.5 million.
Not surprising, since Law & Order: Special Victims Unit has been on the air for basically our entire lives. She's a fixture on television, and we love it.
Modern Family's Julie Bowen comes in sixth with $12 million!
This makes her the second cast member from ABC's beloved comedy on the list, after Vergara.
Everyone's shero Kerry Washington is the second Shondaland resident on the list, at number seven.
We think her alter ego Olivia Pope probably gave her a boost in negotiating her wage, TBH. Washington took home $11 million this past year.
Priyanka Chopra is eighth on the list.
Her spot might come as a bit of a surprise as Quantico is a newer show, but she has a handful of endorsements and YOU. GO. GIRL. Chopra made $10 million.
Robin Wright is ninth on the list with $9 million — and we think Claire Underwood would be pretty pleased.
However, it's worth noting that Wright hasn't yet been successful in her bid to be paid the same as co-star Kevin Spacey. It's frustrating to think about, since Claire is just as important to the show as Frank is!
10th on the list is Pauley Perrette aka Abby from NCIS.
She's been on NCIS for almost 15 years, and took in $8.5 million. She's also made a few appearances on various spinoffs, so she's definitely earned this spot.
Together, these amazing ladies earned $156.5 million dollars this year. Pardon us while we try to imagine that many zeroes on our bank statements…