There was a "High School Musical" reunion — and yes, singing was involved!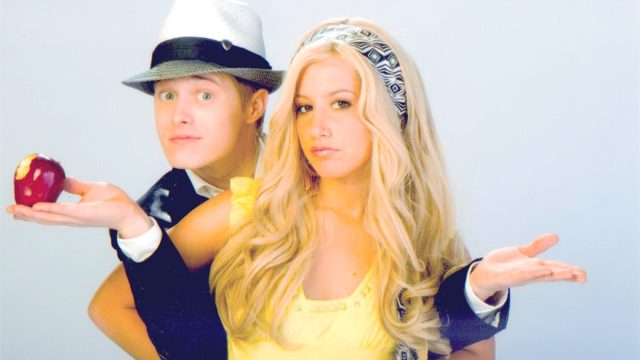 Can you believe that it's been 11 years since High School Musical came out on Disney Channel? It's nuts! We're still waiting anxiously for HSM 4 to swoop in and get the gang back together for the most epic reunion movie this generation has ever seen. But in the meantime, this mini High School Reunion between Ashley Tisdale and Lucas Grabeel will certainly suffice.
Tisdale and Grabeel sat side-by-side in an episode of Tisdale's YouTube series, "Music Sessions." Grabeel rearranged his and Tisdale's classic HSM duet "What I've Been Looking For," and guys — it's so classy and jazzy and cool!
https://www.youtube.com/watch?v=XDsBDG3y0Pg?feature=oembed
And as nostalgic as we were while watching Tisdale and Grabeel sing their cover, Grabeel said that he was incredibly nostalgic while rewriting it.
"I started learning it on the piano and I was instantly taken back to, how many times have we sang this song?" Grabeel said. "In the studio, shooting it in the movie, and going around the world — all these memories kept coming back!"
The two are buds as of today, but while filming the first High School Musical, Tisdale and Grabeel were far from friends.
"All I remember is that we were not close. We were not good friends, let's be honest, okay? It's been 10 years. We can totally talk about this now. We hated each other!" Tisdale laughed.
Tisdale admitted that she was a lot like her character, Sharpay, and wasn't sure about Lucas at all during filming. But now they have nothing but love for one another.
"Mr. Rogers had a great quote that said, 'You can learn to love anyone if you hear their story.' And I think that's what it took," Grabeel said. "We just needed to live some life and go through some experiences together and learn where both of us came from and then it happened!"
Thank goodness it did because we do not want to live in a world where Sharpay and Ryan do not get along!
Perhaps this mini reunion between High School Musical cast members will inspire other cast mates to meet up, share memories, and sing songs. And not to be pushy, but if everyone wants to meet up anyway, then you might as well pull together a HSM4, right? Right???