A high school assistant principal was suspended for saying that "girls ruin everything"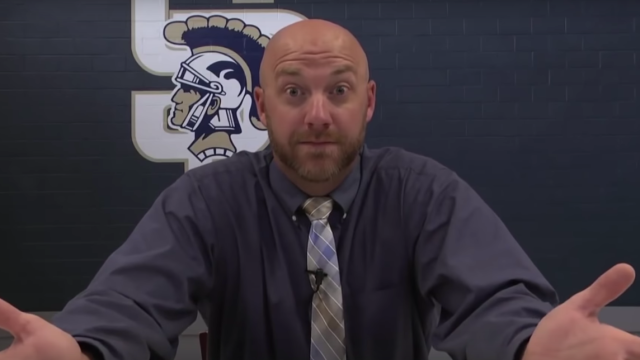 Another year, another round of sexist school dress code incidents. And the most recent egregious event entails a Tennessee assistant principal saying that "girls ruin everything" in relation to a ban on athletic shorts—and he said it on camera.
Jared Hensley, Soddy-Daisy High School's assistant principal and athletic director, produced a televised PSA for the student body in which he explained that athletic shorts were no longer appropriate school attire. He threatened students with detention if they did not comply with the new rules.
"And if you really want someone to blame," Hensley said, "blame the girls, because they pretty much ruin everything. They ruin the dress code, they ruin—well, ask Adam. Look at Eve—you can really go back to the beginning of time."
Hensley was placed on administrative leave on Wednesday, September 26th, hours after his comments aired.
The video was initially posted to a YouTube account connected with the school, but it has since been taken down. The Chattanooga Times Free Press obtained and reposted the video on Wednesday afternoon. In less than 24 hours, it had been viewed over 68,000 times.
https://www.youtube.com/watch?v=m8Vt0Wm3__U?feature=oembed
Many people, including present and former Soddy-Daisy students, have taken to Twitter to express their disgust over Hensley's blatant sexism, calling his comments embarrassing and unacceptable.
false false false
However, there are also students who are sticking up for their assistant principal. They claim that his positive actions in the Soddy-Daisy community outweigh this single negative comment.
https://twitter.com/udfredirect/status/1045114862471393280
false
On the afternoon of September 26th, Hamilton County Superintendent Bryan Johnson said in a statement per USA Today, "We find the comments about young women in this video inexcusable, as the sentiments expressed do not align with the values of Hamilton County Schools. The situation is under investigation, and this employee has been placed on administrative leave effective immediately."
Hensley's comments are absolutely unacceptable—regardless of what positive things he's done in the past. What we say matters—whether in jest or in earnest—and we expect better from our educators.