This Water Bottle Reminds Me to Hydrate All Day Long
Staying hydrated, keeping moisturized, and practicing self-love (in other words, the lyrics from Lizzo's "Water Me") have been my 2020 goals—and they're harder to accomplish than they may seem. I never miss a beat on moisturizing, self-love is an ongoing process, and the hydration—well, that's another story completely.
Forgetting to drink water all day is, without a doubt, one of my unhealthiest traits, and it's only gotten worse since I started working from home at the beginning of the pandemic. With no physical room-switching for meetings and nowhere further than the kitchen to go for lunch, I often spend most of the day in one place, staring at my laptop screen and forgetting to give my body what it needs (like food and water). That is, until a genius little water bottle came into my life and saved me.
My knight in silicone armor is the Hidrate Spark Water Bottle. I received the bottle in the mail as part of a promotional package, and, I'll admit, I thought it was just a gimmick at first. I thought, Do we really need our water bottles to be smart, too? But I quickly ate—or, rather, drank—my words.
Unlike using your standard water bottle, which simply involves filling it with water and drinking it (you know, groundbreaking), the Hidrate Spark bottle requires about five minutes of setup before it's ready to use. To start, you just need to download the free Hidrate App, which is available for iOS and Android, and fill out a short questionnaire. The app asks for your age, sex, height, weight, activity level, and whether or not you're pregnant or nursing. The app also connects to the weather app on your phone to pull information about the local weather. All of this data is used to create a personalized water goal for each day.
Depending on the day, my goal is usually between 50 to 60 ounces, which is about two and a half to three bottles' worth of water. For reference, I'm 23, weigh around 138 pounds, I'm not pregnant, and I marked my activity status as "slightly active," which was honestly pretty generous for my quarantined lifestyle.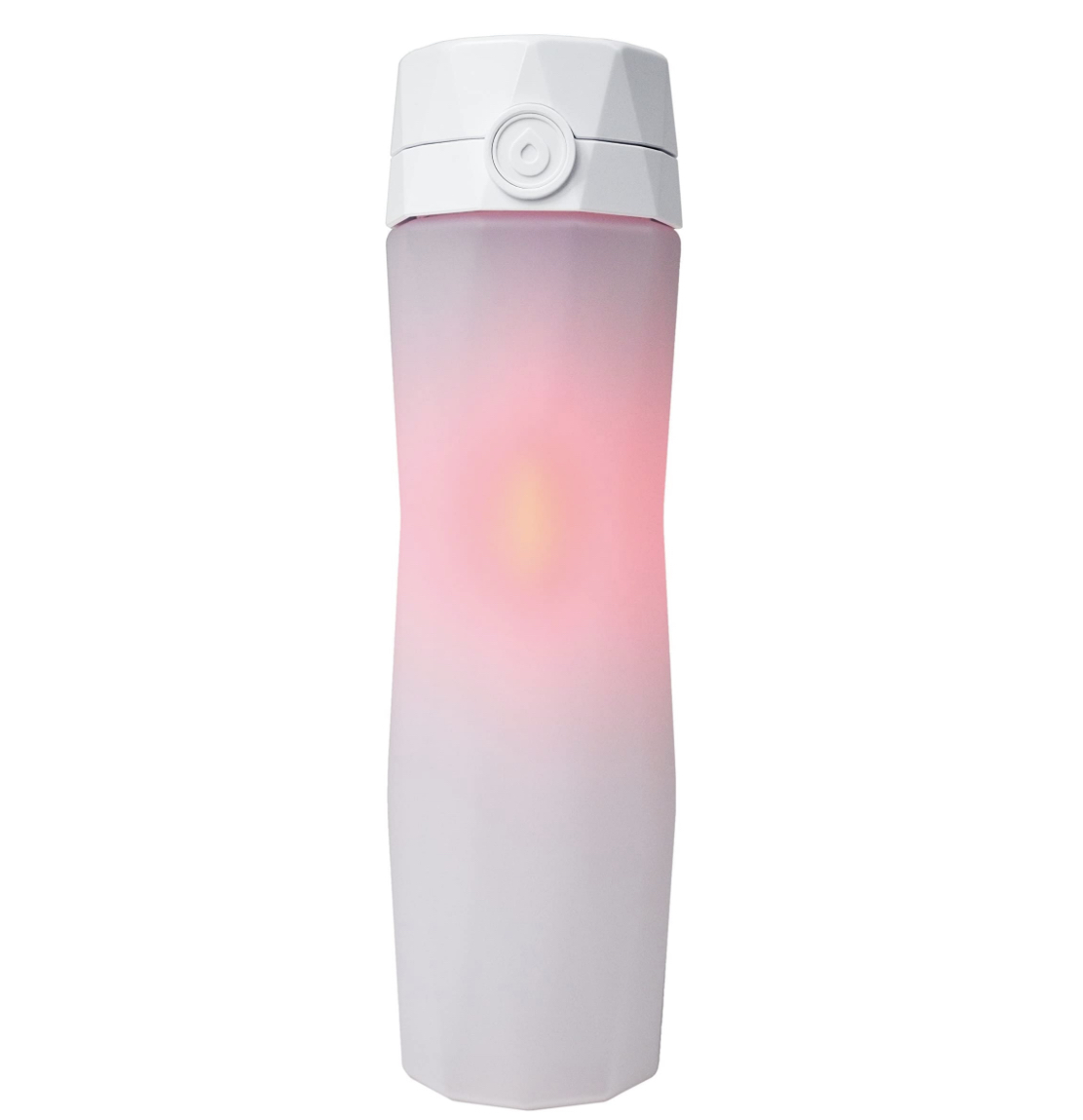 Shop it! $49.99, Amazon.com
Before the water bottle is ready to use, the app also asks you to calibrate the water bottle by moving it around and placing it on a flat surface. This allows the sensor bar in the bottle to detect when you're drinking water and how much water is left. The app tracks your water intake throughout the day, filling a circle to show how far along you are in reaching your daily goal. When you're pacing behind, the water bottle lights up to remind you to drink more water. This is my favorite part; it's like a mini rave being thrown just for me, only at the end I'm actually healthier, not just sweaty and dehydrated.
During the first few days, I realized just how little water I had been drinking on a daily basis. My daily water intake usually looked like this: I would look up from my computer at the end of the day, realize I was severely dehydrated, and then chug a large glass of water and call it even. On some days, this was so bad that my whole body would feel warm like I had a fever because I was so dehydrated. At first, 60 ounces of water seemed like an impossible goal to meet because I wasn't in the habit of drinking water all throughout the day. But I've always been a competitive person, and I quickly made the effort to meet and exceed my daily water goals.
As I started meeting my goals and drinking more water each day, I noticed myself feeling healthier. My body feels stronger, my skin looks brighter, and my mind is clearer. Prioritizing this one healthy habit each day has also forced me to take better, more intentional care of my body overall. Instead of running on empty until I have time to rest, I'm making it a priority to check in on my body and address my needs throughout the workday. If I'm feeling scatterbrained and unable to focus, I get up, move around, get myself a snack, and refill my bottle if needed.
Before I started drinking more water, I would feel tired throughout the day. And coffee didn't seem to have much effect aside from giving me the jitters and an upset stomach. Now, with more water in my body, my digestive system is balanced better, and I feel more energized and equipped to tackle the day. And on the weekends, I'm inclined to do more than just sit on the couch and stay inside all day, which is a big deal for me. As Lizzo says, "I am my inspiration," and finding out how I can easily improve my wellbeing has inspired me to take better care of myself every single day.