Hide your greasy roots by making them even greasier and calling it a couture catwalk look
Part of my, "Oh God I've destroyed my hair with bleach, how can I save it?" regime has been a drastic reduction in washes. When bleached hair is wet, it's at its most vulnerable, ready to stretch and break. Plus, natural head oils are of great benefit to chemically destroyed hair, and they only start to build up after a day or so of being left alone. Overall, for both bleached and "normal" hair, less washing is one of the best ways to keep it in good nick.
But you don't need a professional beauty writer (lol) to tell you that if you wash your hair less, your hair gets greasier. Really, this is the grease we are trying to harness, but, unfortunately, it usually collects in the inch or so of hair around your scalp. Not ideal. Dry shampoo and powder can help the situation a bit, but I've never found one that actually makes hair look properly clean again. So, if you can't fight it, enhance it, right?
All over the catwalks, I've seen a plethora of hot girls with wet heads — roots drenched in oil, grease, or gel, with soft, bouncy glossy ends. The greasiest rooted look of all was seen at Mary Katrantzou's Fall 2016 show — bare-ish faces, dark bold lips, and hair greased down into faux fringes. Perfect for these current lazy winter vibes.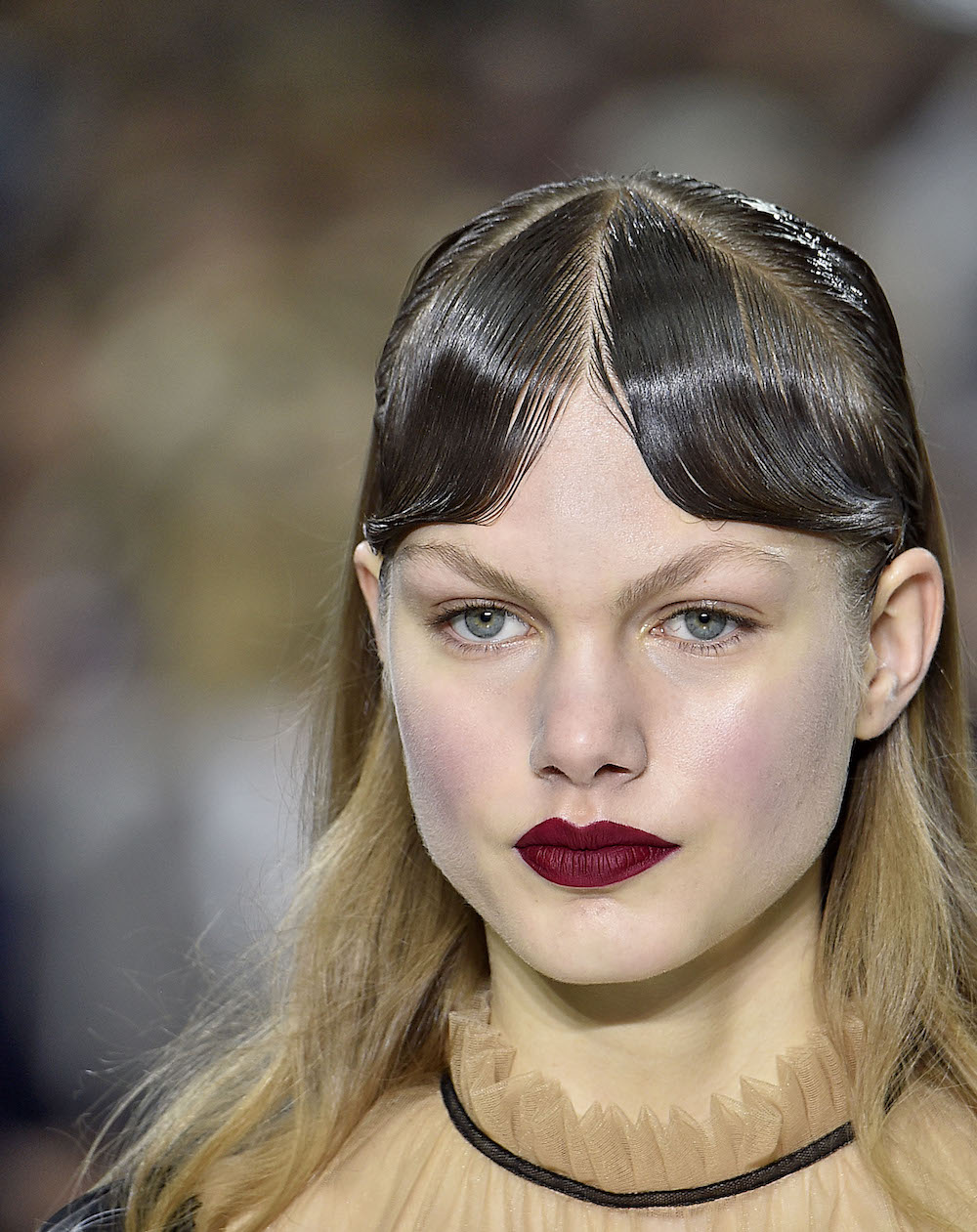 At first glance, it's a weird look. But upon closer inspection, it might actually be very practical. Fashion week is a busy time (so I'm told), after all. Perhaps this trend is just an elaborate coverup.
With plenty of my own grease firmly on my head, I attempted a recreation.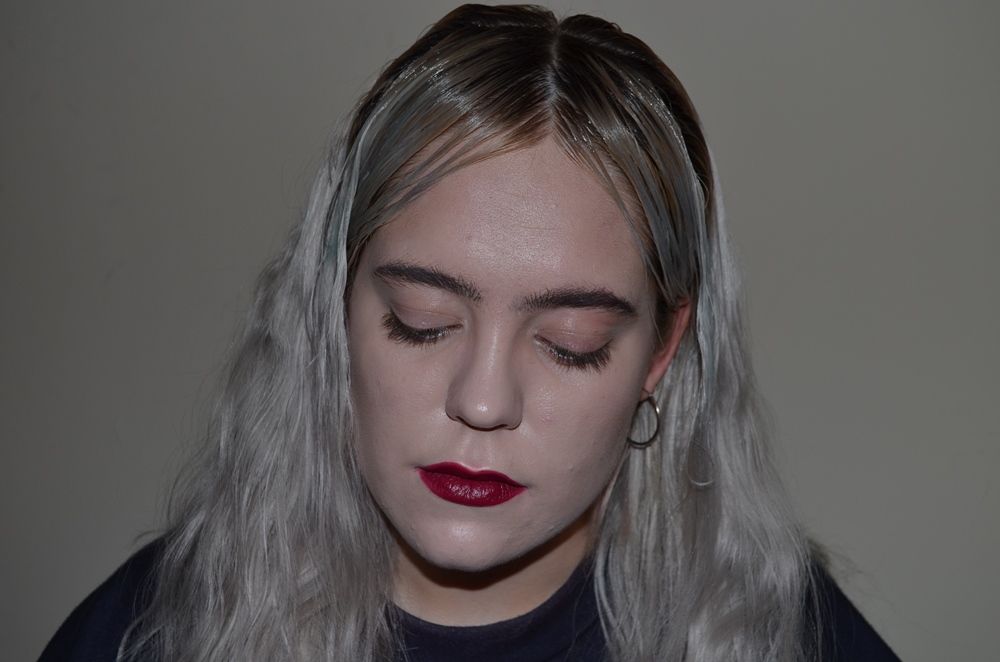 First things first, dat supermodel base. My skin is taking me for a wild ride at the moment, so I attempted a cover job using UK wonder product, the Seventeen Stay Time Foundation ($5.28) in a pale, goth-y shade (Porcelain, to be exact). It's thick and covering with a slightly dewy finish, and it remains emollient on the skin. The closest US version I've found is old faithful Estee Lauder Double Wear ($95). These are products I used, but, of course, do your normal base routine. This look is about the lips 'n rootz.
For heavy contouring, like the model's beauty looks on the runway, I used L'Oréal's Infallible Sculpt ($13.79).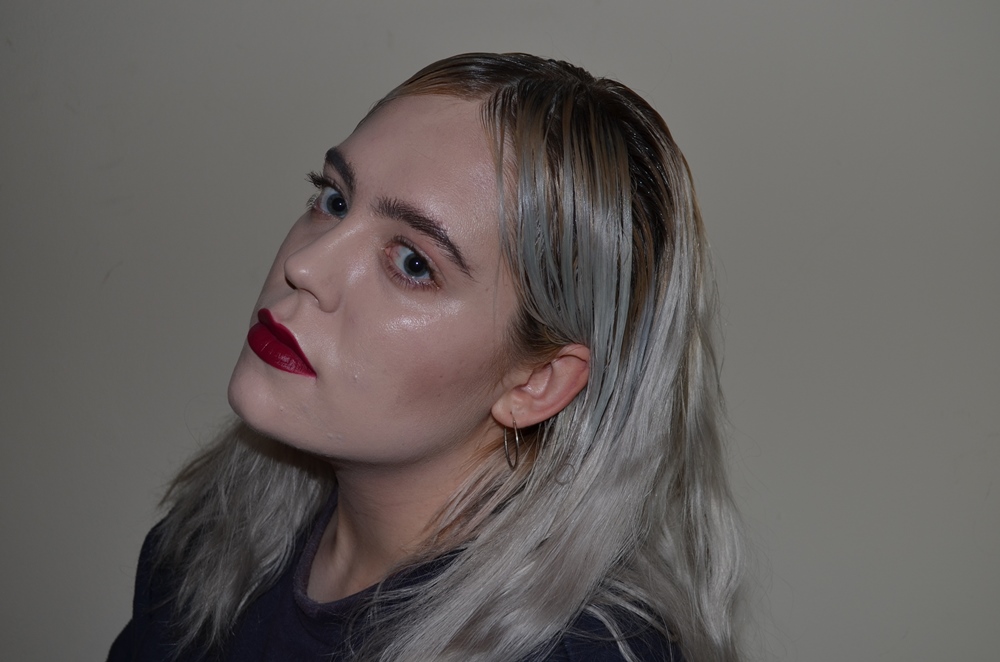 I did some heavy contouring, which I love dearly. I contoured my cheekbones, forehead, jaw, and I also swept a little bit over my eyelids for a very natural shadow. Eyebrows and lashes were done with a tiny sweep of brown mascara for natural definition.
Next up, bold lips.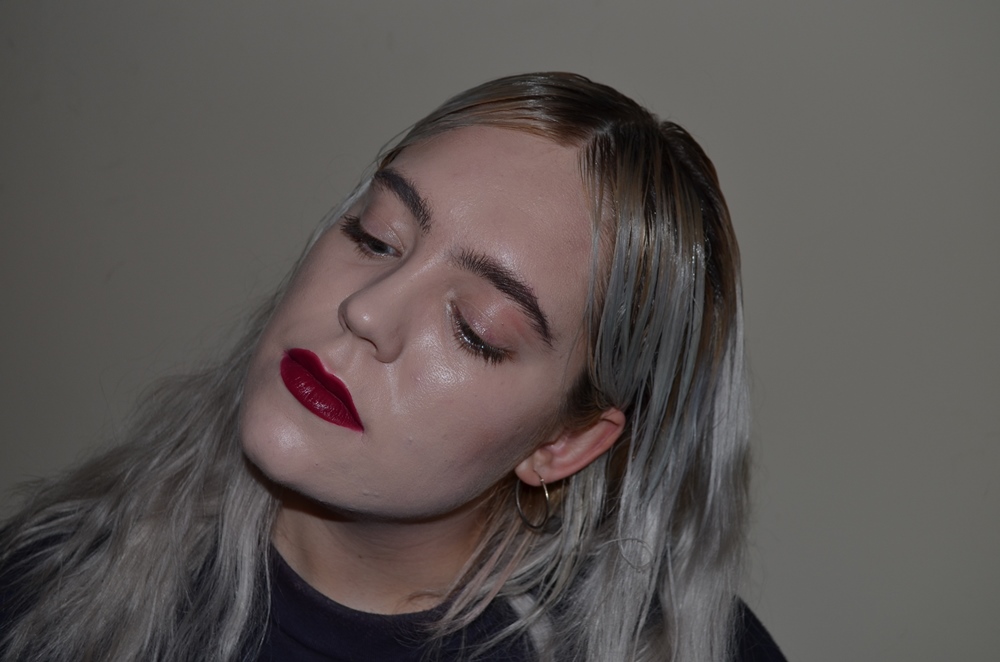 My lips were achieved using a mixture of two matte stains, the Bourjois Plum Plum Girl and Red-Volution ($12.41) and Sephora Cream Lip Stain in Blackberry Sorbet ($14). This wasn't for any other reason than I don't own a nice oxblood-burgundy stain. However, the Sephora Cream Lip Stain looks ideal for this look. I also love the formula of these and they're a close second to the Bourjois. Any matte, warmish purple red will do, really.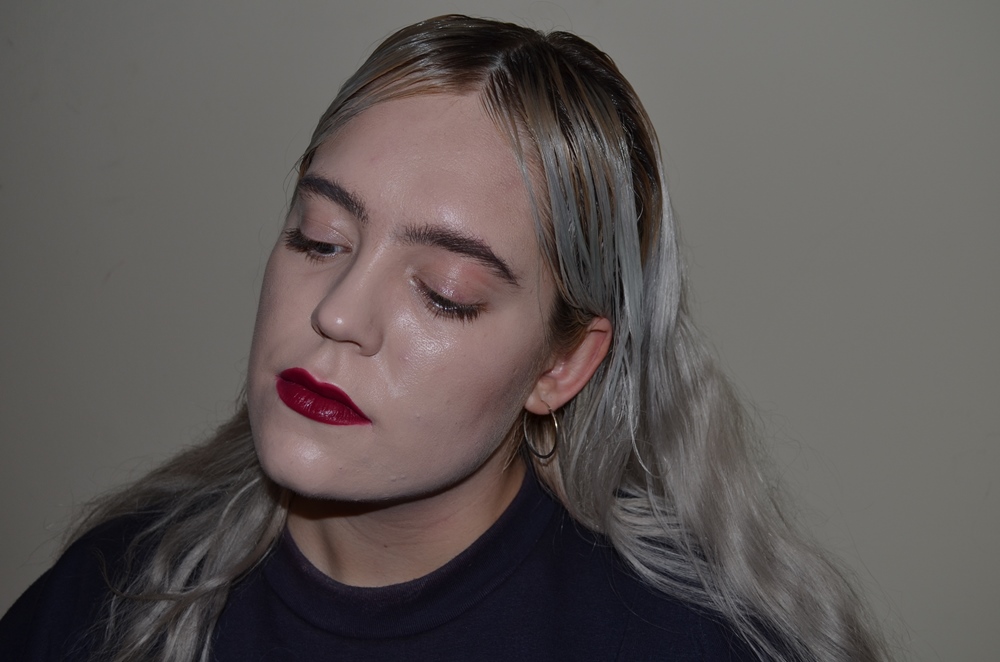 Now for hair: the mane event (HA!)
As discussed, this is an ideal look for hair primed with a touch of natural grease, so give it a few days post wash. Now, add some more grease by using a hair oil of your choice. This is great as it gives your roots a hydrating treatment while you're looking super cool. I used coconut oil, primarily because of the smell.
Once your roots are suitably saturated, you need to apply something with an actual hold to get your face framing parts stuck down. I used the cheapest hair gel in the world because the wet, shiny look is actually what you're going for here. Any gel will do, like this L.A. Looks Absolute Styling Sport Hair Gel ($3.29).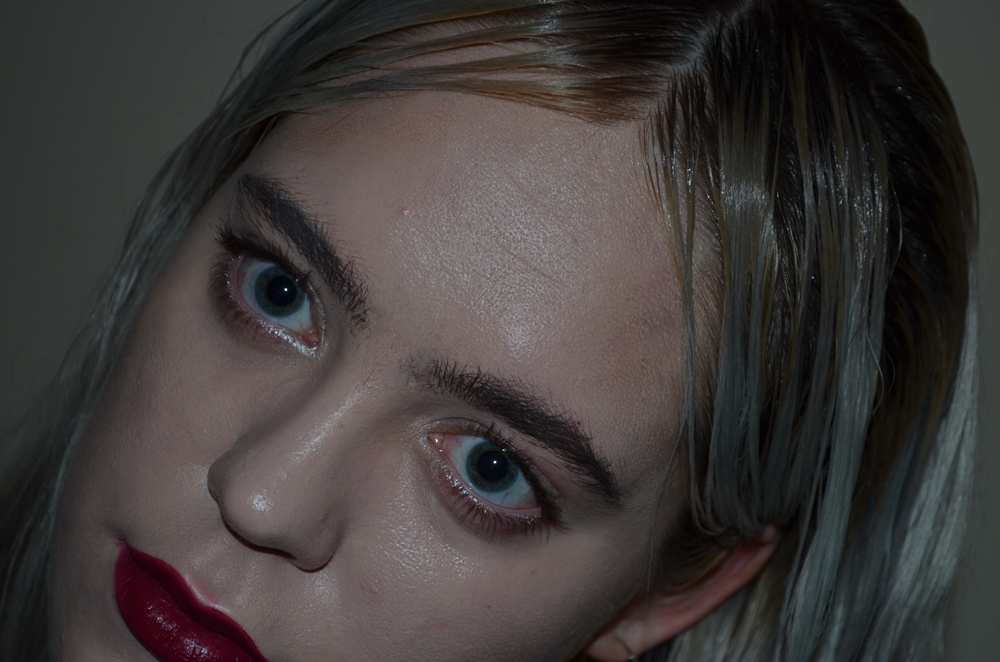 After applying gel, part your hair in the center (or as close to as your asymmetrical face will allow), then part again, from the crown to behind each ear. Then pull the two front sections you have created forwards. Am I explaining this well? You'll like one of the models on the runway in no time!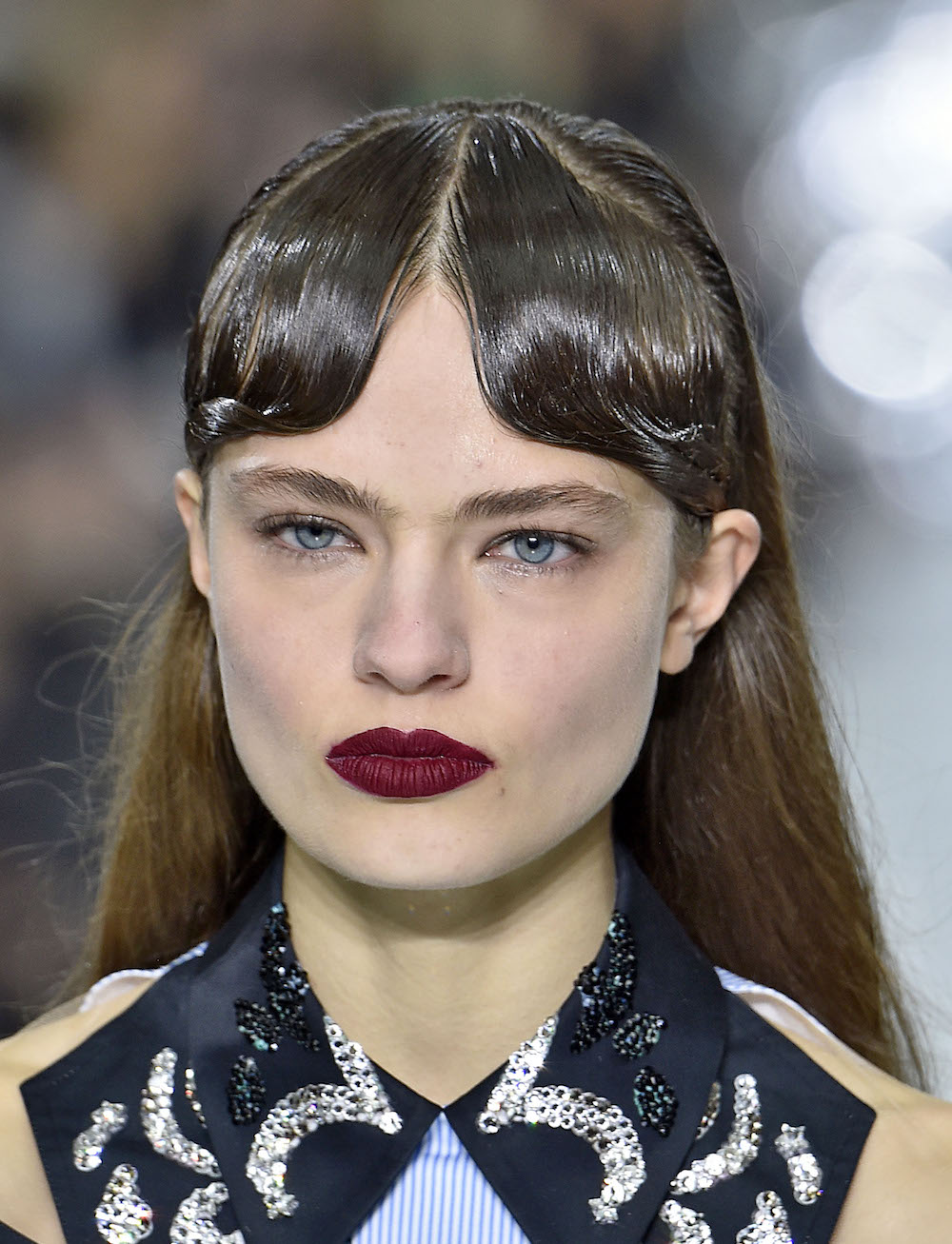 You want all the hair that isn't next to your face gelled backward. Then, with the two front sections, apply even more gel and comb forwards. Achieving the sharp corner look of Katrantzou is surprisingly difficult, so I opted for a softer curve. Once you're happy with the shape, apply more gel as a top coat.
Alone, I think this hair would not achieve the desired effect. But, by turning genuine grease into fashion grease by using gel and a strategically placed bold lip, perhaps you too can eke out another day before the inevitable wash.