This is the "herstory" behind everyone's new favorite shirt
THE FUTURE IS FEMALE.
Everyone from feminist author Jessica Valenti, to actresses Tatiana Maslany and Gillian Anderson, to the cool hip queer girl that lives in your apartment building is wearing it. Fashion writer Eva Chen's daughter has it. I'm wearing mine right now.
So where did the "The future is female design come from?
Although it may seem like perfect timing, it's not a Hillary Clinton shirt. The first "The future is female" t-shirt debuted in 1972. It was made for Labyris Books, the first women's bookstore in New York City, which was opened in 1972 by Jane Lurie and Marizel Rios.
It then gained more traction in 1975, after photographer, Liza Cowan, took a picture of musician Alix Dobkin, her then-girlfriend, wearing it for a project titled, "What the Well Dressed Dyke Will Wear."
Cowan described the project to The New York Times as "before-and-after story on how a woman's look can change over the course of her life as she matures and comes out."
She is a lesbian feminist, artist, activist and writer who was part of the lesbian separatist movement in the 1970s. In 2015, she told Vice that she saw separatism as "a way to figure out what it meant to be a woman, without having to bother with men telling you what you could not think or say… It was a way to develop networks of women's businesses, publishers, bookstores, conferences…"
The concept of lesbian separatism was born out of the frustration that women were often left out of gay rights organizations. Lesbians encouraged each other to cut ties with men and create a strong community to fight for the rights of gay women.
The movement aimed to bring visibility to women who love women, and help queer women develop autonomy.
It's a sad but true fact that even within the LGBTQ+ community, there has been — and still is — sexism. When people hear the word "gay," they usually think of two men.
The slogan is over forty years old and does rely on the gender binary, which critics have rightfully pointed out. "The future is female" is a product of its time and can be given a new life and meaning in today's society.
https://www.instagram.com/p/BK8VmHUB4sC/?taken-by=otherwild
 The owner of LA/NYC boutique Otherwild, Rachel Berks, who brought the shirt back into circulation, told the New York Times:
"It's thrilling to see people embrace something that came out of the '70s lesbian separatist movement. The shirt is about a reaction to a misogynist and patriarchal culture that affects a lot of people. People are recontextualizing it: trans women, men, moms who have sons.
 The product description of the shirt on Otherwild's website reads:
"This slogan has lasted through the decades and is reemerging as an empowering statement for all, as female-identified bodies and rights remain under attack… Otherwild believes in an inclusive, expanded and fluid notion of gender expression, identities and feminisms..."
https://www.instagram.com/p/BBd_ESoSu0t
"...We support liberation, embrace our trans sisters, and call for the end of patriarchal ideology, domination, oppression and violence. We believe that The Future is Female is the past, the present and the future, and is language that resonates.
 The phrase is a rallying cry for anyone who identifies as female and wants to see a change in the world. The slogan reminds everyone that, when women's voices aren't being heard, they're not afraid to yell and make sure they're part of the conversation. Women fought hard for their rights and will fight hard to keep them, no matter how often they come under attack. Feminists know that patriarchal oppression can and will end, but we have to actively work for it.
Especially now, women and queer people need a rallying cry.
The future is still female, even without a female president-elect. Some boundary-breaking women were elected to public office on November 8th, including the first openly LGBT governor, the first African-American politician to represent California, and the first Latina senator. Although she didn't win, this year saw the first transgender nominee for a major party, Misty Snow, run for a U.S. Senate seat.
Having Hillary Clinton as the first female candidate for a major political party was a huge step towards gender equality. Progress is being made and generations of young girls are aiming higher than ever before.
 In her concession speech, Hillary Clinton gave this advice to young women:
"And to all the women, and especially the young women, who put their faith in this campaign and in me, I want you to know that nothing has made me prouder than to be your champion… I know we have still not shattered that highest and hardest glass ceiling, but some day someone will and hopefully sooner than we might think right now… and to all the little girls who are watching this, never doubt that you are valuable and powerful and deserving of every chance and opportunity in the world to pursue and achieve your own dreams.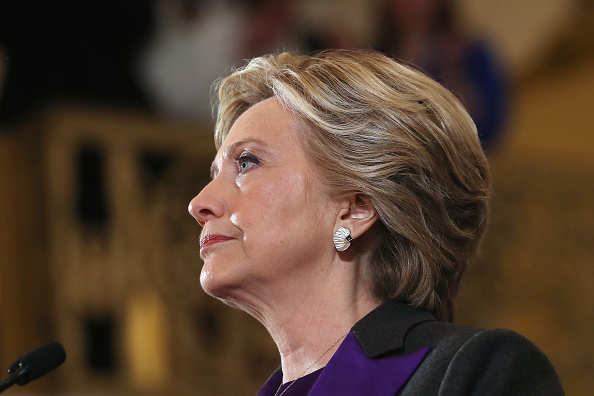 "The future is female started as a reaction to the patriarchy and it will help female-identifying people across the country (and world) continue to fight for equality and dismantle patriarchal societies. As a young queer woman, I feel empowered every time I wear my shirt. I feel like I can do anything I set my mind to.
Many people are saying that our first female president is out there right now, watching Hillary Clinton speak on television while she does her homework or studies for an exam.
The future is still female; we just have to keep fighting.
Otherwild sells the t-shirt, as well as a tank top version, sweatshirt, kid's sizes and more. They donate 25% of the proceeds to Planned Parenthood. For more herstory, go to the h_e_r_s_t_o_r_y Instagram account.