Hershey's is releasing three new cookie layer crunch bars because chocolate is life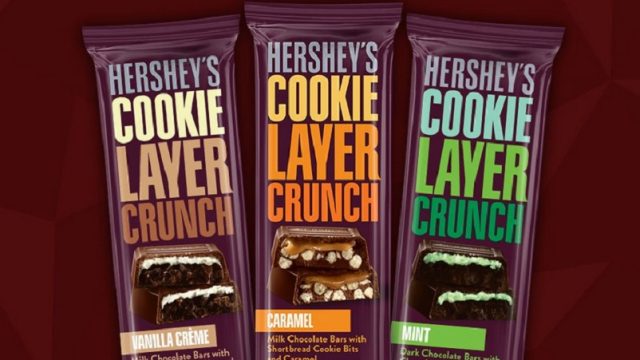 Dear proud member of the sweet tooth-having segment of society: If you're reading this, you probably already regard chocolate as an individual food group. And if you fit into that category, we're going to assume that you too, are salivating over Hershey's three new cookie layer crunch bars just as much as we are. Seriously, someone fetch us a bib or a napkin or something for crying out loud because it's getting messy over here.
So yeah… once again, Hershey's is adding to its line of chocolate candies (along with our shameless caloric intake) with the introduction of these gooey gobs of goodness that come in three flavors: Mint, Caramel and Vanilla Creme, Delish reports. They're essentially the perfect candy: crunchy, cookie-filled and creamy. Honestly, the only bad thing about these chocolate bars is that we won't be able to sample them until December when they hit stores.
This much yumminess in one place ought to be illegal because they look. SO. GOOD.
Much like the new Hershey's Kiss flavor, these delectable chocolate bars are totally worth celebrating. We cannot wait to pair them with a bottle of Hello Kitty booze and quietly contemplate how much better life feels when you have chocolate and wine.