These heroic paramedics described the "agonizing" decisions they had to make in the aftermath of the Las Vegas shooting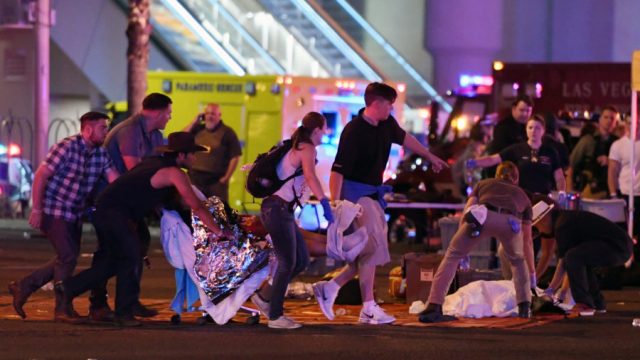 Imagine being at work on a relatively quiet day when all of a sudden the phone rings and you know someone has either lost their life or might lose their life without your help. To many of us, this scenario is unimaginable. But it's the job of emergency responders, and during the Las Vegas mass shooting, they saved lives.
Dan Weber was one of those heroic human beings. He was working as a paramedic near the Vegas strip on Sunday night when the first call came in about the tragic event. Weber said that based on the call, he and his team knew there had been a shooting but weren't aware there were mass casualties. Without a second thought, they headed out to help. When they arrived near the Mandalay Bay Casino and saw the chaos and other ambulances waiting, things became a little clearer for Weber and his partner.
"That's when we knew it was really serious, he told People Magazine. "The cops were telling me that we couldn't go to the area yet, because it wasn't secure. They wanted to make sure that we weren't going to be targets. So we had to wait for an area to be cleared before we could go help.
After law enforcement officers made sure the area was safe and secure enough, they allowed the emergency responders to do their job. Weber described his fears as they entered the area of the venue where people were shot and injured.
"There were cops all around the perimeter of the area to provide cover in case we needed it," he says. "I had never been so scared in my life. I just kept thinking the shooting would start up again."
Weber and others then had to do what's called a triage, in which they tag patients with color-coded stickers based on their injuries, enabling those with life-threatening injuries to be transported to the hospital first.
"We had to take the red-tagged patients first, he says. "But it's not always that easy. People were begging me to take them because they were in so much pain. One woman grabbed at my ankle and we locked eyes. All she could say was 'please.' She had tears all over her face. But she was tagged in yellow, and there were people in red. So I had to say, 'I'm so sorry. Someone will be back for you soon.'
"There were officers helping us triage, but there was still some discretion. Do I pick up this red tag or that red tag? Which patient do we take? What if we choose the wrong one? It can be agonizing."
We can't imagine how difficult it must have been for the emergency responders on site to make these decisions.
Emergency responders like Dan Weber are just regular people who, despite their own emotional turmoil, push forward to help in the worst situations.
Weber estimates that he took about 15 patients to the hospital from the scene. "When it was over, I just hugged my partner and cried," he says. "It was overwhelming…
"It was like a war zone. It's the worst thing I've ever seen in my entire life, and I hope that no one ever has to go through it again. It was pure hell.
This attack is being described as the deadliest mass shooting in modern U.S. history, leaving 59 people dead, and another 527 hospitalized, according to authorities.
We know when something as terrible as this happens, many of us feel powerless, but there are so many ways you can help the victims of the Las Vegas shooting. Also, please keep in mind that it's okay to step away from the internet and the news for your own mental health.
We are beyond grateful for Dan Weber and all the other brave people who devote their lives to saving others.