Here's why Trump's new deportation measures for Central Americans are particularly cruel
Last week, during a busy news cycle filled with sexual assault scandals and, well, more sexual assault allegations, you might have missed some super disturbing news on the immigration front. Fair, there's only so much time to consume awful news on any given day, but we should not be sleeping on the Trump administration's new deportation measures for Central Americans, since they're particularly cruel and, like pretty much everything else his administration does, seemingly totally unnecessary.
Last week, the Department of Homeland Security decided to end the Temporary Protected Status (TPS) program for Nicaraguan immigrants, which means that an estimated 2,500 Nicaraguans who have been here since the 1990s with legal status will have 14 months to pack up their life here and move back home.
The DHS also put a decision to end the program for 57,000 Hondurans and 50,000 Haitians on hold, but it doesn't look good and immigration advocates and experts are advising those communities to start to make arrangements to leave the country that many now call home.
TPS was part of the Immigration Act of 1990, allowing people to come to the U.S. if they were unsafe in their home countries due to ongoing armed conflict, environmental disaster, or "other extraordinary and temporary conditions," according to DHS. Immigrants from El Salvador were the first to qualify because of their civil war. Nicaraguans and Hondurans, for example, were granted TPS in 1999 because of Hurricane Mitch; Haitians because of the devastating earthquake. The program didn't just extend to immigrants from Central American countries, either. DHS just ended TPS for Sudanese immigrants, but extended it until November 2018 for South Sudanese people.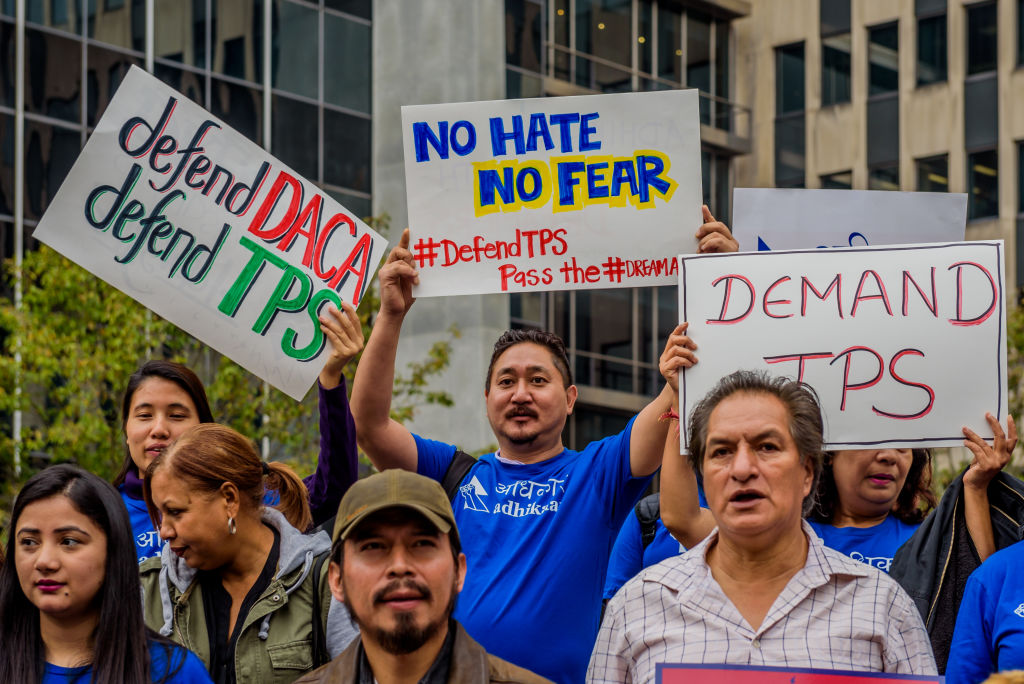 The move is especially chilling for a few reasons. For one, although by definition TPS was "temporary," the program was renewed for countries on a case-by-case basis. So, DHS feels that the situation on the ground in Nicaragua is safe enough for people to return to, but is giving Honduras a review, as they're also doing for South Sudan and Haiti.
https://twitter.com/udfredirect/status/929031493992591360
But it's really hard to trust that the administration is evaluating these situations with much objectivity, especially when, for example, an American territory like Puerto Rico is still in disaster mode after the most recent hurricanes. Meanwhile, Haiti still "struggles to provide basic shelter" for its 11 million residents, according to The Washington Post. Are these places really, really going to be able to accommodate the influx of thousands of people?
Secretary of State Rex Tillerson thinks so. He's required, by law, to write recommendation letters every 18 months to the DHS about whether to renew TPS on a case-by-case basis. (The DHS has to announce their decision at least six months before the deadline, which is exactly 18 months after the protection was granted.)
Last week, Tillerson wrote to acting DHS Secretary Elizabeth Duke that conditions were improved in Central America, according to him. (The letters weren't made public.) It's important to note that TPS for countries comes up for renewal all the time, so this isn't some random thing the Trump administration has started doing — but they're definitely doing things their own way this time.
An unnamed White House official told The Washington Post, "It is fair to say that this administration is interpreting the law, exactly as it is, which the previous one did not." Which is a roundabout way to say the Trump administration is the first one in two decades to assume these regions were safe for immigrants to return. The Post reported:
"The official acknowledged that the countries in question continue to suffer from problems of poverty, corruption and violence that, in many cases, have spurred illegal migration. But, the official said, those conditions should be addressed in other ways."
It's pretty chilling. Note that these immigrants have been here legally for almost two decades and all have legal work status. They've built homes, lives, and families here. There are about 250,000 U.S. citizen children of TPS recipients, total, that were born here. Which means families have to make some tough decisions about bringing their children home to regions that are reportedly still impoverished or split up.
It's sort of sickening to think that the American government would knowingly break up families or send people to places that they know might be dangerous (especially as the administration adopts an "America First" foreign policy). Haitians, for example, are set to find out their fate in the U.S. by Thanksgiving, which is just…gross.
This is no joke, either. According to Nicole Svajlenka, a senior policy analyst with the Center for American Progress, co-authored a report about the impact on the economy if the TPS program ended for just Central Americans.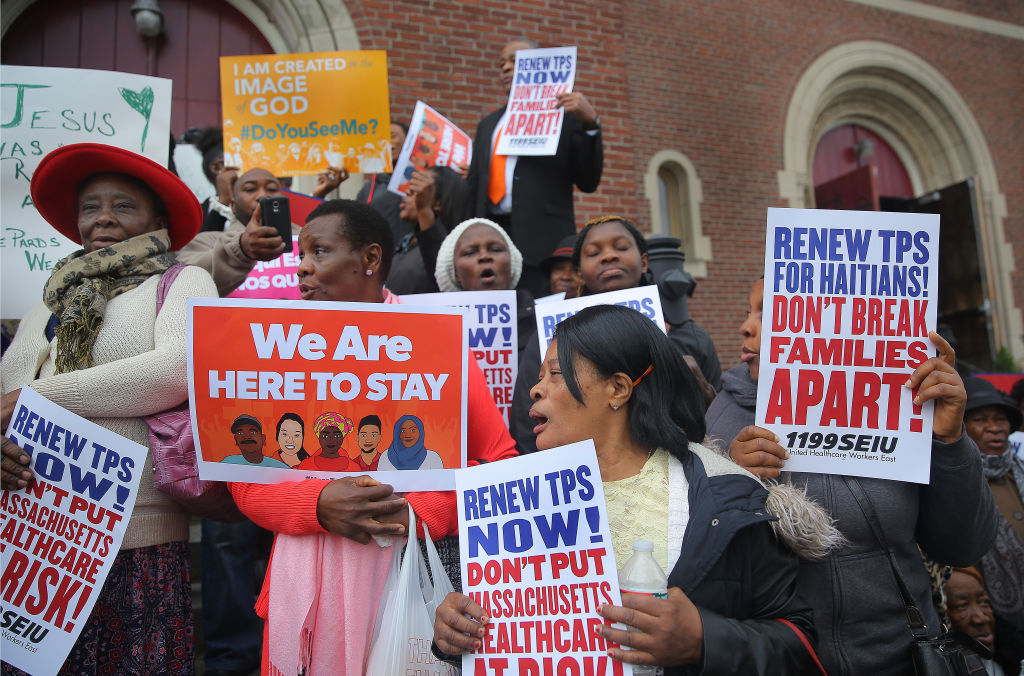 "In our study, we found that the country stands to lose $164 billion from the GDP over the next decade if TPS expires," Svajlenka told WNYC, a radio station out of New York City. That number includes $2.5 billion a year for just New Jersey and New York. So states should prepare for the mass exodus economically, because when you kick immigrants out, it can have devastating economic effects. This is because, contrary to what Trump and so many Americans think, immigrants are not "bad hombres" but the kind of people who work two or three jobs to support their families in this country that gives them residency (sometimes), but little else. Immigrants, especially those with TPS status, do not take from Americans, but contribute like crazy to our country.
Perla Canales, a TPS recipient since 1999 when Honduras was hit by Hurricane Mitch, told WNYC that she's "terrified" of losing her job cleaning a Staten Island mall. "If I don't have TPS, my job, my benefits, I lose everything. My family, too. I take care of my family. My mom, my brother," she said. Others called in to the radio station with the same distress, urging Congress to act.
So what is there to do?
At least some in Congress were paying attention as the administration quietly decided that TPS should be revoked for certain immigrant communities. Members of Congress introduced a bill, dubbed the ASPIRE Act, this week. The bill would allow TPS recipients to apply for permanent residency. It would also create a protected status for people who have been in the U.S. under the program for five years. Instead of waiting for renewal every 18 months, the TPS recipient could stay in the country for six month, but they would have to prove "extreme hardship" to apply for permanent residency.
New York Rep. Yvette Clark, who introduced the bill with Florida Rep. Ileana Ros-Lehtinen and Washington Rep. Pramila Jayapal, said in a statement:
"The Temporary Protected Status program was created with bipartisan support to protect human life. It advances American interests and values and we must work in a bipartisan manner to do the right thing and protect hardworking immigrants from being sent back to countries where their physical well being could be cast into doubt.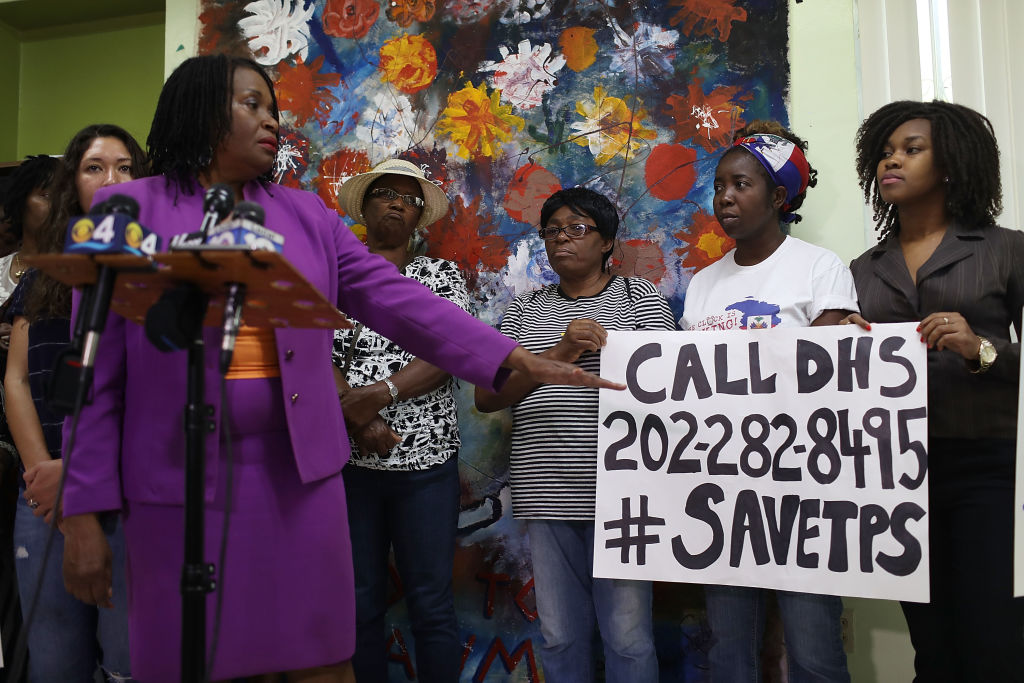 Ros-Lehtinen, from Miami, said in a statement to the Miami Herald, "I spoke yesterday about TPS, had hardly anyone ask me about it. I spoke again today about TPS, radio silence from my colleagues. There's just no interest for immigration reform generally, and I don't think there's much appetite to help these two particular groups of people. It hurts to say it but it's the political reality."
Immigration policy is complicated, but it affects people every single day. You can call your reps or the DHS and demand that TPS at least be renewed for these regions, or not to support the new bill until you learn more about it. Hopefully legislators will do whatever they can to keep families together and people safe. Revoking TPS for these regions is definitely not the way to do that.