Here's why they decided to show Hannah's suicide on "13 Reasons Why"
Despite some concerns over its graphic depictions, the author and the show creator of 13 Reasons Why have defended the decision to depict Hannah Baker's suicide on the Netflix drama.
Since its premiere on March 31, 13 Reasons Why has, it seems, become one of Netflix's most popular original series, and totally broke us upon our first viewing. The show, which was executive produced by Selena Gomez and her mother, has been praised for its realistic portrayal of high schoolers, sexual violence, abuse, and bullying. What's more, the show's cast (and Gomez) have become firm friends, and some have even gotten matching tattoos with the singer in the shape of a semicolon to help promote discussion and awareness about suicide and mental health.
https://www.instagram.com/p/BSsBAQjgcq3
Those that have watched 13 Reasons Why will know that in the last episode (and throughout, tbh) there are some pretty graphic and disturbing scenes, with Netflix even prefacing the final episode with a disclaimer warning.
The scene in question shows Hannah Baker, played by Katherine Langford, deciding to end her life. The viewer is shown exactly how Hannah does this, and later reveals her dead before she's found by her parents.
Speaking about the controversial decision to show the suicide scene in detail, the book's author, Jay Asher, said that the scene needed to be "as horrific as it actually is." 
"So the way she does it, you can't watch it and feel like it's glamorized in any way," he adds. "It looks and is painful, and then when she's found by her parents, it absolutely destroys them.
This is something that screenwriter and show creator Brian Yorkey echoed, noting, "We worked very hard not to be gratuitous, but we did want it to be painful to watch because we wanted it to be very clear that there is nothing, in any way, worthwhile about suicide."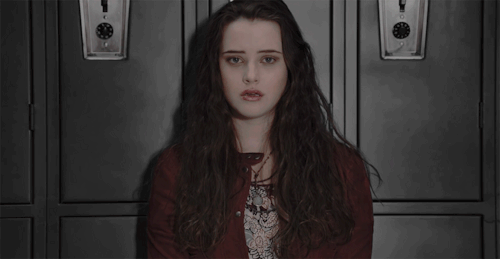 As Entertainment Weekly points out, studies have shown a correlation between graphic depictions of suicide and the effect it has on those already experiencing suicidal ideation, with the American Foundation for Suicide Prevention stating that "risk of additional suicides increases when the story explicitly describes the suicide method, uses dramatic/graphic headlines or images, and repeated/extensive coverage sensationalizes or glamorizes a death."
It's something that Dr. Christine Moutier, the American Foundation of Suicide Prevention's chief medical officer, told EW was a tricky line to balance. She suggested that you could have a character who is struggling with mental health concerns and developing suicidal ideation, but that showing a person going down a path of taking their life was still "a big red zone for danger for contagion."
"We believe strongly that the issue of suicide is really important to raise the volume on," she said. "So it's not that portrayals are all bad — it's the way that it's done and that it needs to be with a prevention message and a message of hope, something that can inspire others to work through life's struggles whether they're way upstream from actually being in a crisis or even when it's at the moment of suicidal crisis."
https://www.youtube.com/watch?v=JebwYGn5Z3E?feature=oembed
While the show does indeed show Hannah's death by suicide, among other disturbing scenes of sexual violence and rape,  it also depicts the ways in which a person can speak out, express their feelings, and that help is out there. Hannah does go to her guidance counselor to express how she's feeling, and although he and others missed her warning signs, they leave the season with a heightened awareness and impulse to be kinder to each other.
Given that there are strong rumors that 13 Reasons Why could return for a second season, hopefully the show continues to open up discussions about mental health and showcase the different options available for help to people who are struggling.
If you or someone you know is contemplating suicide, call the National Suicide Prevention Hotline at 1-800-273-8255 or text Crisis Text Line at 741-741. Find more information about suicide here.