Here's why "Girls Trip" is the female friendship movie we really need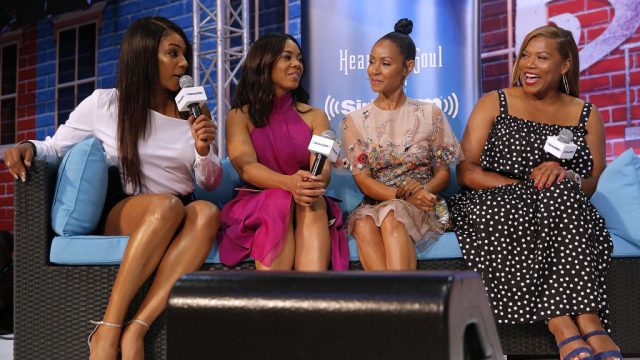 Girls Trip stars Regina Hall, Jada Pinkett Smith, Queen Latifah, and Tiffany Haddish, which should be enough information to make you want to see it. However, there is so much more to this movie that makes a trip to the theater to see Girls Trip worthwhile, namely, its magnificent celebration of sisterhood.
Some might call it a female version of The Hangover, but Girls Trip truly is in a class of its own. Sure, its log line makes it sound like it's something we've seen before: four friends go on vacation and have a wild time. But though there are many hilarious drunken misadventures in the film, there are equally as many vulnerable moments, which illuminate the beauty of female friendship — and black female friendship in particular.
Check out the trailer if you haven't already:
https://www.youtube.com/watch?v=Ra1pPTR8u50?feature=oembed
The movie strikes a perfect balance between an over-the-top girls' trip and a realistic portrayal of what it's like to have long-lasting friends who have seen you at your highest and lowest points in life. Just like how your best girlfriends are always there to lift your spirits and make you feel alive, Girls Trip does the same. It's not all about mushy-gushy feelings, either.
Tracy Oliver, one of the co-writers of the movie (along with Black–ish's Kenya Barris) understood the need for a lighthearted depiction of black women's friendships.
"I think we need to show all aspects of black lives," Oliver told The Hollywood Reporter. "I love Moonlight. I love Hidden Figures, but I also want to see some people who are having fun and just showing female friends hanging out. It doesn't have to always be so serious. We can just relax and like hang out and have a good time, too."
And yes, this includes a lot of discussion about one's "booty hole."
Hey, we've all got that one friend, don't we? And that's the whole point of this film: to show what groups of female friends are actually like — with some cinematic flair, to be sure.
The point is, Moonlight, Hidden Figures, and Girls Trip are all equally necessary. Representation is immeasurably important, and that includes representation of the just plain silly, too.