Here's what you need to need to know about the Russia investigation charges
The Russian investigation has been looming in the background of Donald Trump's presidency. On Monday, special counsel Robert Mueller issued the first real charges in the investigation against Trump's former campaign manager Paul Manafort and one of his advisors, Rick Gates. Even if you've only been low-key following the investigation, the excitement surrounding the announcement on Monday morning made it seem like a Very Big Deal™ and possibly the beginning of the end for Trump. That all remains to be seen, but for now there are a few things you should know about the Russian investigation charges.
Because if nothing else, these charges (along with another, unrelated confession made on Monday from another former campaign advisor, George Papadopoulos) mean that the Russian collusion investigation is not going away anytime soon.
Just in case this is the first time you've really been able to pay attention to the investigation, since there are better, more worthwhile ways to spend your time than obsessing over Trump, let's start from the beginning.
So wtf is going on?
This investigation has been going on since before the election, when James Comey was still the FBI director, and the entire point of it is to find out if the Trump administration colluded in any way with Russian officials or operatives during the 2016 election, potentially affecting the outcome. After Trump allegedly insinuated to Comey that he should just drop the investigation, the president fired him back in May. (Why Trump fired him was a point of contention, which is why Comey testified this summer about his interactions with the president.)
But the purpose of the investigation is important, since any alleged involvement from any foreign country in our elections is profoundly wrong, so the Justice Department hired Mueller as special counsel to carry on the bipartisan investigation back in May. According to the New York Times, U.S. intelligence agencies have evidence that Russian president Vladimir Putin led a "stealth campaign" to interfere with the election last year. Mueller is tasked with finding out whether Trump officials had anything to do with it.
After interviewing people close to the Trump campaign for the past few months, the first charges were finally brought on Monday, but they seemingly, or least according to the White House, have very little to do with the Trump campaign's alleged involvement with Russia.
Here's Paul Manafort at the 2016 RNC.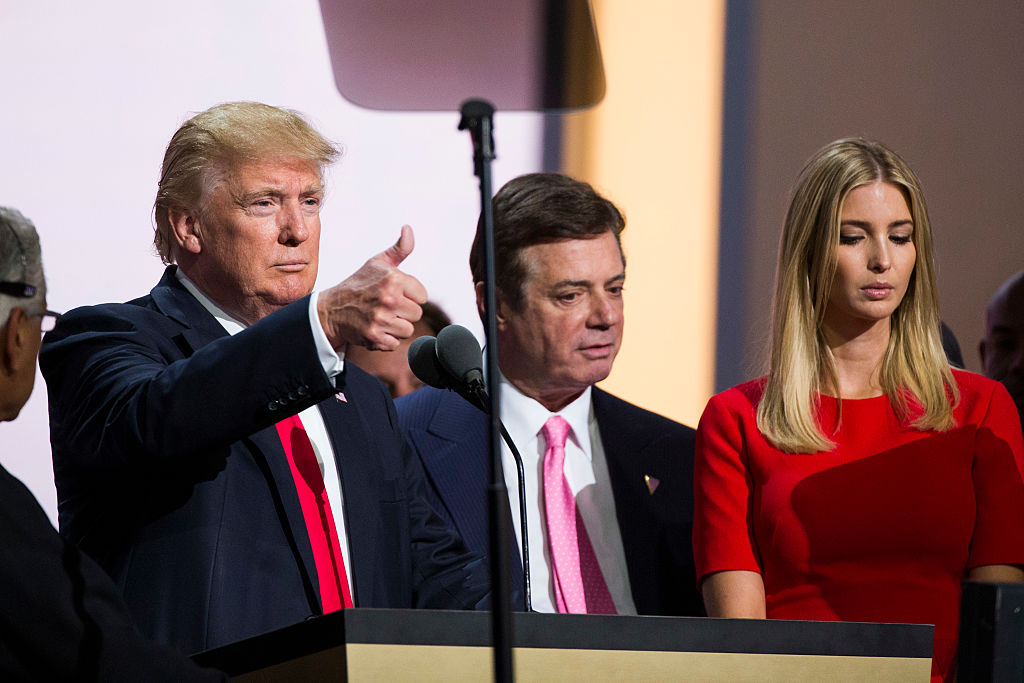 The Justice Department had Manafort and Gates turn themselves into the FBI under 12 charges Monday morning, the biggest ones being for money laundering, lying to the FBI about their involvement with a political party in Ukraine, and filing false documents about their cash flow, which amounts to one of the other charges: conspiracy against the U.S.
All of the things they're being charged with occurred way before 2016 — essentially the indictment alleges that Manafort laundered more than $18 million, which is why you might have seen tweets and reports about properties he bought in Brooklyn, huge clothing purchases, and other spending.
https://twitter.com/udfredirect/status/925005659569041409
The scandal isn't that he had real estate investments or custom suits, but that those things were all a way for him to clean dirty money from the Ukraine without having to tell the Internal Revenue Service about it.
Still, nothing to do with Trump…sort of.
Although what Manafort was allegedly doing with the Ukrainian government, money laundering, and treason thing sounds like a Scandal episode, it really shouldn't distract you from what Mueller is really doing by filing the charges.
The charges against Manafort and Gates could lead to prison time theoretically, but it's unlikely that that will ever happen. Instead, Mueller and his team are hoping that the two former Trump advisors turn on their former colleagues and start dishing about what really happened, if anything, if they even know, between the Trump campaign and Russia during the 2016 campaign.
On Monday afternoon, both Manafort and Gates pled not guilty to all charges and were placed on house arrest. So there's going to be a lot of legal back and forth going forward when it comes to finding out what, if anything, Manafort and Gates knew or did.
There's a little plot twist, though.
While Manafort and Gates were turning themselves into the FBI on Monday morning, another one of Trump's old foreign affairs advisors from his campaign, George Papadopoulos, also went to law enforcement. He confessed to lying to the FBI last spring when they asked him if he had ever had contact with Russian or other foreign officials on the Trump campaign's behalf. He now says that he did communicate with Russians about getting "dirt" on Hillary Clinton during the campaign.
Those meetings allegedly never happened and those close to Trump allege that Papadopoulos wasn't a key member of the campaign. White House spokesperson Sarah Huckabee Sanders said that Papadopoulos was a "volunteer," at best, insinuating that Trump had no idea what he was up to. However, statements made by Trump last year concerning his advisors indicate that he was in the inner circle in some regard.
The investigation is nowhere near over. If anything, Papadopoulos' confession could be much more damning for the Trump administration, since he's admitting he lied previously to the FBI and his actions reportedly took place during the 2016 campaign. That's the case you want to really watch if you have to pick just one, if you, like all of us, are totally exhausted already by all of this. It's really just the beginning for Mueller's team, so settle in.