Millie Bobby Brown's hairstyle at the 2018 Golden Globes had a secret message only "Stranger Things" fans would catch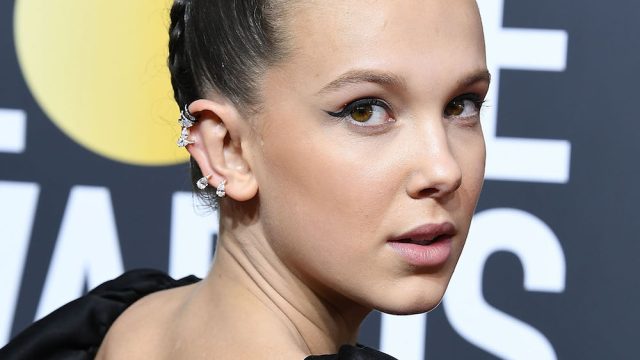 Millie Bobby Brown is without a doubt a burgeoning style icon; at only 13, she's one of the chicest young stars in Hollywood. The fashion world has been buzzing about her for months, but Brown clearly took it to the next level, thanks to stellar styling and beauty choices at the 2018 Golden Globes — especially because the black dress she donned was in support of the Time's Up movement.
Brown's hairstyle, on the other hand, offered up an homage to her Stranger Things character. For those of you who haven't fallen under the Netflix original's spell, Brown plays Eleven, a mysterious young girl who lives at the center of the show's paranormal world. Eleven's trademark hairstyle is a super close-cropped 'do that later grows into a sort of…well, mullet, as the show progresses. A far cry from the elegant ballerina bun she rocked at the awards show, right?
Yes, but the connection between her 2018 Golden Globes hair and her character still appears to exist. It's subtle, but eagle-eyed fans pointed out that if you look at the back of Brown's 'do, which features intricate braids, forms two distinct parallel lines…and if you look closely, you can sort of make out the number 11.
See what we're saying?
https://www.instagram.com/p/BdqxKaRg10n
There's no real word on whether this was intentional or not, but we wouldn't be surprised if Brown cleverly chose to honor her character with this subtle choice. Her Golden Globes look was all kinds of fierce, but intentional or not, this tiny touch totally takes it over the top.