Here's what Christina Aguilera thought of Kylie Jenner's "Dirrty" Halloween costume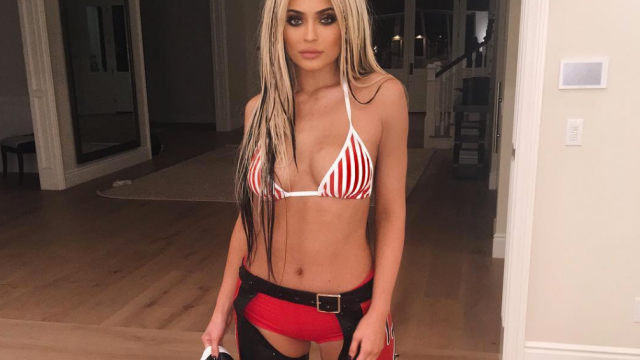 What could be better than Kylie Jenner pulling off the perfect (literally, perfect) Christina Aguilera "Dirrty" Halloween costume? Why, hearing Christina Aguilera's reaction to Kylie Jenner's "Dirrty" Halloween costume, of course!
And remember, coming up with a creative costume isn't easy. You have to be inventive enough to imagine an idea that no one else has done before, and then you have to make sure you can find all the materials you need to pull it off. Which is usually easier said than done.
Yet Kylie totally killed her "Dirrty" costume. The outfit hasn't been overdone, we all know who she's dressed as, and it was a wayback playback to a song and video we were legit obsessed with back in 2002.
Let's all just take a look and admire this getup in all it's glory.
https://www.instagram.com/p/BMLZb_rBjMu
The 19-year-old reality star had everything down perfectly.
From her braids to her red chaps, not sure she could look anymore identical if she tried and it's a look that's so iconic that had everyone on the internet yelling, "YASSS!"
https://www.instagram.com/p/BMLe7pBBzEg
As you can probably guess, a celebrity dressing up as another famous person can be a little risky. It may come off as rude because some celebs forget that they should have a sense of humor, but Aguilera's reaction to Jenner's costume is another reason we're always #TeamChristina.
https://www.instagram.com/p/BMNHfD3Doar
The singer shared the photo of Jenner's costume and wrote, ""YAASSSSS"…..Killin it @kyliejenner yes to dirrty 2016!! Get it girrrl!!! ??☠️????"
We know what costume WE'RE going to wear next year!