Here's the significance behind Rumi Carter's beautiful name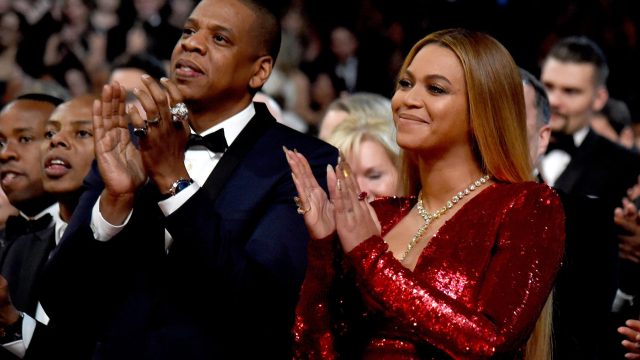 We had all been curious to know what Jay-Z and Beyoncé named the twins. Now that we know they are Sir and Rumi, we are dying to know what their names mean. Because Beyoncé never does anything half-heartedly, the twins' names are clearly very deep.
The name Rumi is really beautiful and has some amazing history.
First of all, Rumi's name has a very touching relationship with her big sister Blue Ivy's. According to Name Berry, the name Rumi means "beauty, flow, lapis lazuli" in Japanese. Lapis lazuli is a gemstone that shines in a brilliant blue — something that we imagine might be connected to Miss Blue Ivy herself.
Clearly, the color blue is important to the family.
Many of us are familiar with the works of 13th Century poet Rumi as well. Jalal ad-din Rumi is one of the most notable poets in history. His work hits on everything from love to religion. Music and dancing were major influences in Rumi's world. His impact influenced cultures across the globe.
We can see the connection between Rumi the poet and Bey and Jay's respective lyrics. Full of hope and rebirth, many of his poems are reminiscent of their most recent albums.
"Let the beauty of what you love be what you do," writes Rumi.
We love that Beyoncé and Jay-Z never do anything without significance.
Many people believe that Blue Ivy's name pays homage to two of their greatest works.
Jay-Z has three albums called The Blueprint (I, II, and III) and Bey's album IV (or I-Vy) is a call-out to their birthdays — December 4th and September 4th. The couple was married on the 4th of April. They have never confirmed the rumors, but we think it makes a lot of sense.
But there's more! Shortly after Blue Ivy's birth, Beyoncé shared an excerpt from A Field Guide to Getting Lost, a novel written by Rebecca Solnit.
"The world is blue at its edges and in its depths. This blue is the light that got lost. Light at the blue end of the spectrum does not travel the whole distance from the sun to us. It disperses among the molecules of the hair, it scatters in the water. Water is colorless, shallow water appears to be the color of whatever lies underneath it, the purer the water, the deeper the blue."
Blue is clearly a common theme in the Knowles-Carter family. The name Rumi is beautiful no matter where it came from, gemstone or poet.
Welcome to the world, Rumi Carter!