Here's the $5 Million Hideaway Where the Kardashians "Let Their Hair Down"
Apparently, Idaho's scenic Lake Coeur d'Alene attracts all sorts of celebrities for its beautiful scenery.
The Kardashians know there's no place like home, which is why it feels like they are on a mission to buy up as many properties as possible. While the famous TV family likes to keep things local in Hidden Hills (Khloe Kardashian is literally neighbors with mom Kris Jenner and ex Tristan Thompson), every so often Kim Kardashian likes to escape the hustle and bustle of California for a secret mansion… in Idaho.
Kim's home is no small potatoes. The property set her back $5 million in 2020, according to records uncovered by The Sun. It was also the likely setting for "Camp North," the location for North West's 9th spooky-themed birthday party, where the daughter of Kanye West and her friends were flown out on a private jet.
RELATED: Khloé Kardashian Gets $7 Million Loan with Britney Spears' Shady Old Manager
While the outside of the home looks like a simple cabin, inside it holds five bedrooms, six bathrooms, a wine cellar and an outdoor spa. There's even a garage just for golf carts, according to The Sun.
Kim has posted images of herself and her family in the wilderness of the lux mansion-cabin's location, but for a long time the exact location was difficult to track. The Sun reports property records list the home in Harrison, Idaho, somewhere on the banks of Harrison Slough lake.
The lake itself is famous as the new up-and-coming destination for wealthy elites. Thanks to its remote location and options for seclusion, the resort town of Coeur d'Alene is swiftly becoming home to high-profile faces like Matthew McConaughey and George Clooney.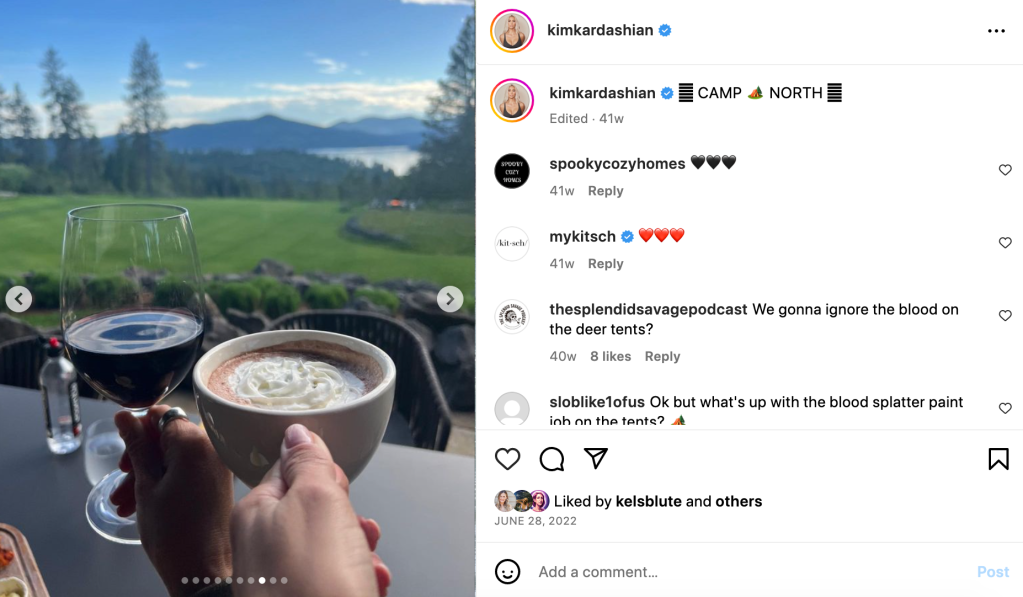 The peace, quiet, and solitude may be a reason why Kim is so drawn to the area, and she's also purchased two parcels of land nearby. It's likely that she will use one of the portions, either 1.3 acres valued at $241,620, or another parcel valued at $700,000, for what could become her "glass-and-wood lake house" currently being designed by Japanese architect Kengo Kuma.
Kim revealed to Vogue in March of 2022 that she had plans for two separate Japanese architects, one who would focus on a "zen" mansion in Palm Springs, CA, and the other to build a "lakeside lodge for celebrating the Fourth of July."
The red, white, and blue holiday is a possible clue for the new home's location; if she stays on theme with her typical Independence Day plans, they'll continue to take place in the Gem State.
Like previous properties, Kim hasn't purchased these homes outright. The Kardashians have been gobbling up home loans accumulating at least $132 million, many of them with help from some of which have been supplied by "shady" business manager Louise "Lou" Taylor, who used to work for Britney Spears during her 13-year conservatorship.
Her own private Idaho will be put to good use, however. "Kim, Kris, and the siblings love coming out to Idaho," a source revealed to The Sun. "It's a place they can let their hair down, not worry about being photographed, and enjoy nature."
"The rumors circulate around town fairly quickly when they are here," the source continued, "But nobody bothers them as there are often a lot of high-profile people vacationing here."
That seems to track, as the lake's official website states: "Residents in CDA don't care about famous people."
Kat is a born and raised New Yorker exploring the world as she writes, eats, and everything in between.
Read more