Here's why Nicole Kidman joined the cast of "Aquaman"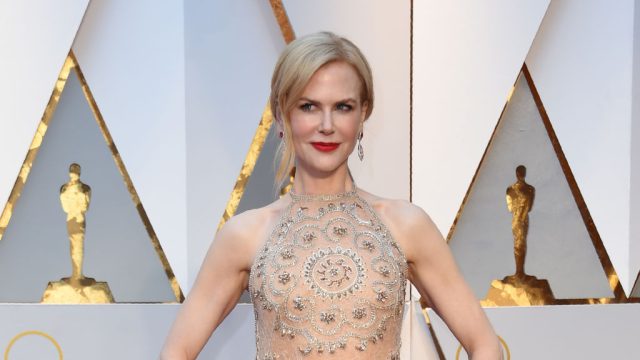 Big Little Lies star Nicole Kidman has shown us some incredible characters over the years. That's why we're super excited to hear that Nicole Kidman has joined the cast of Aquaman.
Kidman will play Aquaman's mother Queen Atlanna, who of course lives in Atlantis. As psyched as we are to hear that Kidman has decided to join the DC Extended Universe, we also can't help but wonder what brought her to that decision. Luckily for us, she revealed her reasons why in an interview with EW.
After reading it, we've got to say, it's pretty understandable.
When asked why she decided to join the Aquaman cast, Kidman gave a great answer:
"The reason why I love Aquaman is [director] James Wan is an Australian, and I've followed his career since he started. He's a really good friend of mine, and he offered to let me play Queen Atlanna. As soon as he said I could wear mother-of-pearl and be a mermaid warrior, I said I'm done. Please. If there is one thing I have to do in my life, I have to be that. Because, you've got to have some fun."
We seriously cannot agree more. The second we read "mermaid warrior," we were done, too.
Honestly, now that we know we've got Nicole Kidman as a mermaid warrior from Atlantis in our futures, that's pretty much all we can think about.
The rest of the cast and crew is awesome, too. James Wan is a writer, director, and producer known for his work in the horror genre. Most notably, he directed Saw and Insidious. So we're expecting the Aquaman movie to have some very intense moments, too.
Actor Jason Momoa (Game of Thrones fans will remember him as Khal Drogo) will be playing Aquaman. Temuera Morrison (Jengo Fett from the Star Wars prequels) will play his dad. Willem Dafoe, Amber Heard, Yahya Abdul-Mateen II, and Patrick Wilson are also on board. Clearly, this is going to be an incredible movie, and we cannot wait to see it.
So even though we have to wait until October 5th, 2018 to see this awesomeness in theaters, we seriously cannot wait. So thank you, Nicole Kidman, for giving us more even more incentive to check out what is sure to be a cool story.