Here's what you need to download to save a bunch of money every single time you shop online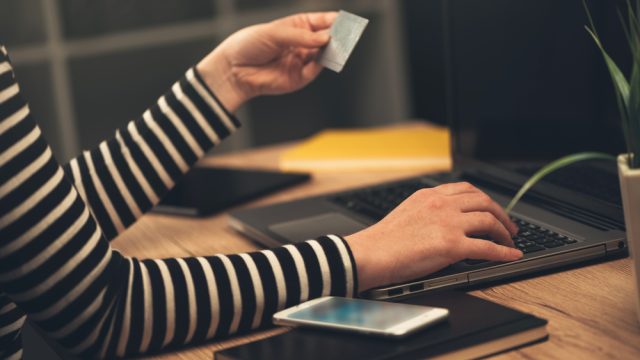 Online shopping is one of the greatest human inventions of all time. You get to shop for literally anything you want from your house, in your pajamas, and without talking to actual people, finding a parking spot, or dealing with crowds. It's perfect — except for one thing. It's tricky finding an easy way to get discount prices everywhere you shop. But we have an awesome (and so, so simple) solution for you, and it's called Honey. Honey is a browser extension and it's going to make your bank account soo happy.
We learned about Honey a couple of months ago and downloaded it right away. After all, there's nothing that gives us more FOMO than the sight of an empty promo code box. So far, we've saved on everything from new dresses for upcoming holiday parties to flights home for Thanksgiving — and the best part? It's free. Obviously, the shopping gods answered our prayers (thanks, shopping gods). 
Here's a play-by-play of how it works: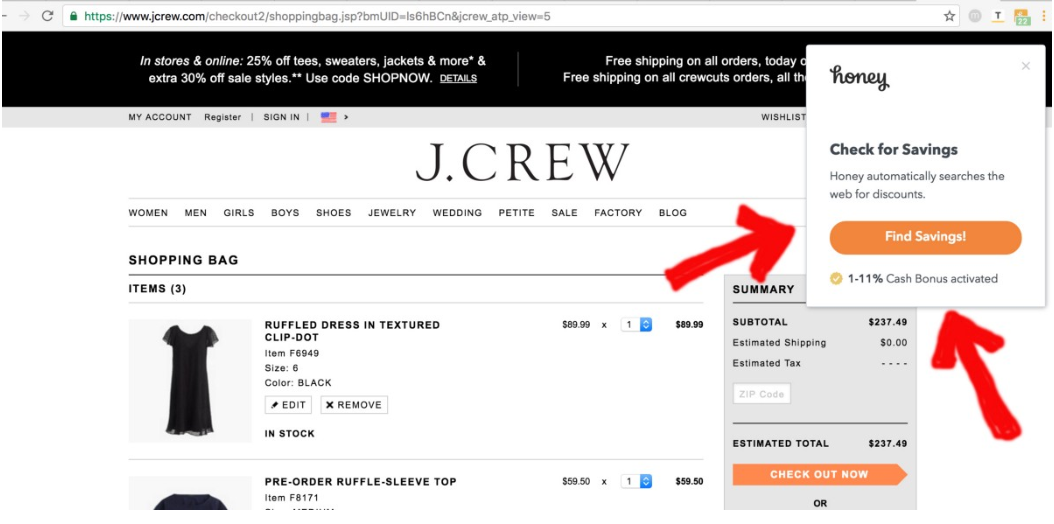 Honey pops up at checkout and asks if you want to check for savings. All you have to do is click the Honey button and sit back.
It instantly finds every available coupon code on the internet and tries them all for you faster than you can say "um, why didn't anyone think of this before?"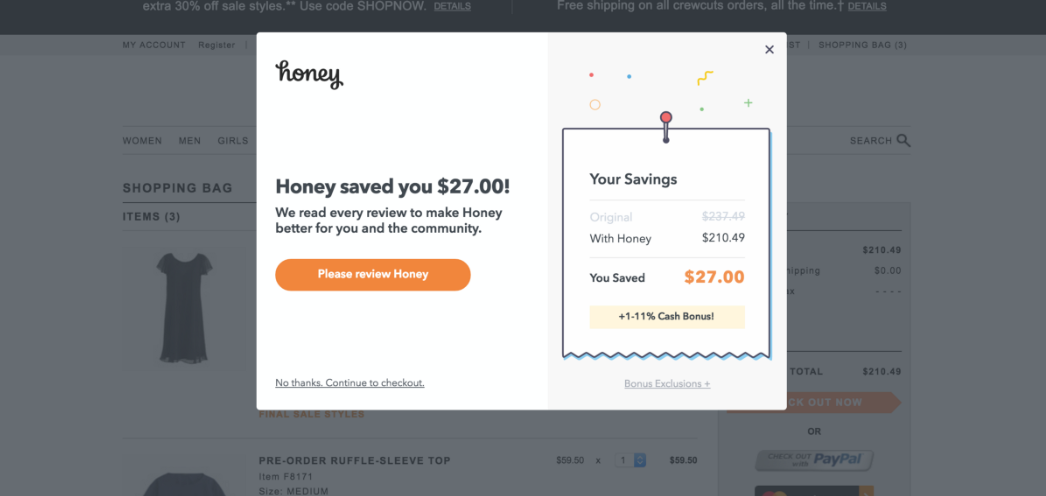 The best part of Honey is that you're ALWAYS going to get the best deal and you don't need to search the internet for HOURS trying to find promo codes (most of which have weirdly expired, so annoying). Honey does all the work for you, which is amazing.
Now, if you're an Amazon addict (hey, we don't judge), you're going to psyched about this part: Honey has a price protection feature that shows you the best prices right away (so you don't have to scroll and scroll and scroll to find the best product for less). Usually, Honey spots the lowest price right away, which makes our collective wallet infinitely happy. Even when you're just buying relatively cheap/small things like dog treats or makeup, it adds up REALLY fast (I mean, you know how it goes) — so saving a few dollars here and there makes a huge difference.
Just FYI, Honey is really transparent with how it works. While it's free for us to use, Honey makes a small commission from the merchant whenever we, the users, find a sale through the extension. That's why it's free for us, and why we can do so much more online shopping in smarter, better ways.