Leonardo DiCaprio actually went through a LOT to get his iconic role in "Romeo + Juliet"
If you grew up in the '90s, there is no way you've forgotten about your love for the modern retelling of Shakespeare's most famous play, Romeo and Juliet. Starring forever babes Leonardo DiCaprio and Claire Danes, this film celebrated both young stars at pinnacle points in their careers. Remember, this was before DiCpario's success in Titanic, which leads some people to wonder: How did he nab his role in Romeo + Juliet, anyway?
As Baz Luhrmann, director of the film, recently told iHeart Radio, the director immediately knew DiCaprio looked exactly the part of boyish yet charming Romeo, but that didn't mean the young star simply walked onto the set and was handed the part.

In fact, as Luhrmann explains, the director had DiCaprio fly to his home in Australia and shoot an entire movie. That's right: In order to get the role, DiCaprio and some friends literally flew to the director's home and put together a short film version of the play. Talk about commitment to the role, am I right?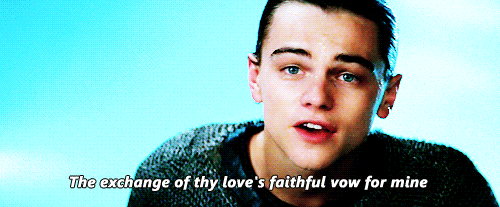 As Luhrmann gives us this nugget of information, though, it does come with some provisions. He promises iHeart Radio that the short film will never be publicly released. He also refuses to tell us who exactly was in DiCaprio's friend group, though Vanity Fair guesses it was members of the "Pussy Posse." (Hey, we didn't come up with the name, okay?)
A friend group many people recognized in the '90s, the "Pussy Posse" generally included actors like Kevin Connolly, Lukas Hass, and Tobey Maguire, along with DiCaprio. Were they actually in a short film version of Romeo + Juliet? Did they accompany DiCaprio to Australia to help him land a leading role? We will probably never know, but we can definitely wonder.