This is how you can watch Samantha Bee's "Not the White House Correspondents' Dinner"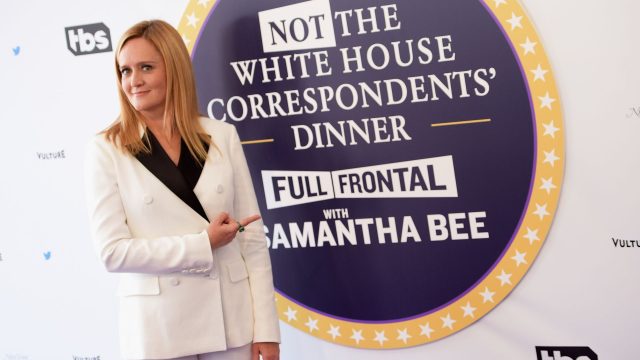 Okay, okay, we'll admit it: We are completely obsessed with Samantha Bee. She's brilliant, she's hilarious, and she's hosting the highly anticipated Not the White House Correspondents' Dinner tonight. The Full Frontal host announced her plans to boycott the actual White House Correspondents' Dinner to throw her own "nerd prom" just two weeks after Donald Trump was elected president.
In a recent interview with Vulture about the event, which will be attended by celebrities including Rachel Bloom, Padma Lakshmi, and Keegan-Michael Key, she made sure to note that it won't just be an anti-Trump affair. It's more of a celebration of journalism, Bee explained.
"This really is, for us, a celebration of the journalism that makes our show possible," she said. "So we are just here to celebrate the freedom of the press, for as long as we have it. Hopefully we'll have it forever.
Bee's show continues to be one of the best of its kind on television. She's never shied away from addressing important issues, from #BlackLivesMatter to sexual harassment faced by women at work. Indeed, Bee always tells it like it is, and we're so grateful for her voice of reason.
So how can you watch the off-brand (but still fab) event? It's being held at DAR Constitution Hall on Saturday, April 29th, and the red carpet begins at 9 PM ET; the actual event airs at 10 PM ET. You can catch it on TBS or watch the livestream on Twitter an hour later (with no bleeps!), no subscriptions required.