Here's how you can recreate Carrie Fisher's rare and otherworldly Princess Leia makeup look
It's still hard to believe that Carrie Fisher passed away during the holidays. We lost our Princess Leia and it's completely heartbreaking that we'll never see her in future Star Wars films — aside from Star Wars: Episode VIII, which has already finished filming. That one's going to be hard to watch.
While Princess Leia's hair has always been legendary, I thought it would be fun to recreate a rare, mesmerizing makeup look that Carrie dons in The Empire Strikes Back movie. This look is so captivating and different from Princess Leia's makeup throughout the film that I wanted to try one of her more unique beauty styles.
It's crazy to think that the first time I saw Star Wars was when I was 22 years old. I know, I was super late to the party. But when I finally saw Carrie in blue hologram form saying that famous line, "Help me, Obi-Wan Kenobi, you're my only hope," I was bewitched by her strength, fearlessness, intelligence, and beauty.
She was so charming and hypnotizing. That's why it's so hard to process that we lost a feminist icon. Even though our Princess Leia passed away, we know her legacy will continue to live on.
Hopefully, this post inspires you to try out some of Carrie Fisher's iconic hairstyles from Star Wars andher beautiful makeup looks.
Here's what you'll need for your face: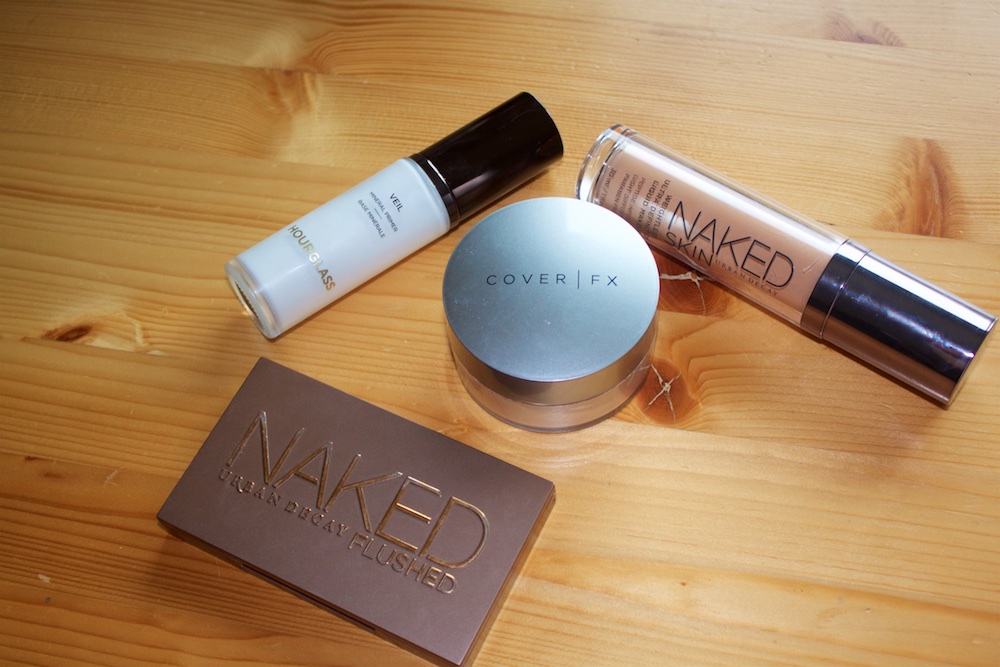 Primer: Hourglass Mineral Veil Primer, $54 (cheaper option for smaller size: $19)
Foundation: Urban Decay Naked Skin Weightless Ultra Definition Liquid Foundation, $40
Powder: CoverFx Matte Setting Powder, $35
Bronzer/Blush: Urban Decay Naked Flushed, $32
Step 1: Apply foundation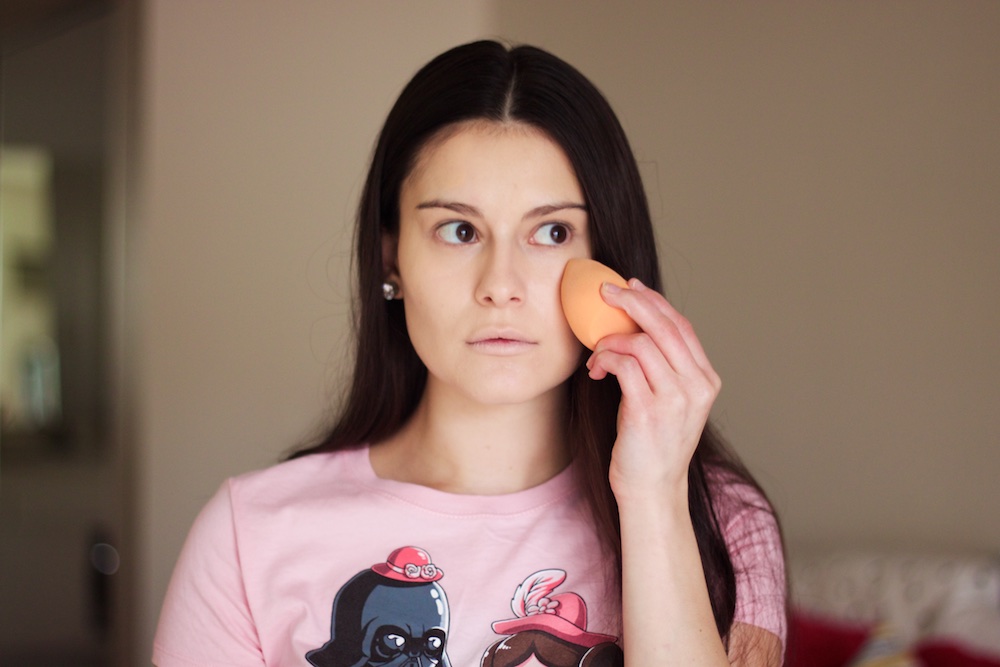 I applied very little foundation for this look because Carrie Fisher's freckles and moles are present. I wanted to keep it light and minimal just like hers. I blended my foundation out with my Real Techniques Miracle Complexion Sponge, $6.99.
Step 2: Apply setting powder or foundation powder for a matte finish
Again, I went in with a light hand. I used my CoverFx setting powder to keep my foundation in place, but any foundation powder or setting powder will do. The NYX Mineral "Set It & Don't Fret It" Matte Finishing Powder, $9.99, will work just as well if you're looking for an affordable option!
Step 3: Apply bronzer and blush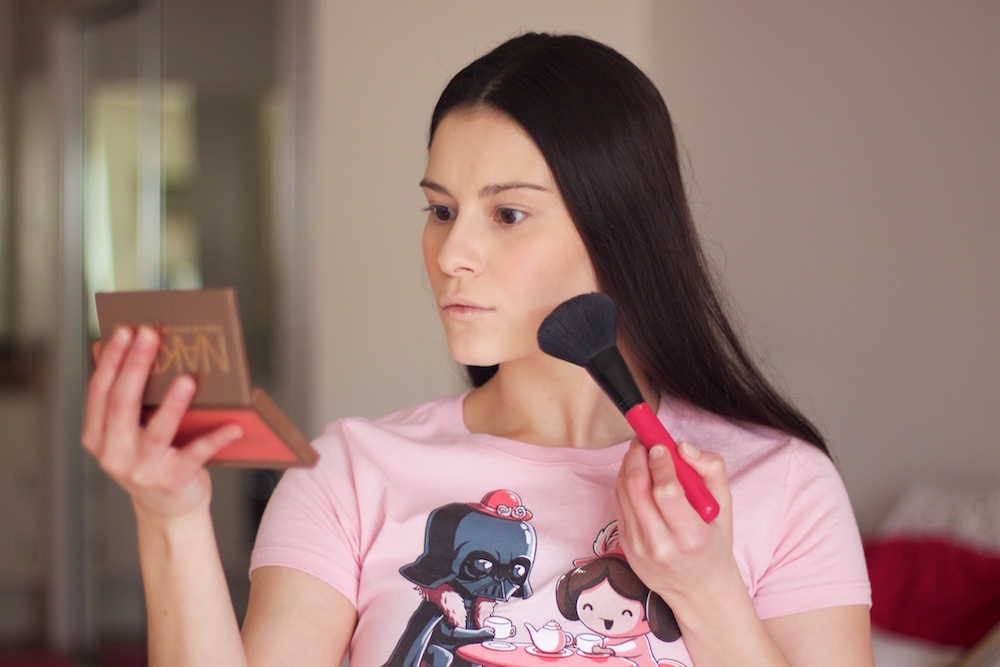 You can tell that Carrie's makeup look is a matte finish than a dewy one, so I didn't want to add any highlight. I kept it simple and added more blush than bronzer to my cheeks. Carrie's cheeks are super rosy, so I wanted to give mine that same pinky feel. I love that this Urban Decay compact comes with blush, bronzer, and highlight. It's easy for on-the-go!
Here's what you'll need for lips: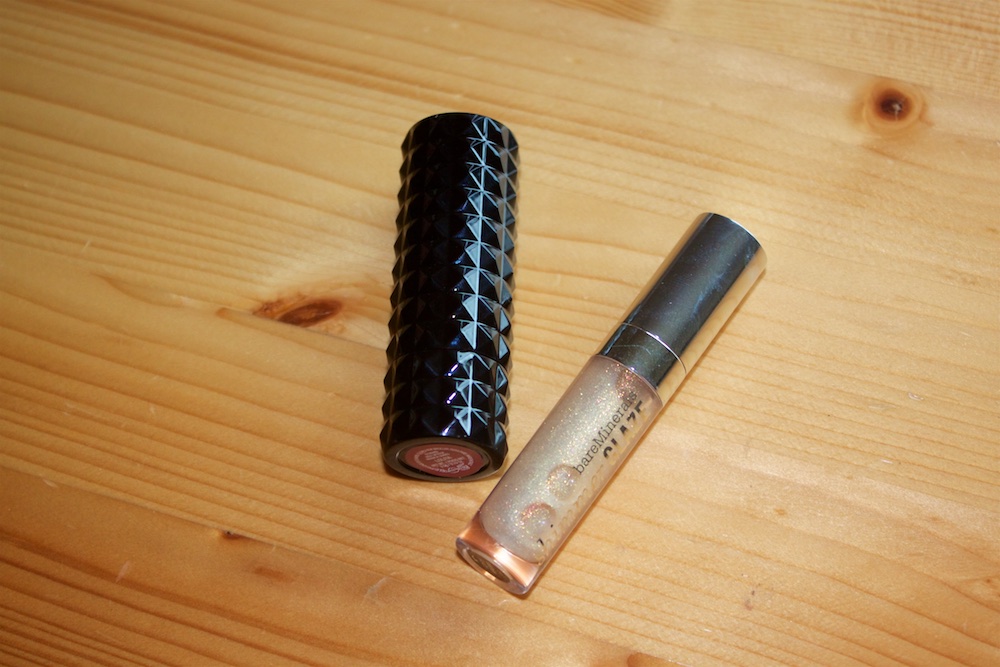 Lipstick: Kat Von D Studded Kiss Lipstick in Lolita, $21
Lipgloss: Bare Minerals Shimmer Glaze, holiday collection (this lipgloss is super old but any clear, shimmery gloss will do)
Similar gloss options: Sephora Ultra Shine Lip Gel in High Shine, $12 or NYX Cosmetics Mega Shine Lipgloss, $4.99
Step 4: Apply lipstick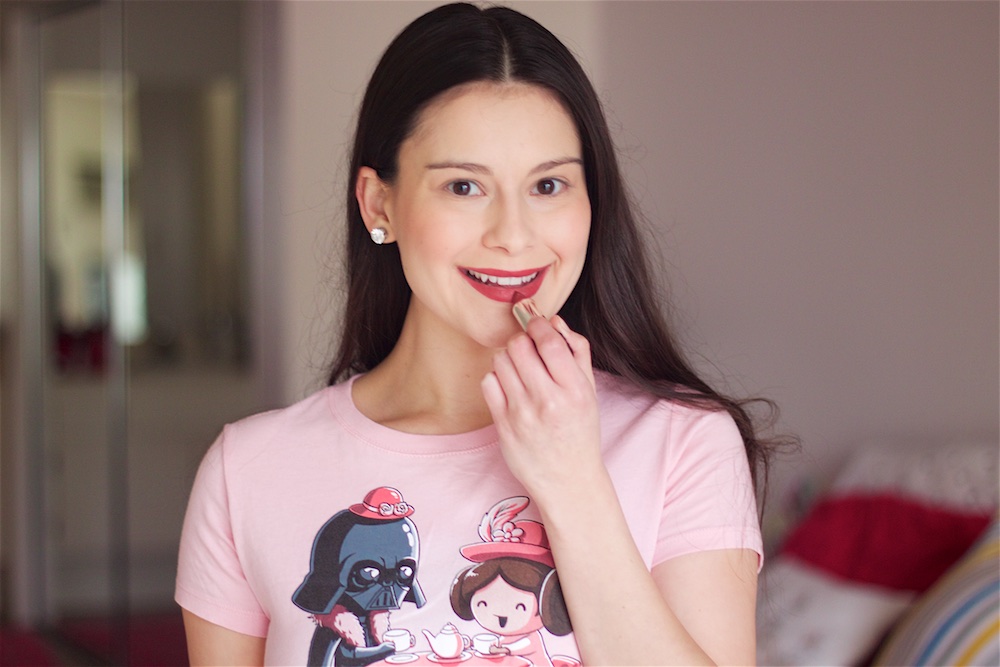 Kat Von D's lipsticks are super creamy and just all-around gorgeous. I love that this color was similar to Carrie's in Empire Strikes Back!
Step 5: Apply lip gloss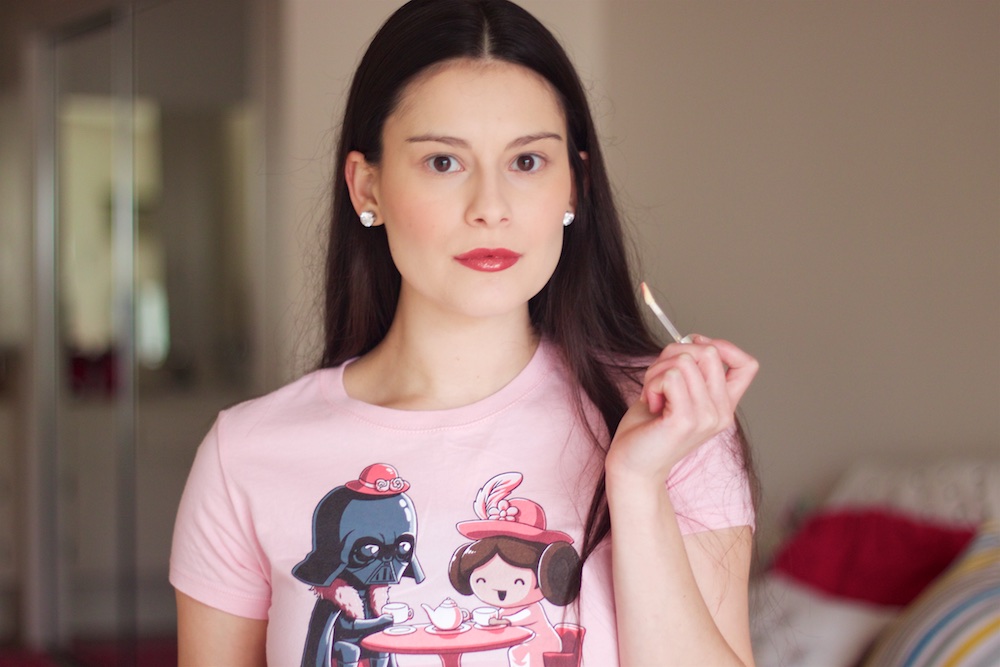 I added a little extra gloss to my bottom lip to enhance the shine just like Carrie's makeup look. I really think lipgloss is making a comeback, so I was really excited to take this baby out of my drawer!
Here's what you need for your eye makeup: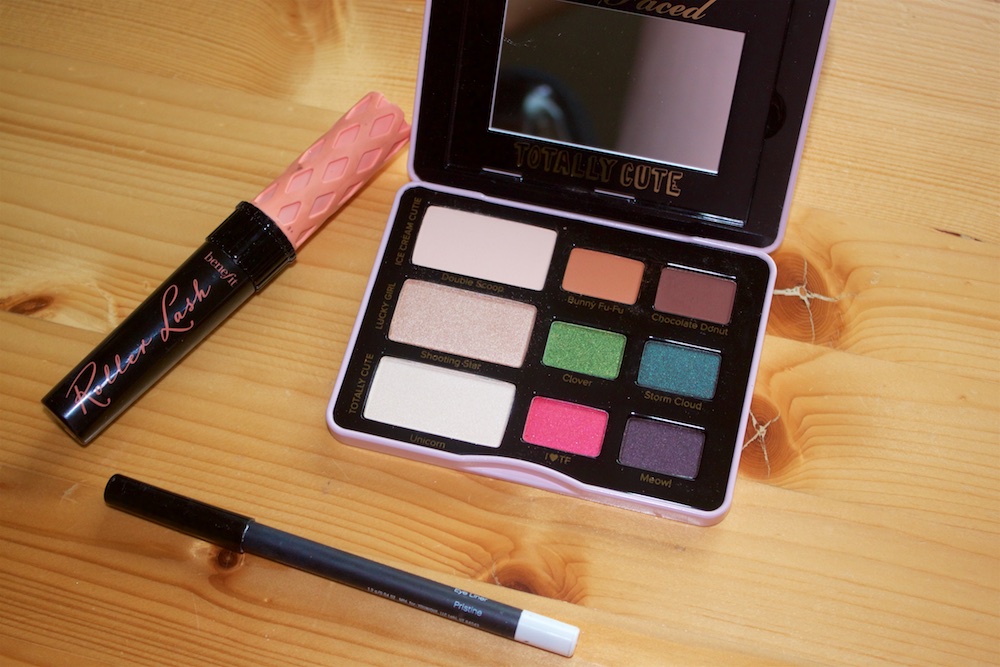 Eyeshadow: Too Faced Totally Cute Eyeshadow Collection, $32.40
Mascara: Benefit Roller Lash Curling & Lifting Mascara, $24
Eyeliner: Younique Moodstruck Precision Pencil Liner in Pristine White, $15
Step 6: Apply white eyeliner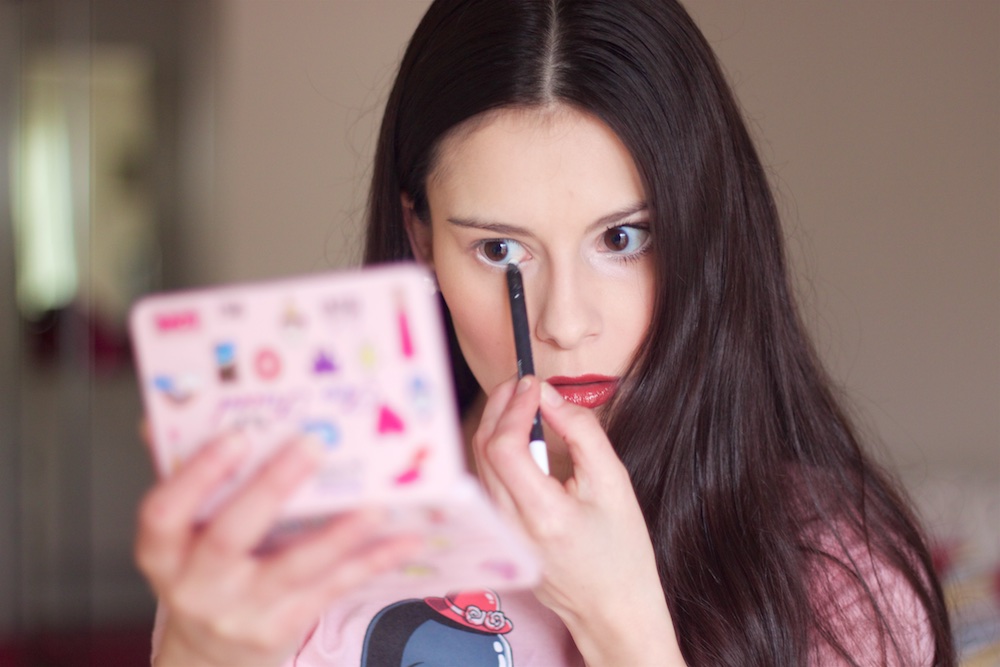 I applied white eyeliner on my lower lash line and took it out a bit for a lower lash line winged liner. I added a whole lot of it because I wanted this to make my eyes pop. I also applied the eyeliner to my inner corners and smudged them a bit to create an effortless look. After, I applied the white liner on my brow bone.
Step 7: Apply eyeshadow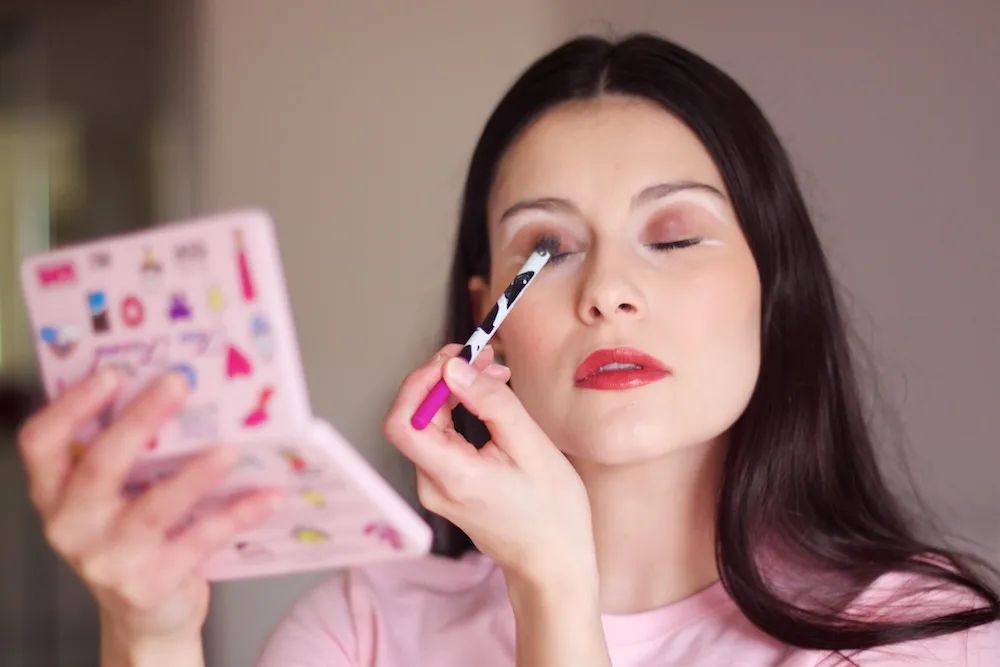 Before applying this brown hue (Chocolate Donut), I applied all of the white shadows from the Totally Cute eyeshadow palette to my lids. I used Unicorn and Shooting Star the most to make the white eyeliner pop! In the image, Carrie has a tiny bit of brown that defines her crease and that's where I applied Chocolate Donut.
Step 8: Apply mascara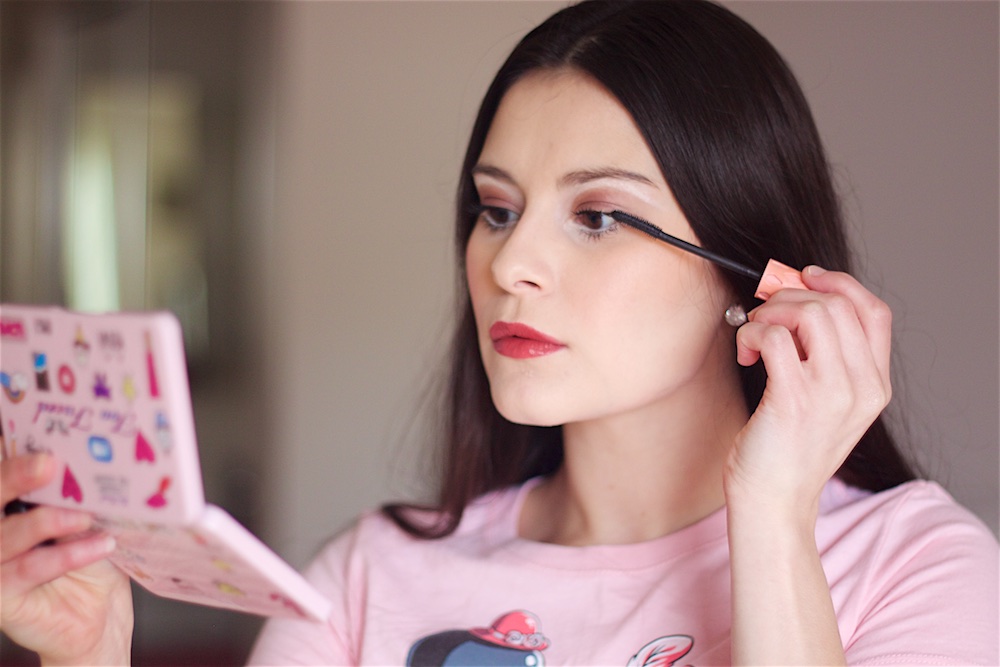 I wanted to use a mascara that would lengthen my lashes rather than give them volume. This Roller Lash one from Benefit added a nice little touch, but they still looked natural.
Step 9: All finished!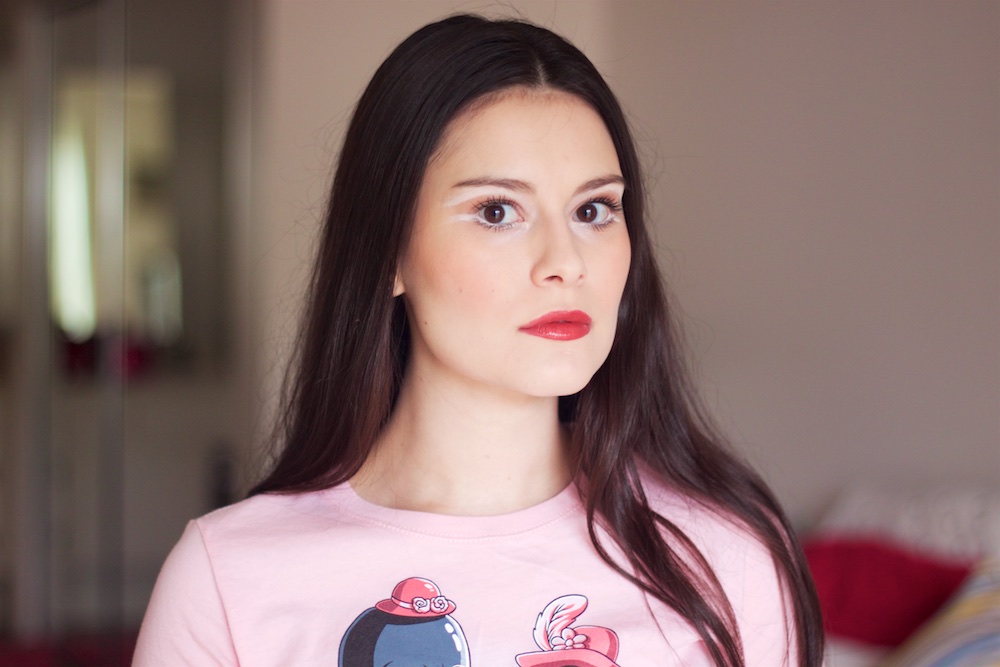 All that's left is makeup setting spray! I love Urban Decay's All Nighter Long-Lasting Setting Spray, $15. We didn't work this hard for it to come off in a few hours.
Here's a close-up!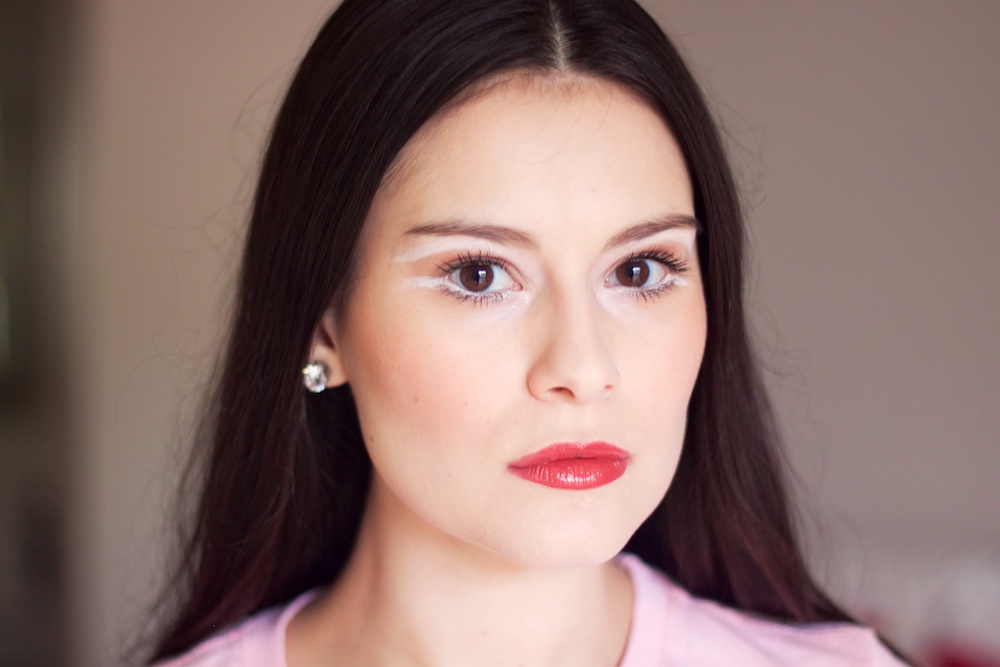 Here's to hoping I'm one with the force and the force is with me!