Here's how you can recreate an edgy color combination eye makeup look straight from the runway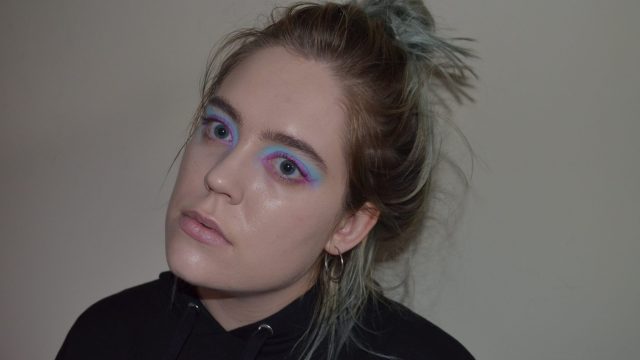 I suspect that people often don't bother too much with "fashion week or runway beauty" because they assume it'll be difficult and high maintenance and a general pain. I mean, if the $2,000 t-shirts are anything to go by, it's a scary, elitist world and not for the likes of us, right? No, you're wrong. I'm sorry, but you are. Typically, catwalk makeup is deceptively simple and easy, usually the equivalent of wearing one mad accessory atop a dull outfit and tricking everyone into thinking you know what you're doing.
Nowhere is that more exemplified than at the Oscar de la Renta NYFW show. At first glance, you'd be forgiven for dismissing a pastel blue and hot pink eyeshadow look with a firm "not for me," but that would be a terrible shame. Because the genius pairing of eyes that can probably be described as cartoonish with clean skin, hairy eyebrows, and neutral lips actually makes it a surprisingly pretty, wearable (even though we all know everything is wearable, right?) look.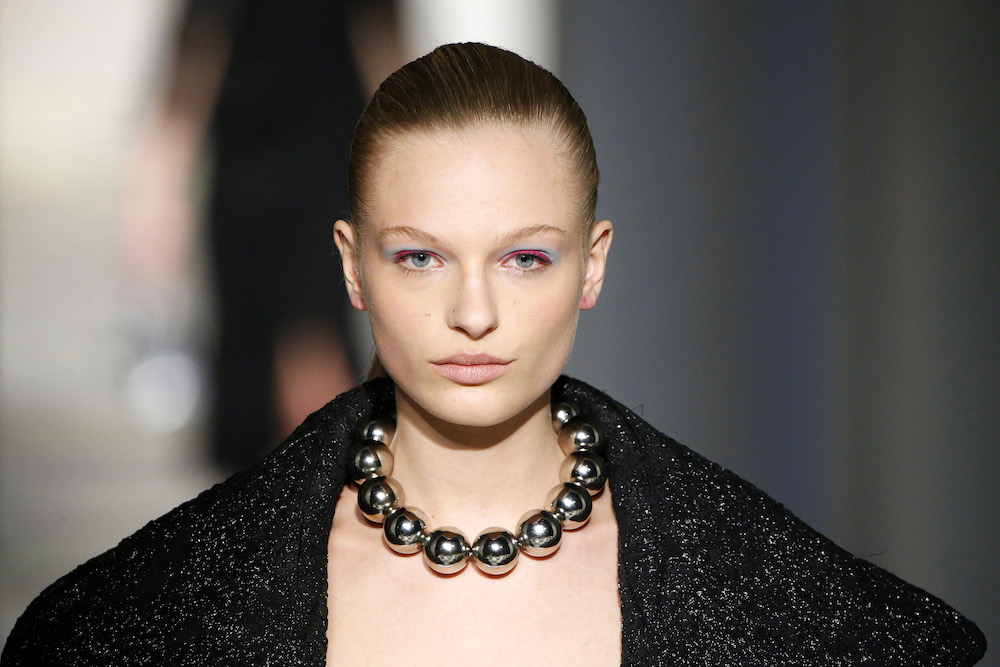 Here's how to recreate the look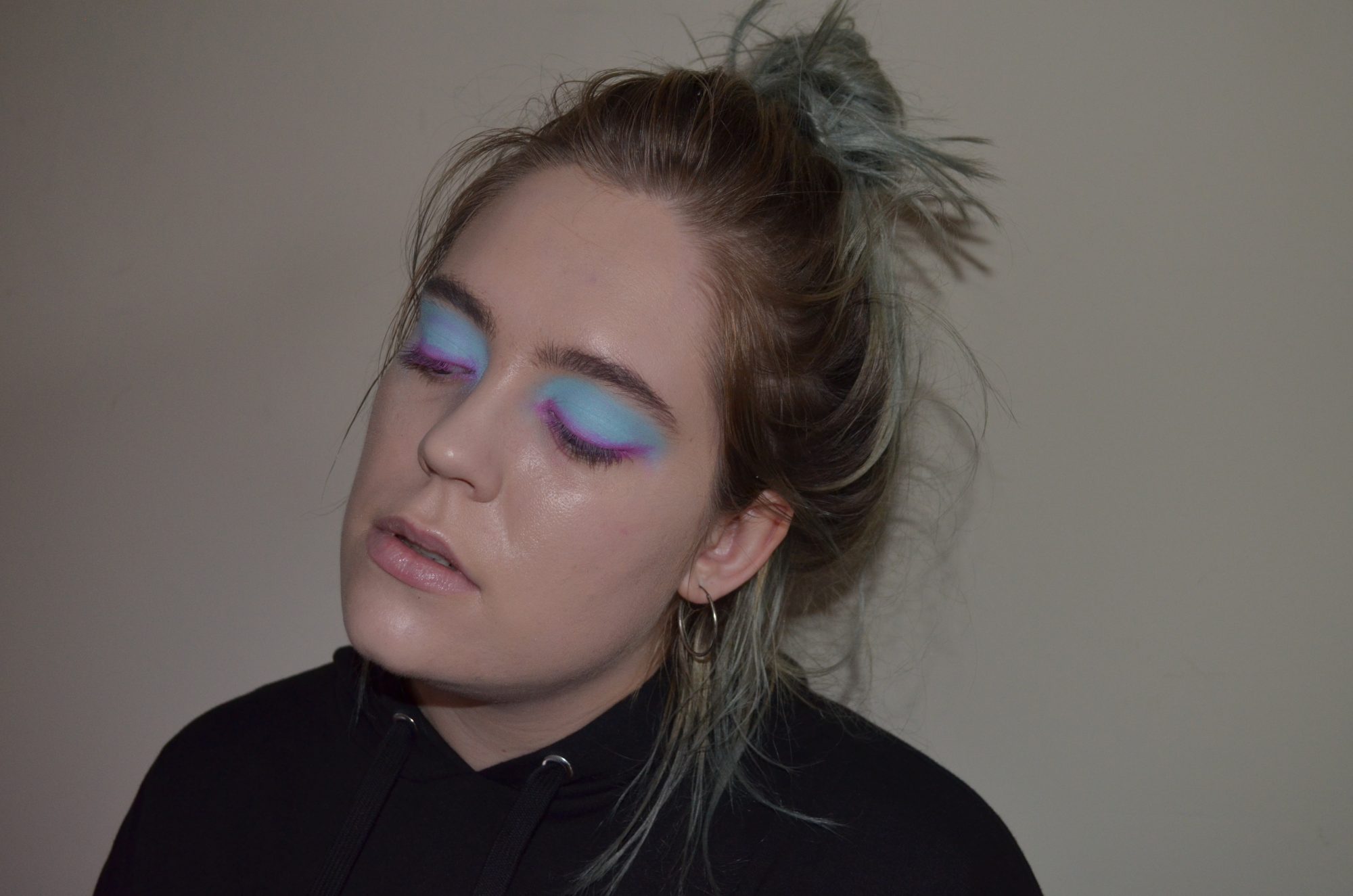 Step 1: Apply your normal foundation, eyebrow products, and bold blue shadow.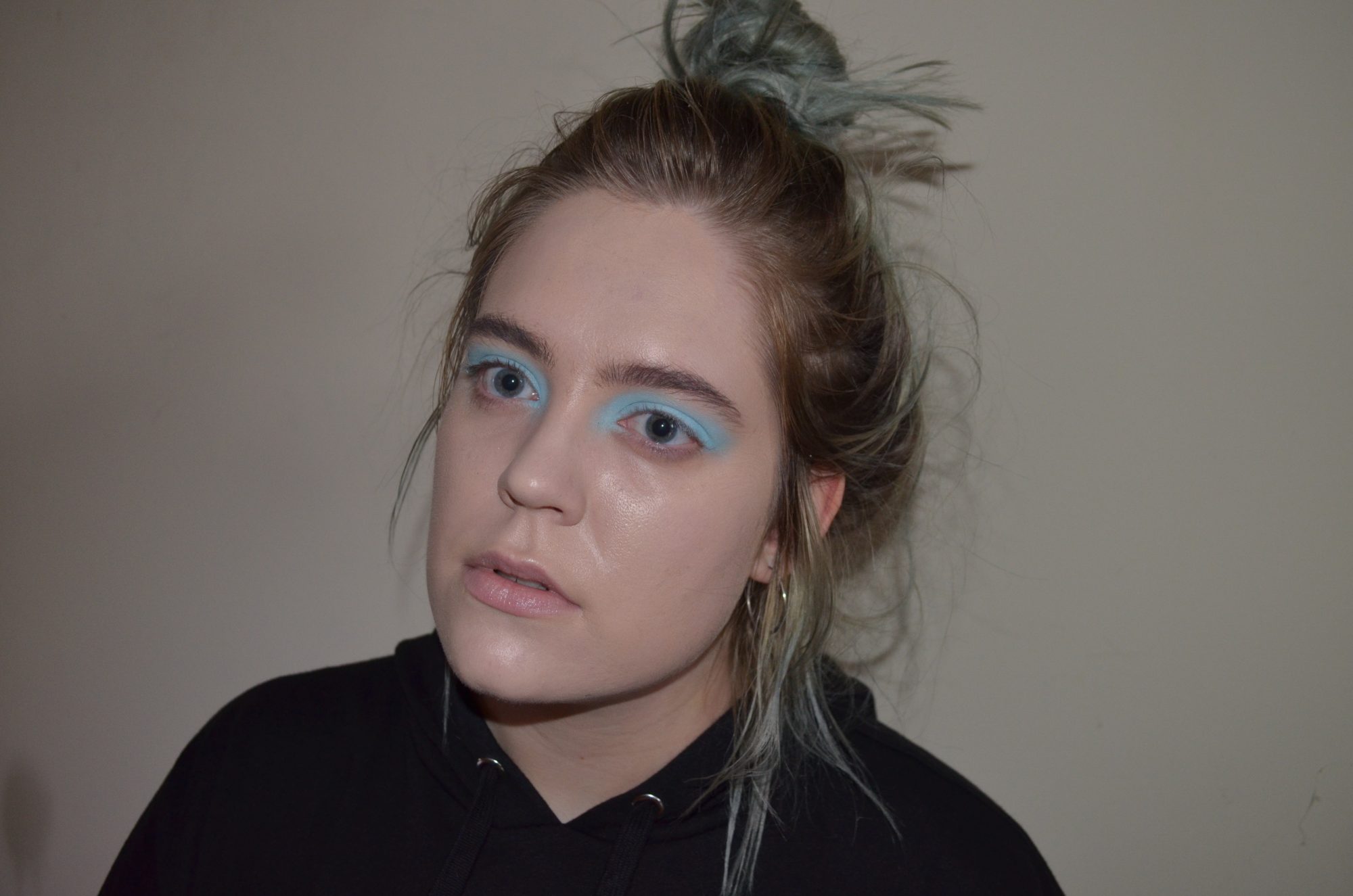 I always start with skin because I tend to think that adding color to an unprepped canvas is an artistic faux pas. (I don't know anything about painting.) I used the L'Oreal True Match Foundation ($11.49) because it gives medium, buildable coverage, and a nice middle-of-the-road finish. It looks pretty skin like for those whose bare skin simply isn't modelesque.
And guess what? That's all. I think when you're doing a wild eye, the less worn elsewhere, the better (except clothes-wise, but as ever, you do you). Which means, no concealer, contour, blush, or highlight for this look. Let your eyes do the talking because trust me, they will say "I am a very cool and interesting person. You are attractive and want to get to know me more."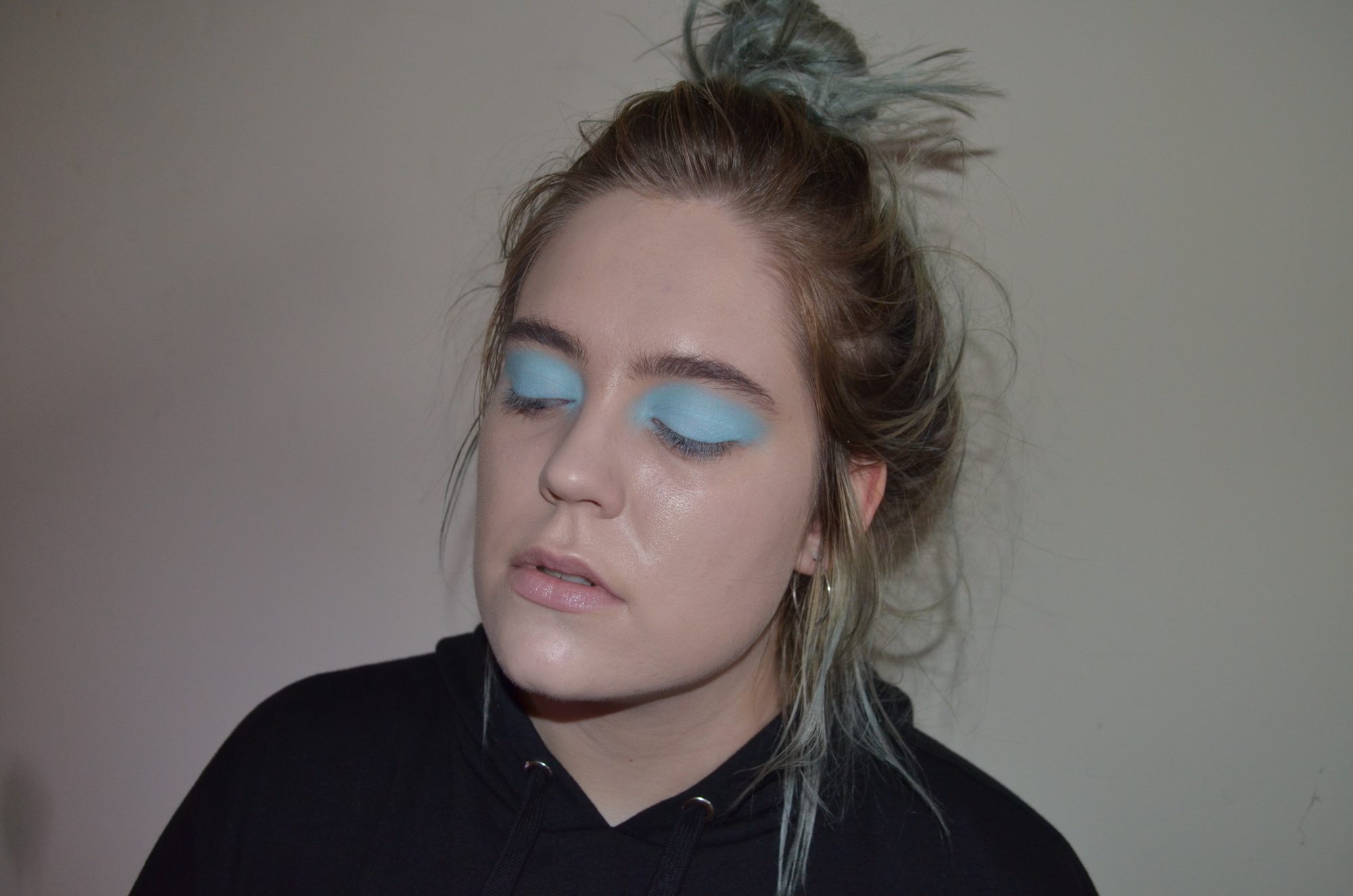 Eyebrows are a similarly minimal affair, but I am incapable of not doing a little something to them. In this case, that "little" something came in the form of the L'Oreal Brow Stylist Plumper in Medium Dark ($9.99). It gives a more subtle look than my usual actual eye mascara, but bulks up hair and adds color and hold in a very modelly way. That's my story, and I'm sticking to it.
We're done with the boring face "tidying," now let's do the fun eye accessorizing. I first mixed the lightest blue and white shades in the Viseart Editorial Brights Palette ($80 — I know, but it really is exceptional) and applied thoes two shades all over my lid and I even added the shadow above my crease. But, I stopped just under the brows, with a blending brush.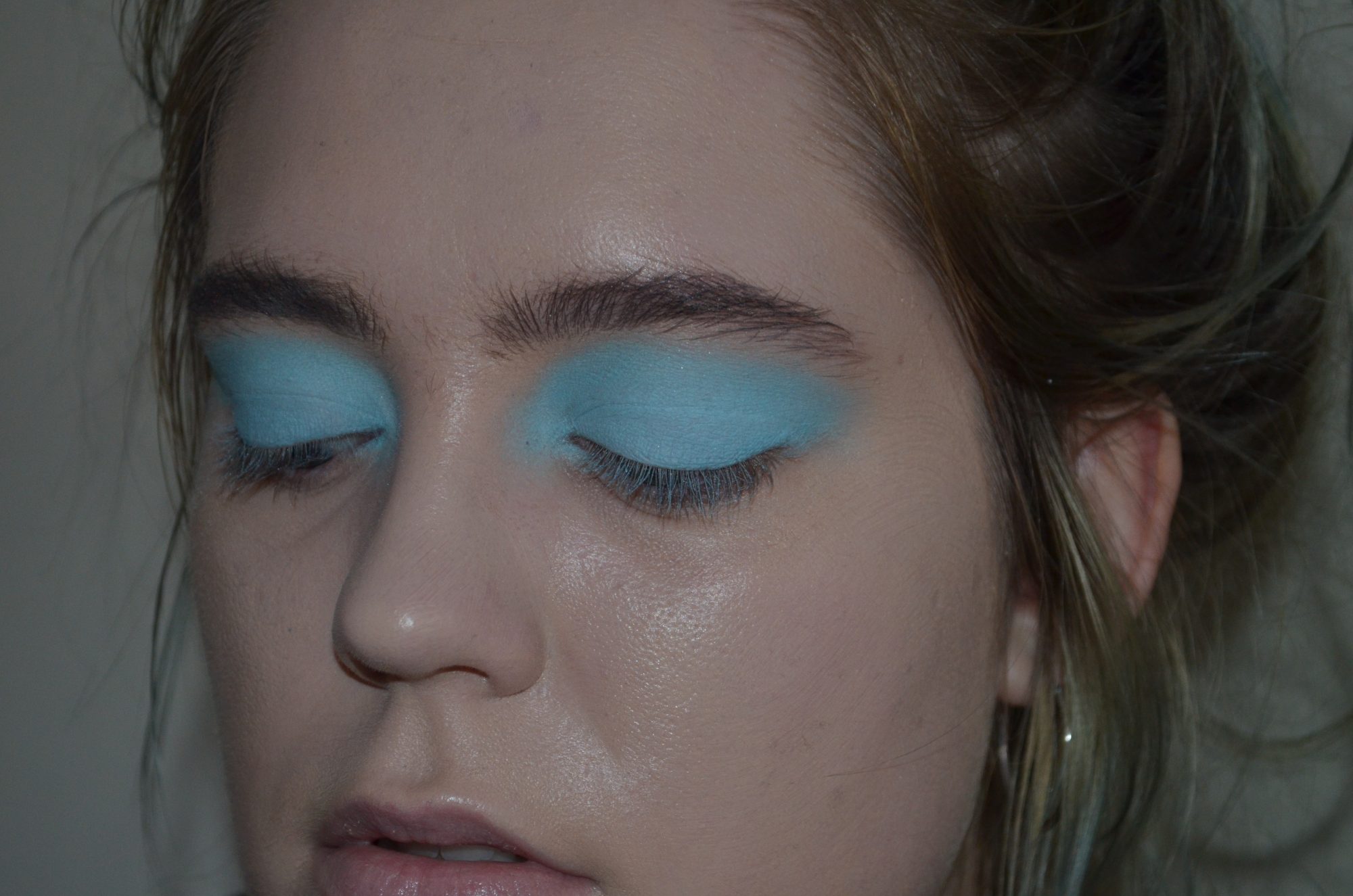 The placement is sort of rounded — not very angular, more like a "puff" of pastel brightness.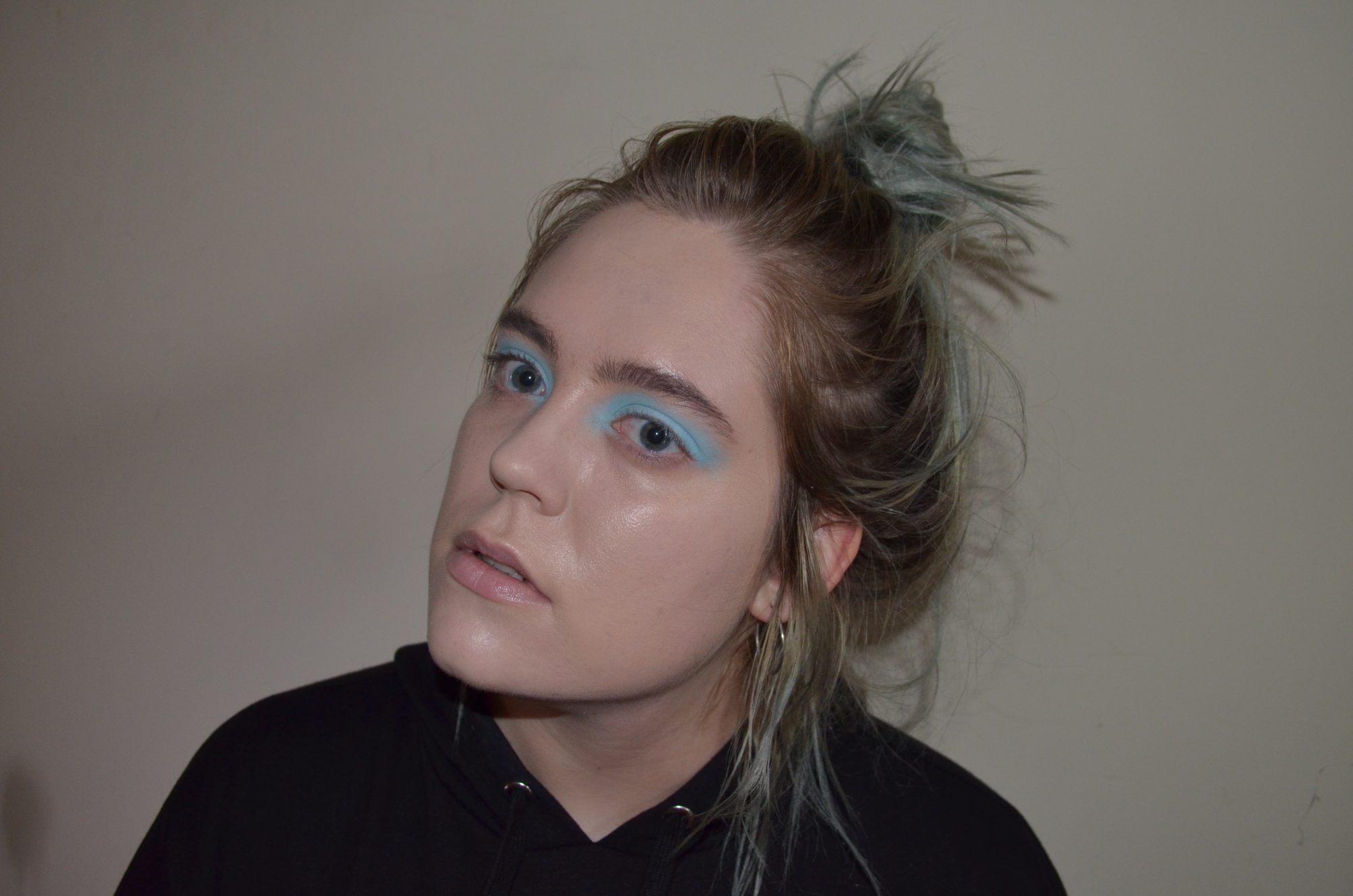 Step 2: Add the bright pink shadow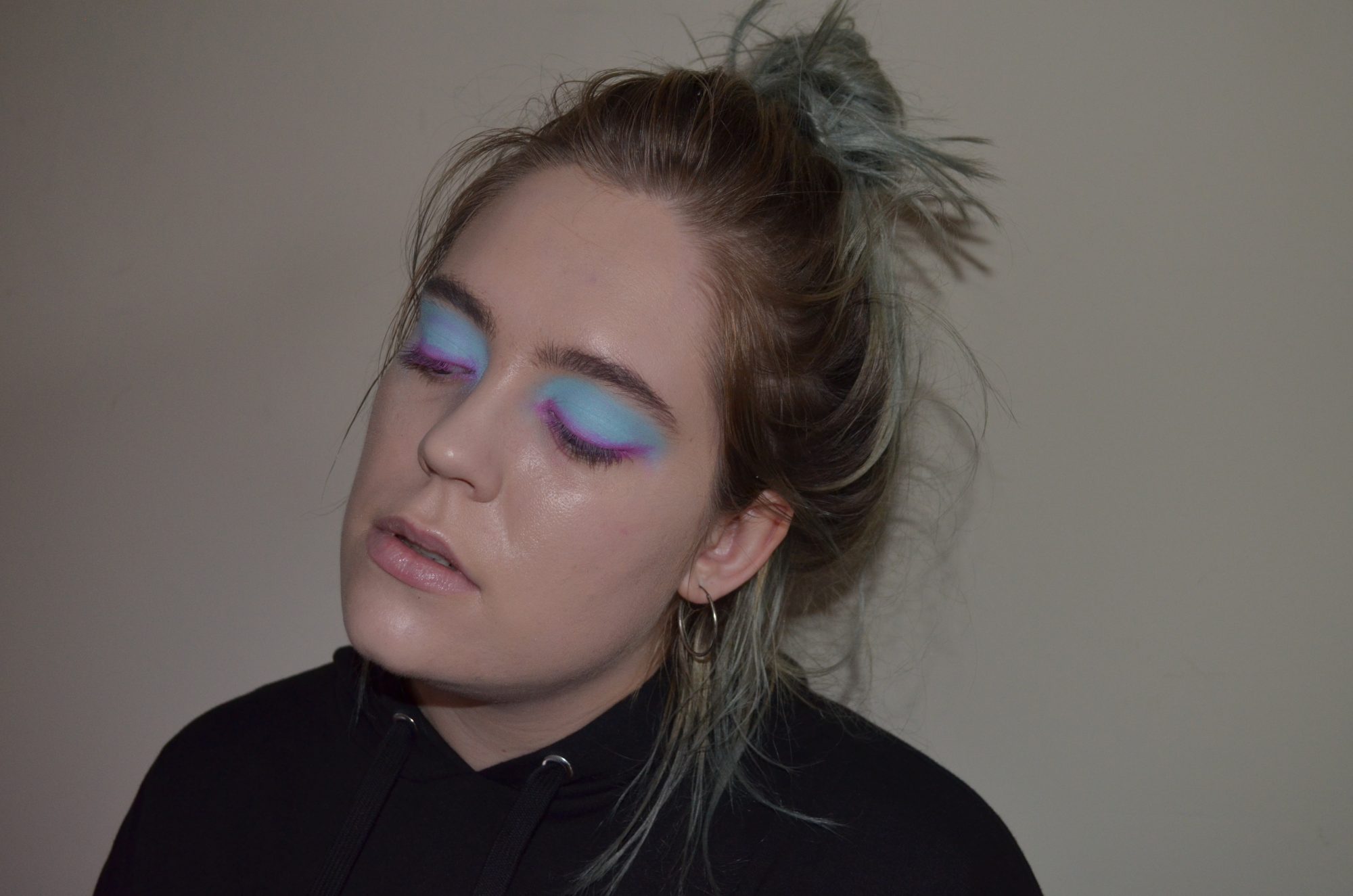 Using an angled brush, I mixed the bright pink and white shadow from my flash color eyeshadow palette from Chinese eBay ($8.15). If you don't feel safe putting such a dodgy product near your eyes (and very much fair enough, I am just a free spirit, fearless, and stupid) you can use this version, which is $99 from Make Up For Ever.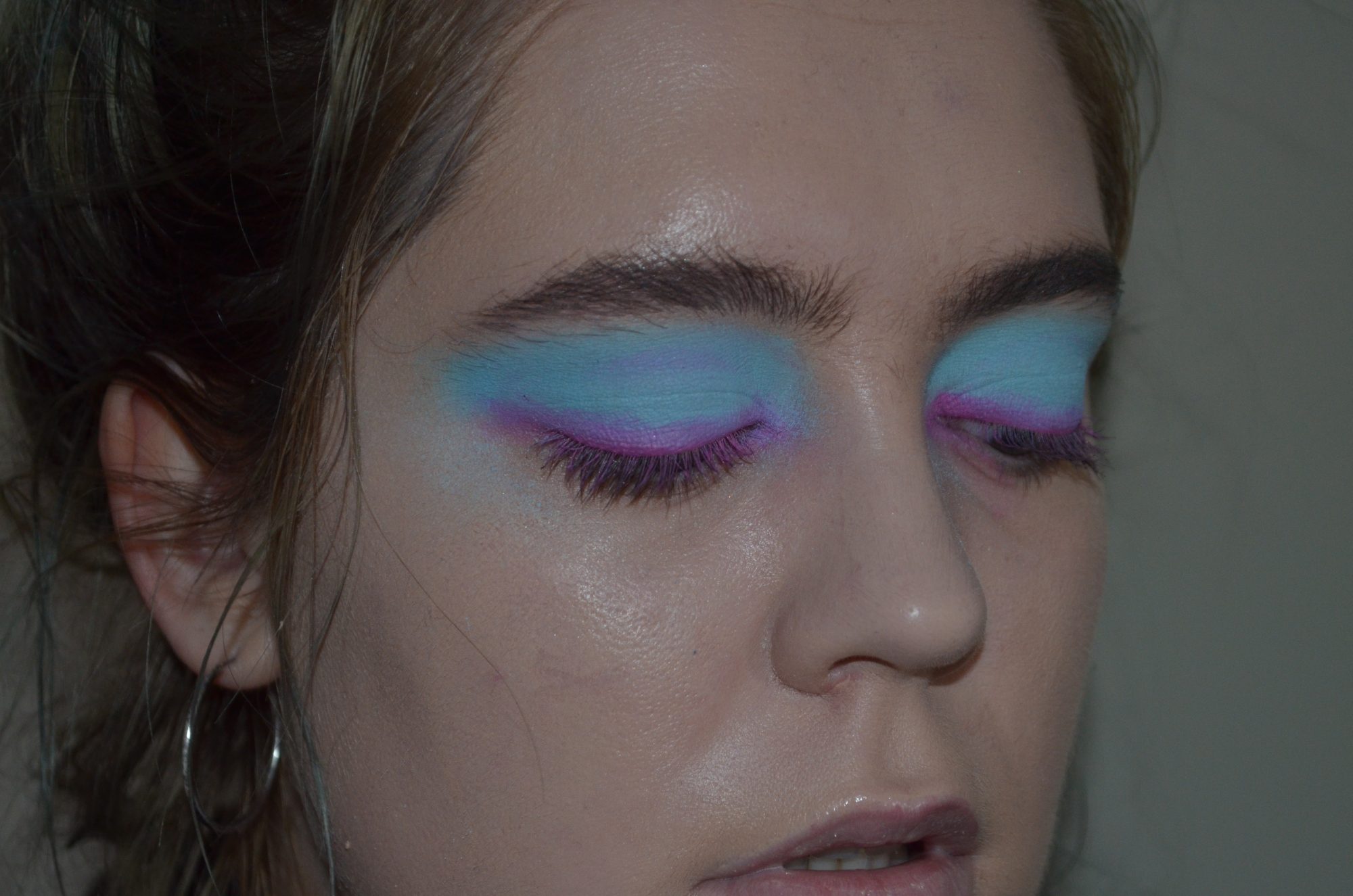 If you notice, the eyeliner shape isn't exactly winged, more slightly extended at each end. As you can see, the greasy nature of these greasepaints (go figure) makes this a bit of a mess. So to set the pink line, I used an angled brush and the hot pink powder shade from the Viseart Palette. This should stop your shadow from smudging and smearing.
If any pink shadow has accidentally moved in your baby blue area, it can easily be covered if you add more of the light-blue-n-white mix. Smudge the line around a bit —I find tapping the shadow over with your finger helps the edges look seamless without mixing the colors too much.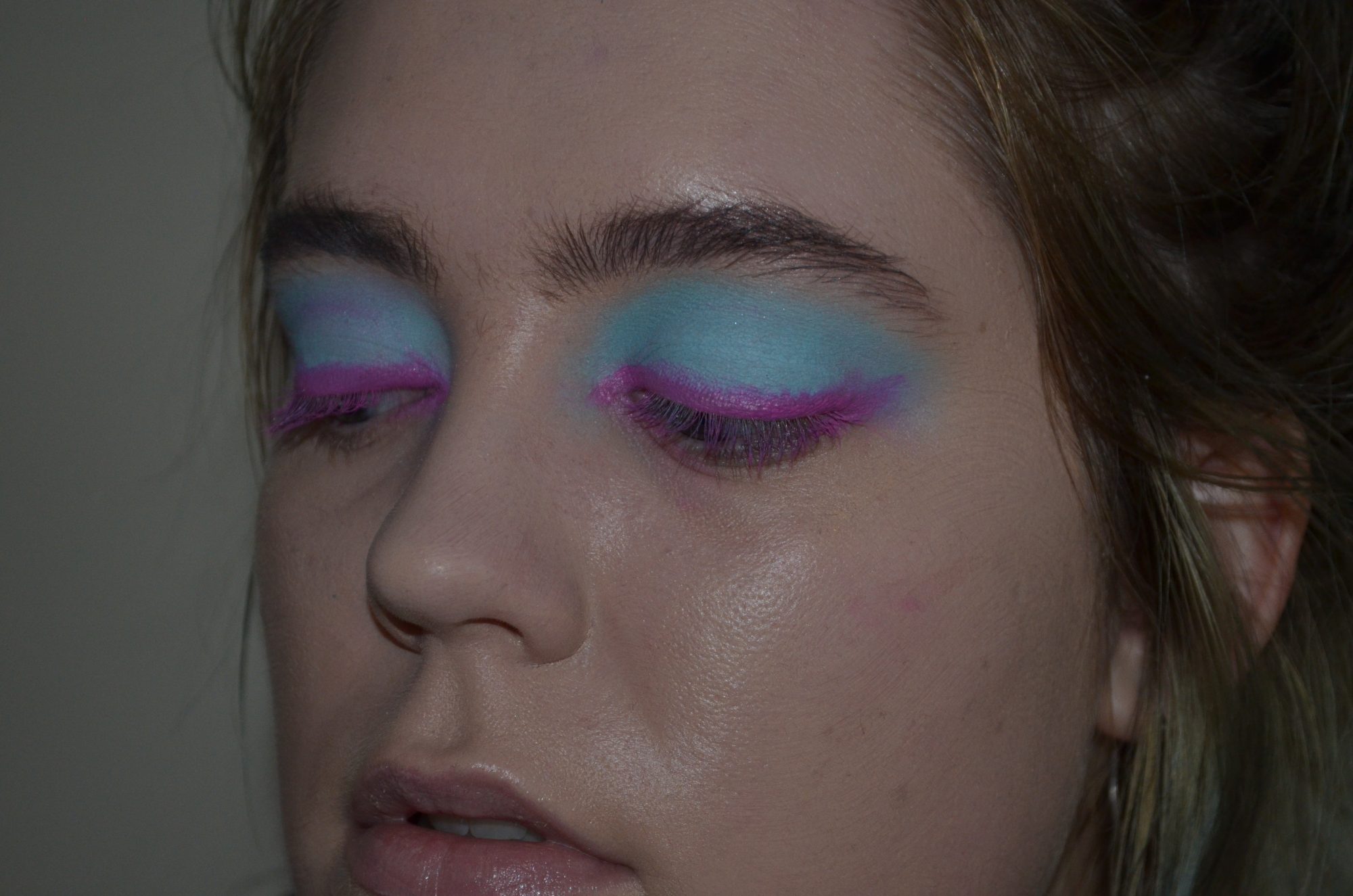 I highly suspect that the models didn't wear mascara, but I finished the look with a teeny bit of brown mascara to give my eyes a little bit of oompf. If you use a really cheap one, the effects are usually pretty subtle. Mine was from Rimmel ($6.77), and I basically used it to remove any powdery look from my lashes. It also gave my lashes a hint of color!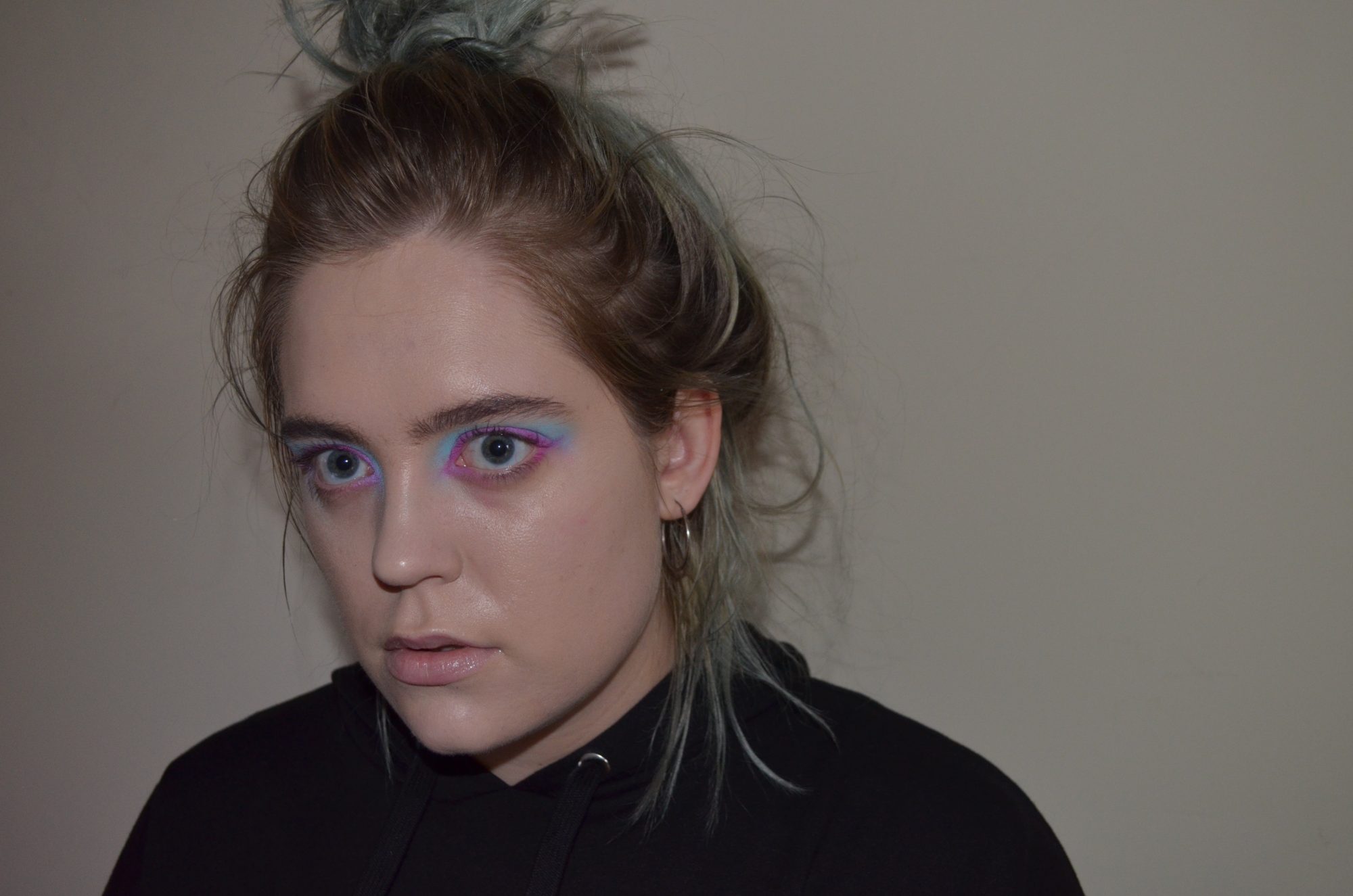 And you're done! Such a pretty (and deceptively simple) eye! Would you wear it? What do you generally think about catwalk makeup?