Here's how to watch the Emmy Awards even if you don't have a TV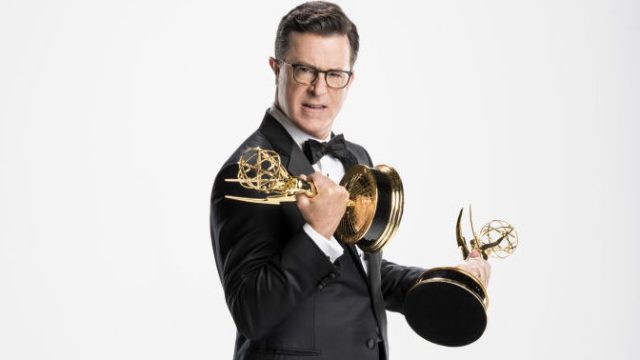 There are two types of people in the world: awards show junkies, and those who refuse to allow true joy into their lives. Keeping that in mind, we're here to help by telling you how to watch the 2017 Emmys live, no matter what your TV sitch may be.
The easiest and most obvious way to watch the Emmys is, of course, turning your TV to CBS at 8 pm EST.
But since we also deeply sympathize with being broke AF in addition to needing to watch every award show ever, we've also got some tips for you if you don't have a TV, or a TV that plugs into anything other than a hand-me-down VHS player. (Don't judge.)
Another option to watch the Emmys, long as you have access to wifi, is to watch on a smartphone, laptop, or tablet with the CBS All-Access app.
The app is available on all the usual suspects — Apple TV, Roku, Chromecast, Fire TV, PS4, Xbox, and Windows 10. Plus, obvi, on your standard smartphone or tablet. All-Access does require a subscription, but if you want to avoid the $9.99 monthly fee (hi, again — broke AF) you can just start the one-month free trial. If $9.99 doesn't seem so bad, or you've already used your trial, it might totally be worth it to just subscribe, as CBS All-Access is where the new Star Trek: Discovery will be premiering.
But hey, maybe you're more concerned about the pre- and post-show goodness. Well, we've got answers for you there, too.
There will be tons of Emmys content on social media. So much so that it'll basically feel like you're there, walking the red carpet yourself.
Facebook will have tons of video coverage.
You can go behind the scenes of the show all night with the Backstage LIVE! Facebook Live stream. Plus, there will be plenty of photos and videos on the Emmys/Television Academy and CBS Facebook pages.
So will Snapchat.
There will be not one, but TWO Snapchat Stories in honor of the ceremony. "Emmys Red Carpet" and "Emmys Stories" will celebrate all the excitement, from pre-show to inside the theater and backstage.
Of course, there will be tons of coverage on Instagram as well.
Watch @TelevisionAcad's Instagram Story and keep an eye on their feed for video portraits of winners and presenters. Also, @Instagram's official Story will go behind the scenes as well.
Don't forget about Twitter!
Twitter will simulcast the PEOPLE & Entertainment Weekly Red Carpet Live pre-show, and the IMDb LIVE After the Emmys. Plus, refresh that good old fashioned #Emmys hashtag for everyone's hot takes on red carpet fashion, Colbert's hosting style, and all the juicy unexpected Emmys moments.
So, get ready, people. The Emmys are happening, and they're going to be EVERYWHERE.