Here's how to get free hotel WiFi during your next vacation, because #priorities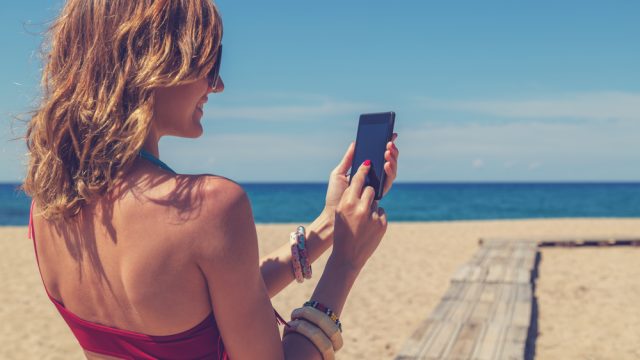 You can get free Wi-Fi at Starbucks. You can get it at Target, Dunkin Donuts, and even deep in the depths of many New York City subway stations. So how do you avoid having to shell out $15 or $20 to get online in your hotel room?
For one thing, you can stay at a cheaper hotel. Budget hotels tend to be franchised—i.e. run like a small business—rather than brand-managed as part of a bigger corporate entity. They are also more sensitive to the way higher prices can scare away customers, so they will often throw in Wi-Fi for free. Full-service hotels are more likely to attract business travelers with expense accounts, so they can get away with slapping a Wi-Fi charge onto their guests' bills.
The good news is that hotel brands have begun to realize that Wi-Fi is quickly becoming as essential as lights or towels, and they're moving toward offering it for free. But. The "but" is that free often comes with strings attached. Wi-Fi is a great carrot to lure customers into joining a hotel's loyalty program. It's also a way to convince guests to book directly through the hotel rather than go through a a third-party site like Priceline that doesn't include Wi-Fi in the deal.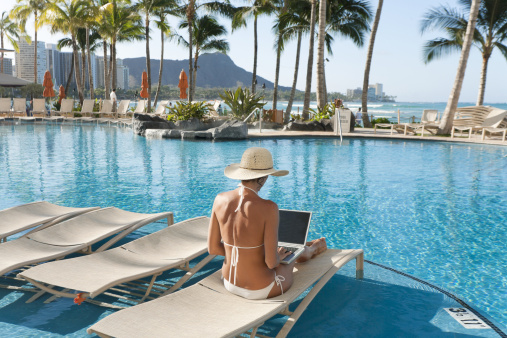 Related article: This hotel program gives the most bang for your buck
It's also important to note that most free Wi-Fi is at the lower end of what's considered "high speed." It's fine for browsing the Internet, checking your email, or monitoring your flight status. But if you want to hold a video conference, stream movies, or play video games, you typically have to pay for the kinds of speeds you could expect to get at home. Prices vary based on the chain and location, but you could be on the hook for up to $25 a day for the fastest download and upload speeds.
If you're still hotel shopping for your next trip and you're hoping to snag some free Wi-Fi, here is a guide to where to look and book.
Radisson, Park Inn, and Country Inn & Suites
Browse away. All rooms at these properties in the United States offer free in-room Wi-Fi.
Hilton brands and Homewood Suites
These Hilton properties give all guests free Wi-Fi: Hampton by Hilton, Hilton Garden Inn, Homewood Suites by Hilton, Home2 Suites by Hilton, and Tru by Hilton. Some hotels at Waldorf Astoria Hotels & Resorts, Conrad Hotels & Resorts, Hilton Hotels & Resorts, DoubleTree by Hilton, Canopy by Hilton, and Curio by Hilton provide free Wi-Fi in guest rooms, but you'll have to check with the individual property. An other option: join the Hilton Hhonors loyalty program and book directly with the hotel or through Hilton, either by phone or electronically.
Hyatt Hotels Corporation
All guests at all brands of Hyatt-owned hotels, including Andaz, get free in-room Wi-Fi.
Crowne Plaza, Holiday Inn, Staybridge Suites, Candlewood Suites, Hotel Indigo, EVEN Hotels, and most InterContinental hotels
Wi-Fi is free, although guests at the company's flagship InterContinental Hotels & Resorts need to join the IHG Rewards Club to get it (though it doesn't matter how or where you book your room).
Note: IHG announced plans to buy Kimpton Hotels & Restaurants in 2014, but hasn't merged the two loyalty programs yet. So at Kimpton hotels, guests need to be members of Kimpton's Karma Rewards program to get free guest room Wi-Fi
Related article: More and more hotels are getting rid of these amenities
Courtyard by Marriott, Fairfield Inn & Suites, SpringHill Suites, Residence Inn, AC Hotels by Marriott, Moxy, and TownePlace Suites
Free in the United States. At the company's flagship Marriott hotels and at JW Marriott, travelers need to be a member of the Marriott Rewards loyalty program.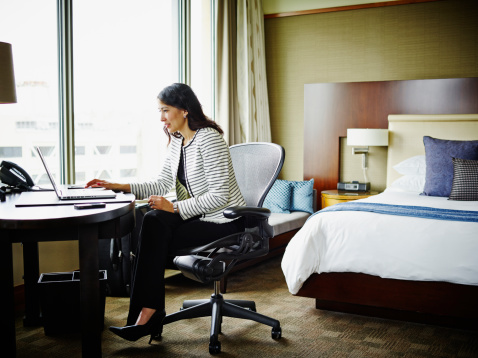 Ritz-Carlton, Edition, Autograph Collection, Renaissance, and Gaylord
These hotels are also owned by Marriott. To get free Wi-Fi, sign up for the loyalty program and book directly with Marriott by phone, online, or via mobile app.
Related article: The best hotels in the world 2017
St. Regis, Aloft, Element, and Four Points by Sheraton hotels
Free. Guests at The Luxury Collection, Sheraton, Le Meridien, Westin, and W hotels need to be members of the Starwood Preferred Guest program and book directly to get free Wi-Fi.
This article originally appeared in Money.