Here's everything we know about the New York terrorist attack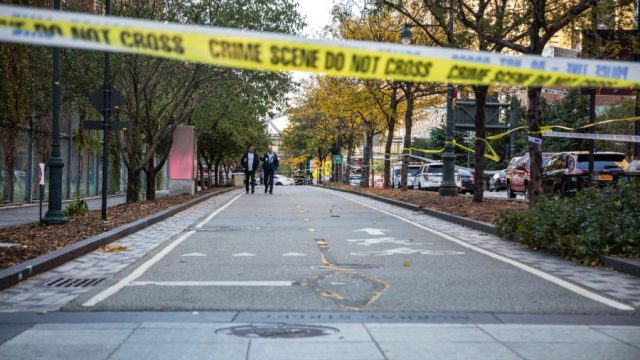 Yesterday afternoon, a man intentionally drove a truck into a bike path in New York City in what is the deadliest terrorist attack in the city since September 11th. The driver, later identified as a supporter of ISIS, killed eight people and left 11 injured.
Here's what we know so far:
The Attack
According to The Daily Beast, the attack occurred around 3 p.m. yesterday near the World Trade Center site. The perpetrator, named Sayfullo Habibullaevic Saipov, drove a pick-up truck rented from a Home Depot in New Jersey. Saipov plowed the vehicle into the bike bath along the Hudson River on Hudson Street. He reportedly shouted, "Allahu akbar!" after exiting the vehicle, which loosely translates to "God is greater," according to The Sun.
The driver continued for about a mile until he crashed into a school bus. He then continued on foot, carrying non-lethal weapons (a paintball gun and a pellet gun). He was eventually shot and apprehended by the NYPD. Police later found a note by the truck which claimed the attack was done in the name of ISIS (whether Saipoy acted with the support of ISIS, or as a lone wolf, currently remains unclear).
A senior law enforcement official told The Daily Beast:
"He comes flying down. Very high speed. He's just flying down, hitting whatever he can. If you don't hear him coming, you have earbuds on or you're not paying attention… He continues, "All he had to do was point it and aim… If he's aiming at you, there's only a limited chance of getting out of the way.
https://www.instagram.com/p/Ba7cvSugU-5
The Suspect
Saipov is a 29-year-old Uzbekistani immigrant. According to CNN, he lived in Paterson, New Jersey and recently began driving for Uber. He had no prior arrests and did not receive any rider complaints during his time with the company.
Saipov arrived in the United States in 2010 legally, and it is currently believed that he became radicalized while living here. Investigators have found that Saipov is associated with ISIS social media accounts, but they do not know much else at this time.
"We have no evidence yet of associations or a continuing plot or associated plots," said New York Governor Andrew Cuomo, "and our only evidence to date is that this was an isolated incident that he himself performed."
According to CNN, before going into surgery, Saipov was "somewhat cooperative" with investigators and is in stable condition despite being shot.
The Victims
Eight people have died so far. The Guardian stated that five of the eight were Argentinians visiting the city to celebrate their 30-year high school reunion. The deceased include Hernán Diego Mendoza, Diego Enrique Angelini, Alejandro Damián Pagnucco, Ariel Erlij, and Hernán Ferruchi. Another member of their group was among the injured.
One of the others who perished was a Belgian national, according to Belgian deputy prime minister and foreign affairs minister Didier Reynders. The woman was apparently "on a city trip with with her sister and her mother," according to the Guardian.
The others victims have not yet been named, although we are aware that two of the injured victims were children. They, thankfully, were not critically wounded.
President Trump has since tweeted, "My thoughts, condolences and prayers to the victims and families of the New York City terrorist attack. God and your country are with you!"
https://twitter.com/udfredirect/status/925497025386500096
He also used the event to seemingly double down on the rhetoric of his travel ban. "We must not allow ISIS to return, or enter, our country after defeating them in the Middle East and elsewhere. Enough!"
https://twitter.com/udfredirect/status/925490503218589696
Our hearts break for the victims and their families, and we are sending so much love to anyone affected by the attack.