Here's everything that's happened to Jon Snow since he "died" last year on "Game of Thrones"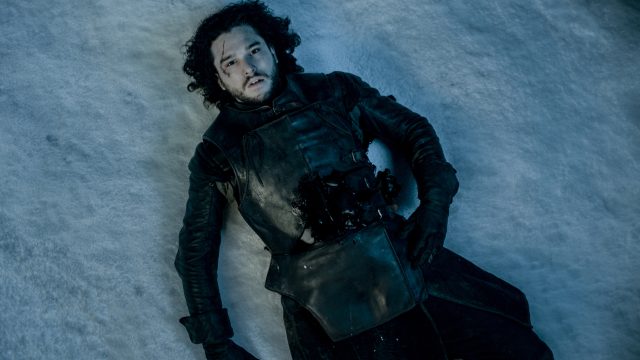 On the count of three, yell out one thing that has troubled you for the past year. Ready? 1… 2… 3…
JON SNOW.
We watched him die, didn't we? OR DID WE? Is he dead? Is he alive? 20 years from now, are we going to look back on June 2015 – April 2016 and think, "What the heck happened to Jon Snow, and why did we care so much? Why was this our life for so long? What even is life? What?"
There was just something about the is-he-isn't-he-dead conundrum with Jon Snow. His death scene sure seemed like a death scene, but also like, doesn't he have to ascend to the Iron Throne? Game of Thrones wouldn't just kill off one of our favorite characters, would it?
Actually, it totally would.
This past year has been an up and down rollercoaster with our emotions. One second Jon is dead, the next second he is ~supposedly~ shooting scenes for Game of Thrones. There's been so much of this back and forth, alive and dead, will-he-or-won't-he, if you're having trouble keeping track, you're not alone. As the Game of Thrones Season 6 premiere inches closer, here's a quick Jon Snow refresher. Here's everything that's happened to since he was killed by the Night's Watch last year:
June 14th, 2015, 10:01 p.m. EST — (the episode ran over, okay?) Jon Snow dies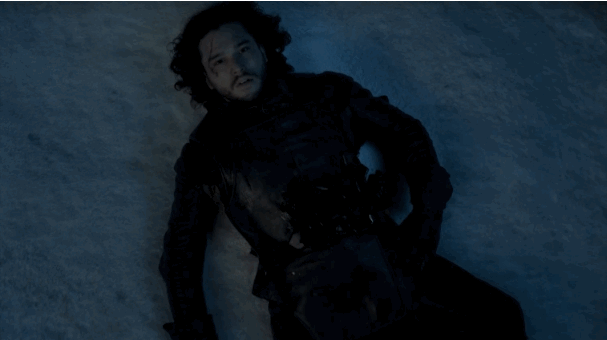 June 14th, 2015 10:02 p.m. EST — Kit Harington tells Entertainment Weekly, "I've been told I'm dead. I'm dead. I'm not coming back next season. So that's all I can tell you, really."
June 15th, 2015 — The director of "Mother's Mercy," David Nutter, tells Variety that "I can say emphatically that Jon Snow is definitely dead."
June 25th, 2015 — Emilia Clarke tells MTV that there's a "50/50" chance Jon Snow could come back.
July 2nd, 2015 — Harington is spotted at Wimbledon with long, flowing Jon Snow hair, which is odd, because he's publicly commented that he hates having his hair long.
July 10th, 2015 — President Obama asks Nutter if Jon Snow is dead. Nutter tells the president of the free world, "Jon Snow is deader than dead."
July 21st, 2015 — Harington is seen in Belfast, Ireland. Coincidentally, that's where Season 6 of Game of Thrones is filming.
July 30th, 2015 — HBO programming president Michael Lombardo tells the Los Angeles Times, "Dead is dead is dead. [Jon Snow] be dead. Um, yes. Everything I've seen, heard and read, Jon Snow is indeed dead."
September 11th, 2016 — Harington is seen with Iwan Rheon, who plays Ramsay Bolton, in Ireland. Rumors begin to circulate that the two of them are there together because they're filming the Battle of the Bastards.
September 25th, 2015 — Harington is spotted on set filming a scene, clad in full Jon Snow garb.
November 23rd, 2015 — HBO releases the first promo image for Game of Thrones Season 6, and guess who's beautiful (and bloody) face is on it? Jon Snow.
December 17th, 2015  — Harington is spotted at the Game of Thrones Season 6 wrap party.
January 17th, 2016 — Maisie Williams comments that Jon Snow will have "a great twist" in Season 6, but then adds, she "can't say he's going to be alive."
January 26th, 2016 — Harington tells Digital Spy, "People didn't want me to die, but he's dead. So there you go, everyone has to get used to it."
February 16th, 2016 — In an interview with 5 News, Natalie Dormer states, "Jon Snow is dead right now."
March 4th, 2016 — HARINGTON ADMITS TO TIME OUT LONDON THAT HE FILMED SCENES FOR SEASON 6 OF GAME OF THRONES…but he plays a corpse.
March 16th, 2016 — HBO releases the last three script pages of the Season 5 finale, "Mother's Mercy," and they mention in the text that Jon Snow is left in the snow to ~die~.
March 28th, 2016 — Jon Snow is ~maybe~ *possibly* spotted in the new Game of Thrones Season 6 trailer.
April 7th, 2016 — HBO issues the synopsis for the first episode of Season 6. It's opening line:  "Jon Snow is dead."
April 19th, 2016 — Talking to Variety, showrunners David Benioff and D.B. Weiss state, once again, "Jon Snow is dead," citing specifically the fact that if you watch him die ("die") his pupils dilate. So, he's dead.
Guess that solves it! In conclusion: He's totally dead. OR IS HE? Even though we've been told, point blank, that he's dead, it's still a big question mark.  Hopefully we'll get the answers we need when Game of Thrones returns to television on April 24th, at 9 p.m. Or maybe we'll still know nothing.