Here's everything you can expect to shop from Storybook Cosmetics this summer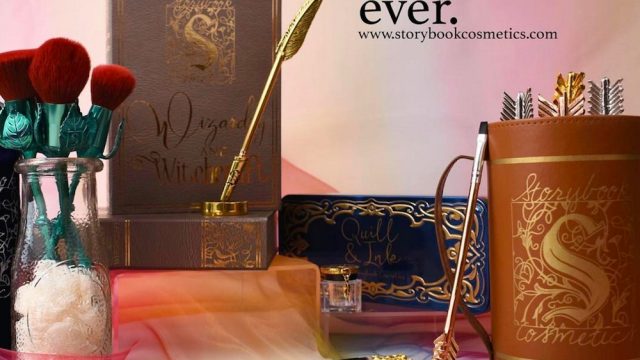 Most cosmetics companies develop a product and then spring them it the public. But indie beauty brand Storybook Cosmetics breaks from the norm by communicating with fans every step of the way. Storybook Cosmetics' wand makeup brushes may have been the beginning, but the end is nowhere in sight for these talented triplets.
From concept to completion, Storybook takes fans along a makeup journey and even welcomes input on shade names and design choices. All of their products are painstakingly customized, from formula to packaging. A lot of firsts are launching from the brand, including lipsticks, highlighters, and face brushes with a makeup bag.
We can't wait to see what else is in store!
Here is everything we know that is in production so far:
The Charlie and the Chocolate Factory palette
The first completed shade is aptly named Golden Ticket. How amazing is Missy Maynard's giant swatch art? In addition to the shadow, she used the indestructible Quill and Ink liner.
Quill and Ink Eyeliner set
This liner is poetic perfection. We have fallen hard for it, even before seeing how amazing the formula is. The cream liner comes in a gorgeous pot with a charmed lid. The brush handle is a golden quill that will come with its own upright stand.
Genre-themed liquid lipsticks
We aren't sure if these liquid lippies will be sold individually yet, but that's okay because we want all four! Romance, Fantasy, Adventure, and Horror are a mix of matte and metallic finishes. We know that there's also a possibility of four of the Wizardry and Witchcraft shades becoming lippies, so fingers crossed that this becomes a thing!
What's In A Name Brush Set
These Belle-worthy brushes have us totally enchanted. The rose brushes are the first face brushes from Storybook, and they also come with the first makeup bag from the brand. The bag features the William Shakespeare's Romeo and Juliet quote that the set takes its name from.
Dragon's Egg lipstick trio
Okay, so these probably won't be available until fall, but a girl can dream, right? Waiting for this amazing lipstick trio is as hard as waiting for a new season of Game of Thrones to start. The dragon egg-themed packaging makes this trio the mother of lipsticks. We know that one shade is a deep red, and we can't wait to see what the other two shades are.
BullsEYE Brush set
This set was announced prior to the Hunger Games announcement, but the brushes have Katniss Everdeen written all over them. Even if your archery skills are limited to your brows, these precision eye brushes are amazing. They come in different metallic finishes and a brown leather-like sling quiver.
Storybook Cosmetics highlighters
Few makeup products are more magical than a good highlighter. From ethereal princesses to out-of-this-world cosmos, we can think of so many storybook themes that fit the product. Storybook Cosmetics has kept this one pretty under wraps, but we did have a teaser shot at three possible packages! Then, about a month ago, we got some ~shiny~ swatches.
Did you gasp? We did too.
Storybook Cosmetics has completed production on so many new items, so keep on eye on their Instagram to know exactly when these babies launch!