Here's why Courteney Cox turned down the role of Rachel in "Friends"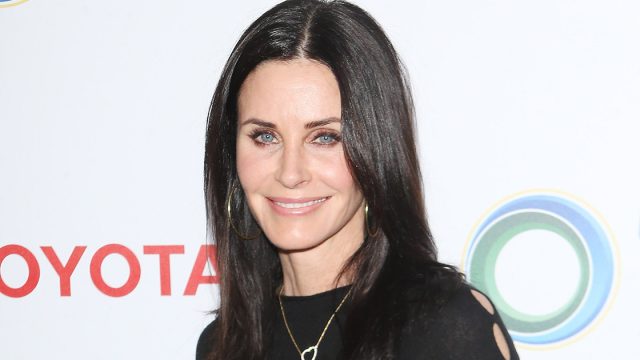 One of our fave TV shows of all time could have been very, very different, because Courteney Cox was originally offered the role of Rachel in Friends, and OH…MY…GAWWDD.
While there might have been a mini Friends reunion (sort of) last year, the likelihood of aproper revisit to the show was extremely unlikely. Speaking to Deadline, the show's creator Marta Kauffman explained how, at this point in the characters' lives, it just wouldn't make sense.
"A show has a lifespan I believe, it has a lifespan like anything else, and there's no reason to continue doing it just because people miss the characters," Kauffman said.
Reunions aside, however, it seems that Friends could have been very different: Courteney Cox just revealed that she could have been Rachel Green but turned the role down.
Speaking during an episode of Off Camera with Sam Jones, Cox recalled why she decided that Monica was a better fit for her.
"For some reason, I thought I related more to Monica, which maybe it's because I do," she said. "I'm very similar to her. I'm not as clean as Monica, but I am neat. And I'm not as competitive, even though some people, my partner Johnny McDaid, would say I am." 
Omg, we actually can't imagine another person playing either Rachel or Monica.
Continuing, Cox spoke about her fond memories of working on the show.
"That was lightning in a bottle, to have those writers, those creators of the show, and the team they put together, and the actors," she said. "It just worked. I mean, the casting was perfect. It really was."
We couldn't agree more.
Meanwhile, earlier this year, Cox's fellow Friends star Lisa Kudrow seemed to put another nail in the reunion talk coffin.
"I don't see it happening. It would be fun, but what would it be about? Think about it," she said. "The thing we liked best about the show was that they were 20-somethings and they were their own family. Now, they all have families, so what are we going to watch?"
Tbh, we'd still love to see a Friends reunion, but we do get where they're coming from. Luckily, we love revisiting the old episodes, so we're never without a fix of Monica, Chandler, Ross, Rachel, Phoebe, and Joey.