Here's how to buy the exact sweater Taylor Swift was wearing when she brought back Swiftmas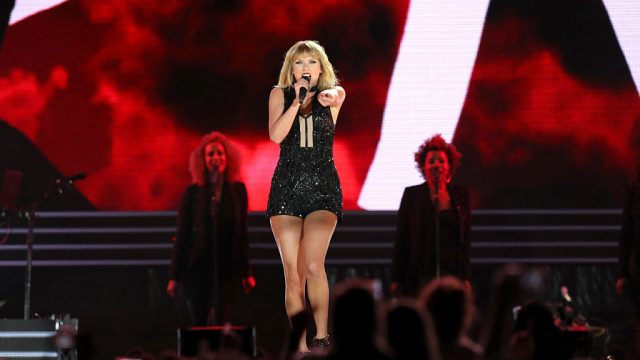 Noted singer and affordable-fashion icon Taylor Swift has one again worn a sweater that you too can add to your closet without blowing your annual clothing budget. Merry Christmas, indeed!
The singer stopped by the home of 96-year-old fan Cyrus Porter this week, surprising his entire family with an impromptu acoustic concert. The whole thing truly captured the spirit of Christmas and offered up a nice boost of generosity and joy at the tail end of a difficult year (not unlike that time in 2014 — Swiftmas!! — when she sent many of her fans gifts in the mail).
During her act of selfless giving, Tay Tay donned a sweater so simple and classic, we would be more than happy to wear it all year long. And the best part? It's from Everlane, so you can pick it up online right now.
Here's Tay rocking the "Ribbed Wool-Cashmere Crop V-Neck" with her new friend Cyrus.
Cute!
And here she is again explaining why she's come for a visit (as if the family could ever be upset about it).
"My dad ended up sending me a video of you, and you said that you wanted to see a concert," Tay explains to Cyrus. "I don't really know when we're going on tour next," so she thought she'd just stop by for a private show, NBD.
But back to the sweater! Here's a full look at the topper in all of its cozy, ribbed glory.
Get it here for $98 in taupe or black.
Taylor's love for accessible fashion brands is one of the many reasons we appreciate her most (aside from, you know, her insane talent and kind heart). She recently wore a Topshop sweater in a commercial for her new streaming TV show, #TaylorSwiftNow, and in the fall she went for a hike wearing a hoodie from Victoria's Secret.
Taylor — she's just like us!