Here's a sneak peek at the latest Urban Decay campaign with Ruby Rose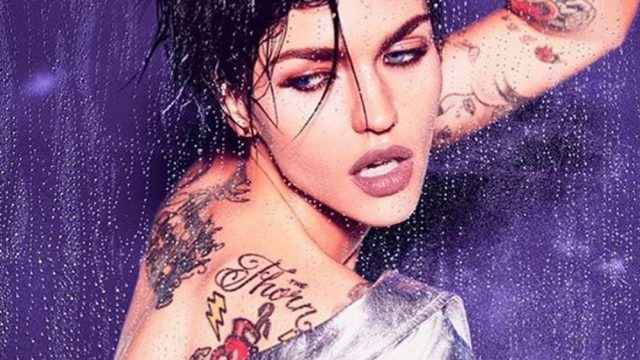 It's rare that we get this excited when we see the face of a new makeup campaign, but with Ruby Rose teaming up with Urban Decay again, we're jumping for joy. The Orange Is the New Black star is the face of their latest lipstick line launch, and it's hard to figure out what we're more excited for — the makeup or the image campaigns!
The brand is launching a Vice Liquid Lipstick collection that will come with 30 shades in two different finishes: comfort matte and metallized! Let's just say, we are SO excited. Urban Decay is starting off our 2017 on the right foot!
According to the company, these new liquid lipsticks are a "waterproof, kiss-proof, and life proof formula." and no one is better to sell this idea than Rose.
In the first sneak peek of the new line, Rose is killing it as the face of the launch, covered in water and showing off the bold, bright, and dreamy new shades. Even more, the amazing photographer Ellen von Unwerth shot the gorgeous campaign!
https://www.instagram.com/p/BO25BF0gCwo
There hasn't been any word yet on an official release date or any of the names of the 30 new shades. However, the small glimpses we have of them has us pretty jazzed.
Ruby Rose was also the face of the Urban Decay's "Lipstick Is My Vice" campaign. She was also the face of their first successful launch of their original Vice line of bullet lipsticks, and we have a feeling this is going to be just as big!
https://www.instagram.com/p/BE9kRWYAEwz
We're keeping our eyes peeled for that release date and can assure you that we'll be marking our calendars!