This is the super natural-looking lipstick Taylor Swift wore this weekend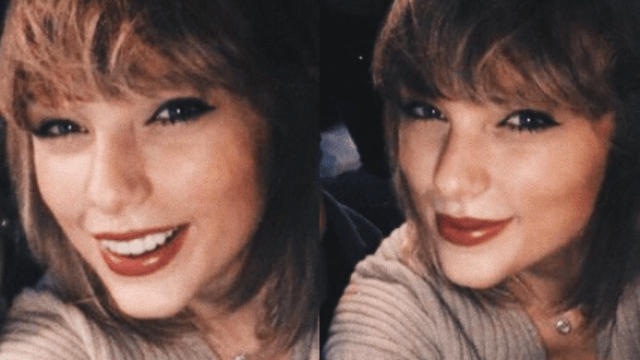 Taylor Swift loves lipstick, and now we know which one she's into lately: Make Up For Ever, Artist Rouge Creme Lipstick in Rose Wood, and it's available for $22 online.
Here's the backstory:
A pic of Taylor wearing a beige cashmere sweater with some rose lipstick at a private concert surfaced on Tumblr.
A fan inquired after the shade of lipstick.
Taylor herself – as in, the ACTUAL Taylor Swift – replied: "It's Artist Rouge Cream by Makeup Forever in Rose Wood."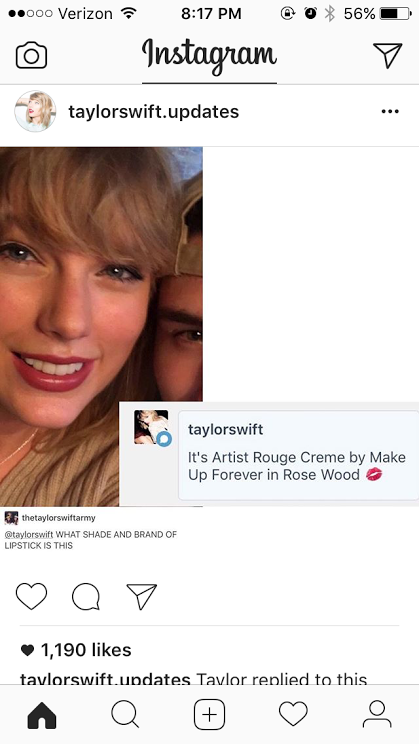 The post has been reblogged 813 times as of this writing.
We're gonna make like this lady:

Taylor wore the shade while visiting her 96-year-old fan Cyrus Porter and family in Missouri. Porter is a World War II veteran, and has seen Taylor in concert twice before. Taylor recently heard that he hoped to catch her in concert one more time, so she brought the concert to him.
Taylor brought her parents with her, and invited 60 of Porter's family members for the surprise private concert. She sang "Shake It Off," for him and his family in his living room.
https://www.instagram.com/p/status
Of all the tear-inducing surprise Christmas presents in the world, this might be one of the most heart-swelling.
We think Make Up For Ever ought to capitalize on this, and sponsor a series of living room concerts by Taylor Swift for very special people.