Here are the most delectable Filipino #foodstagrams in honor of Filipino American History Month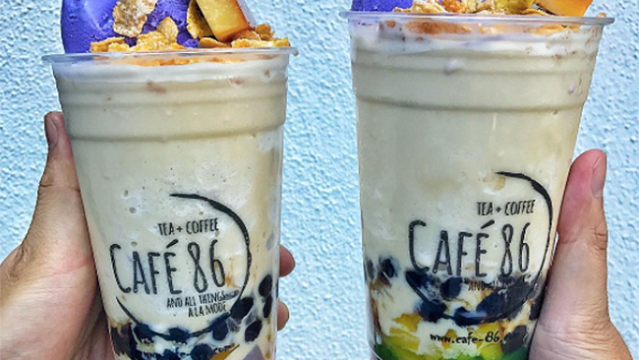 If you grew up in a Filipino household, you know that food is a very important part of our culture. Platters of lumpia (eggroll), puto (rice cakes), and for the more adventurous, dinuguan (blood stew), are some of the signature dishes served at Filipino parties.
While other Asian cuisine like Thai and Japanese can be found at restaurants everywhere, Filipino food is still gaining traction. Food critic Andrew Zimmern has been calling Filipino food "the next big thing" for the past five years, explaining that Filipinos combine Asian ingredients with Spanish technique. "The Spanish were a colonial power there for 500 years, and they left behind adobo and cooking in vinegar — techniques that, applied to those tropical Asian ingredients, are miraculous," he told Today.com in 2012.
It seems like his theory is finally catching on. Filipino dishes, like adobo rice bowls, pandesal (bread roll) breakfast sandwiches, and ube (purple yam) donuts have been popping up more often on our Instagram feeds. While nothing compares to your mom's chicken adobo and your auntie's leche flan, the fact that Filipino food is becoming more mainstream and presented in unique ways is refreshing…and delicious.
Check out these 11 Filipino restaurant's #foodstagrams. (Warning: your stomach may growl, really, really loudly.)
1Lasa
This breathtaking pancit (noodles), by LA-based restaurant Lasa, was one of food critic Jonathan Gold's faves from last year. Two words: calamansi (Philippine lime) butter. ::screams in joy::
2Kuya Ja's
If you're in Maryland, you can forget worrying about turkey for Thanksgiving and order their lechon (roasted pig)!
3Sari Sari Store
LA's newly-opened Sari Sari Store features delicious rice bowls like the Sisig Fried Rice, which has crispy pig's head, onions, chilis, and fried egg.
4Rice Bar
Drooling over this longanisa (sweet sausage) bowl from LA's Rice Bar. And look at their adobo chicken fried steak sandwich.
5Cafe 86
At Cafe 86, you can get halo-halo (Filipino ice cream sundae) topped with flan (custard) AND ube ice cream. This is a dessert dream come true. They also have ube cheesecake, ube pop tarts, halo halo breadpudding, and more for your sweet tooth.
6The Lumpia Company
Oakland's The Lumpia Company makes interesting versions of our favorite Filipino eggroll, like ones with macaroni and cheese (what?!) and apple pie. But bistek lumpia? Mind.Blown. You can also order frozen lumpia online!
7Flip Sigi
This may look like a regular burger, but it's made with banana ketchup. Flip Sigi, you're crazy for this one.  Grab it next time you're in New York.
8Go Get Em Tiger
A pandesal breakfast sandwich featuring fried egg, bacon, arugula, and onion jam.
9Isla Filipina
Chicago's Isla Filipina knows the beauty of a simple garlic fried rice — a Filipino breakfast delicacy.
10Platito
If you're in Toronto, please get this ube bubble waffle and ube ice cream concoction so we can all be jealous.
11Jollibee
https://www.instagram.com/p/BZ-Q-YshWCj
You can never go wrong with an old-fashioned trip through the Jollibee drive-thru.