Here are 13 Mardi Gras-inspired makeup looks that are guaranteed to stop traffic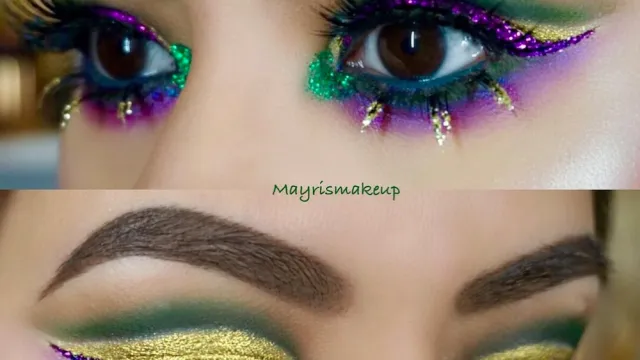 If you're planning to celebrate Mardi Gras, these festive makeup looks will definitely get the good times rolling!
Mardi Gras is a good night to let your freak flag fly, and makeup is a great way to express your joy. Carnival traditions take place all over the world in many cultures, but the New Orleans version is the one most Americans associate with the last Tuesday before the Lenten season.
The traditional New Orleans Mardi Gras color scheme of purple, yellow/gold, and green lends itself well to color-blocked eye looks and glitter eyebrows. Check out some of our favorite Mardi Gras makeup looks, and get ready to laissez les babe temps rouller!
Louisiana makeup artist Rosalina Young (@ahitsrosa) created a super fun look that'll turn heads on the parade route….
A peek at her tutorial.
A close-up of the eye with glitter star eyebrows!
The full tutorial on Rosalina's YouTube!
https://www.youtube.com/watch?v=c8HtX-HMCNg?feature=oembed
If you want a more understated but still festive look, check out this beauty's eyeshadow moment.
Two different colored eyebrows are giving us serious Harley Quinn vibes.
Makeup artist Brenna Mazzoni (@artbymazz) threw down some masterfully executed special effects looks.
That feeling when you've been partying for weeks and you just have to stay up for the main event tonight.
…and when you die from exhaustion but still want to be festive.
Badass body painter Brittni Price's (@brittni.price) art imitates life with this humorous take on the tradition of showing your boobs for beads.
@emeraldray16, on the other hand, says "The only flashing I do is with my makeup." (We love the muted green lip.)
https://www.instagram.com/p/BREQ-Y-A29i
When your beads match your face.
Those gold glitter lashes remind us of the petals of the fleur-de-lis.
A 3D design fit for the queen of the masquerade ball.
Cut crease + lip line = guaranteed to shine.
https://www.instagram.com/p/BREKpSSjZi6
Be one with the beads.
Glitter eyes, purple wig, can't lose.
https://www.instagram.com/p/BQ_QEFWhlke
A masquerade nail for good measure…(but that's a whole other hashtag.)
https://www.instagram.com/p/BRBiheHAb9t
Have fun out there, and remember to always beat your face responsibly!