Donate to these 7 organizations if you want to help separated immigrant families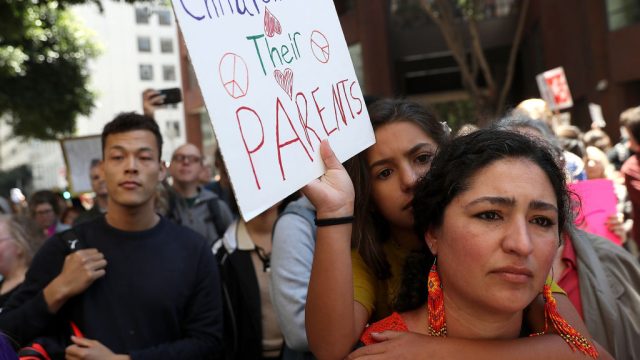 Nearly 2,000 children have been separated from their families as part of the Trump administration's "zero-tolerance" policy on immigration. Despite the ridiculous back-and-forth between the president and Congress on who's to blame, the fact of the matter remains: there are thousands of immigrant children being held in facilities near the border, the conditions of which have been described as "prison-like," and that is unacceptable.
As you would expect, big nonprofit organizations, like the American Civil Liberties Union (ACLU), are doing their part to help. In fact, the ACLU filed a national class-action lawsuit on March 9th to challenge the Trump administration's policy. As Lee Gelernt, deputy director of the ACLU's Immigrants' Rights Project, said in a release at the time,
"Whether or not the Trump administration wants to call this a 'policy,' it certainly is engaged in a widespread practice of tearing children away from their parents.
In addition to the ACLU, the Asylum Seeker Advocacy Project (ASAP) is another organization working hard to prevent wrongful deportations by providing support and emergency legal aid to those seeking asylum.
If the news coming from the border troubles you and you're inspired to help, making a donation to organizations and activist groups such as the ACLU or ASAP is great. But there are smaller groups doing good work right now that don't get quite as much attention as they should. Here are seven other organizations you should also consider donating to.
1 RAICES
The Refugee and Immigrant Center for Education and Legal Services (RAICES) is a Texas-based nonprofit organization that offers both free and low-cost legal services to immigrant families. As of right now, their main site is down due to "capacity problems." However, here is a link to their donation page if you want to help support them at this time.
2 The Young Center for Immigrant Children's Rights
The Young Center for Immigrant Children's Rights works to "promote the best interests of unaccompanied immigrant children." On May 31st, the Young Center launched a new program that specifically helps families being separated at the border. The Immigrant Child and Family Project is staffed by attorneys who are fighting to protect immigrant families and help change policy. If you want to support their cause, you can donate here.
3 The Florence Project
The Florence Project provides free legal and social services to immigrants who are detained in Arizona. The organization has been working to help immigrant families in Arizona for over 25 years and separated families is an issue they're familiar with. In an interview with CBS News, Lauren Dasse, the executive director for the Florence Project, said the organization has seen 300 recent cases of family separation in Arizona, with 100 new cases in early June alone. If you want to make a donation to The Florence Project, you can do that here.
4 Neta
Neta is a "Latinx-run progressive media platform" based in the Rio Grande Valley of South Texas that's working hard to inform the public about the immigration situation and bring you the reality of what's going on at the border. Having the facts is super important, so if you want to support the work of the journalists there, you can donate here.
5 Fuerza Del Valle
The Fuerza Del Valle Workers Center was created to support workers' rights and immigrant communities in the Rio Grande Valley. On June 20th, they are holding an interfaith prayer and walk in support of keeping immigrant families together. If you want to support them financially, you can donate here.
6 Al Otro Lado
Al Otro Lado is a cross-border legal service for refugees and families separated by deportation in Los Angeles and Tijuana. Ever since news of the crisis at the border hit, the organization has been providing "critical assistance" to immigrants, including infants and unaccompanied minors. If you want to support, you can donate here.
7 Together Rising
Together Rising is another organization that's helping to provide legal assistance to migrant children who were separated from their parents. If you're looking to support their work, you can donate here.