Here's that Hello Kitty passenger train you didn't realize you always wanted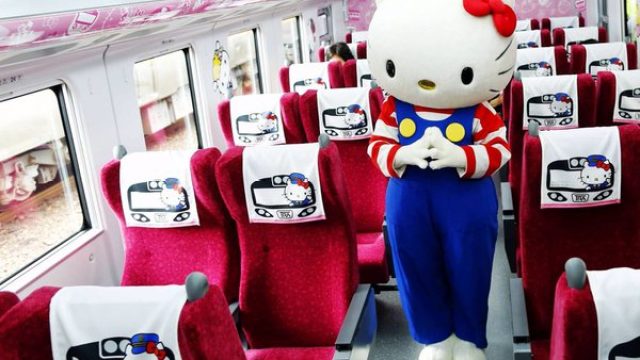 You can travel by train in style, and then you can travel by train in ~STYLE~. The former's going to get you on a boring, commonplace passenger train, without any bells and whistles. The latter's going to get you on a brightly decorated pink train, with bells, and not just whistles but bows. Because you're on a Hello Kitty passenger train, and let's hereby decree that this is the future of high class travel.
Taiwan Taroko railway has just unveiled its brand new Hello Kitty train, that doesn't just have our favorite kitty girl on the outside, but on the inside, too. Each train has eight cars, and each car has a different theme. The seats are covered in Hello Kitty. Hello Kitty is painted onto the walls. The stewardesses are wearing Hello Kitty uniforms and pushing Hello Kitty trolley carts full of Hello Kitty TREATS.
The one downside to this amazing train is that, yes, we've got to go to Taiwan to experience it first hand. The train held its inaugural Monday afternoon, traveling from Taipei to Taitung, which is actually a pretty far distance to go. According to the Asia Times, the trains will run this route every Friday, Saturday, and Sunday starting on April 5th, and are currently running on limited routs right now.
It's also going to cost you about two dozen Hello Kitty Shopping trips: if I punched in everything correctly, it looks like the cheapest ticket for the train  for this 5+ hour journey is $604, with the most expensive at $930 (for comparison, taking a short hour flight will set you back about $150).
But let's not put a price on this priceless travel. This is a Hello Kitty TRAIN we're talking about. The plan is to start adding more of these trains, along with other themes, to the Taroko railway fleet, so start figuring out why you need to travel to Taiwan to see this IRL.