This Hello Kitty sneaker cleaning kit is back in stock, and we're actually excited to clean our shoes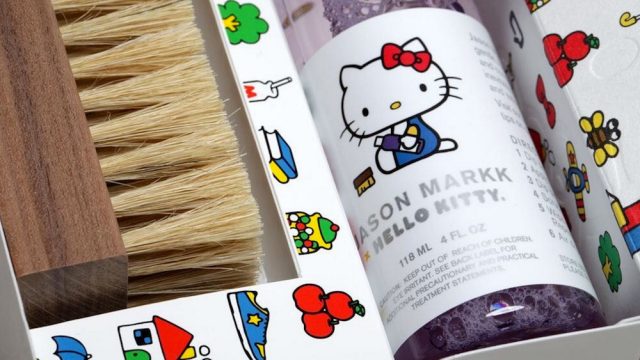 All the way back in 2014, Hello Kitty and Jason Markk joined forces on a Premium Shoe Cleaning Kit in honor of Hello Kitty's 40th anniversary. Sanrio-loving sneakerheads were heart broken when the cutesy collab sold out. But we have good news, Hello Kitty and Jason Markk's cleaning kit is back.
Only 1000 Hello Kitty x Jason Markk kits were made back in 2014 and at only $30 a pop, they were scooped up before a lot of us could get our hands on it. If you're aiming to fill the kitty-shaped hole in your heart, act fast because this adorable and handy kit is back in stock!
If you haven't tried Jason Markk products, take a look at them in action.
Here's the solution going to work on a pair of Bred Jordan 5's.
And these Cool Grey Jordan 11's have seen better days until they got the Jason Markk treatment.
A MIRACLE.
The clumsy among us may want to invest in their REPEL product. Can you imagine ruining a pair of your beloved kicks because you just had to go for an extra squirt of mustard?
If your kicks are in really bad shape, visit a Jason Markk location and they can give 'em a full makeover.