Heineken just pulled an insanely racist ad after Chance the Rapper called them out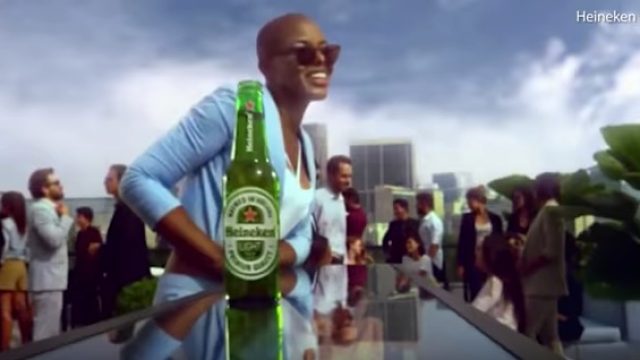 On Monday, March 26th, a seemingly racist Heineken ad with the tagline "Lighter Is Better" was removed from the airwaves after Chance The Rapper and many others on social media called out the company for its implicitly racist message.
If you haven't seen the ad, let's just say it's definitely not something Heineken's marketing department should be proud of. In the 30-second clip, a bartender slides a bottle of Heineken Light toward a light-skinned woman. The beer passes several men and women of color before reaching her, and the slogan "sometimes lighter is better" flashes across the screen.
Following the backlash, the company issued the following apology.
"While we feel the ad is referencing our Heineken Light beer, and that light beer is better than other high-calorie options — we missed the mark, are taking the feedback to heart and will use this to influence future campaigns, Heineken USA spokesman Bjorn Trowery said in a statement via CNN.
Chance the Rapper voiced his dismay over the now removed Heineken commercial on Twitter, calling it "terribly racist." He also questioned whether brands are purposely creating racist advertising to get attention.
"I'm not saying [boycott] them or go off I'm just noticing how often it happens and I think they baiting consumers and tweeters and freelancers and s--t. Like I didn't wanna tweet about it so bad but its like how can [you] not."
Others on Twitter agreed with the Grammy winner. false
Watch the racist Heineken ad in full below on YouTube – and you be the judge.
https://www.youtube.com/watch?v=g_u_-OD1_z0?feature=oembed
Heineken is just one of many companies whose questionable ads have come under fire recently. Last year, Pepsi pulled a controversial ad starring Kendall Jenner that appropriated the Black Lives Matter movement to sell soda. Then, in January, H&M used a black child to model a sweatshirt that read "coolest monkey in the jungle." The retailer later apologized and removed the item from its website, but that didn't stop both The Weeknd and Grey's Anatomy's Jesse Williams from cutting ties with the company.
We're baffled by how many creative teams can "miss the mark" so regularly in 2018, and we sincerely hope ads with racist undertones becomes a thing of the past. Soon.