Heidi Klum tells us the most random thing she uses in her skin care routine
Sometimes learning about the bougie skin care routine of a celebrity can be shocking, whether it's Sandra Bullock getting "penis facials" or Jessica Alba posing in a futuristic LED face mask. On the other hand, the revelation of a celeb's drugstore fave can be just as surprising, like finding out a star swears by the same face cleanser you've been using since junior high. Heidi Klum takes it even further with her go-to skin care product, which is something many of us used when we were babies: Johnson and Johnson Baby Shampoo.
"I use baby shampoo from Johnson and Johnson to wash my face," Klum told HelloGiggles at an event for U.K. beauty supplement Perfectil. "I think that whatever you give children has to be good for adults," she added. When the former Project Runway host and model had suffered from a recurring stye, her eye doctor suggested using the baby product to thoroughly wash off her eye makeup. "I feel like some of the products out there are too harsh, taking out all of your natural oils out and everything," said Klum. "Products that are for kids are great because they go through so much more testing. We shouldn't forget that." We're not sure if we'd switch out our beloved Drunk Elephant cleanser for baby shampoo ourselves, but we're in awe of Klum's skin care secret.
The rest of her skin care routine is just as simple. "I use a moisturizer called Buttermilk, it's by Mario Badescu," Klum said. "I've tried many different things and people send me stuff all the time, but this is very light. There is no perfume in it, it's not super thick, or greasy, or too heavy."
As Perfectil's new U.S. ambassador, Klum has also added a supplement to her regimen, opting for the brand's classic formula, Perfectil Original, which works as a multivitamin along with targeting beauty concerns. "It's for skin and hair and nails. I prefer that 'cause it's a one-stop shop, Klum explained."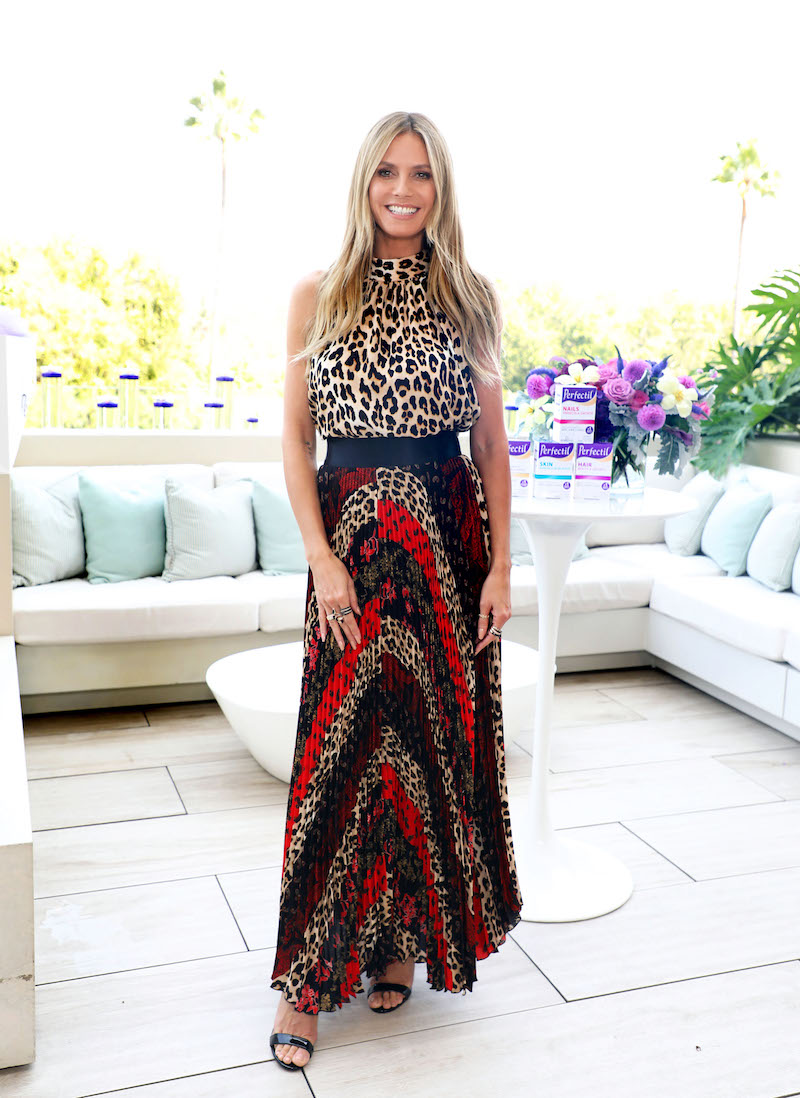 We'll certainly heed all of this beauty advice! As for Klum's next TV venture, she'll be joining the Amazon family along with her Project Runway co-star, Tim Gunn, on a new shopping-themed show.